Pet Photographer Caught Passing Off Composites as Real Photos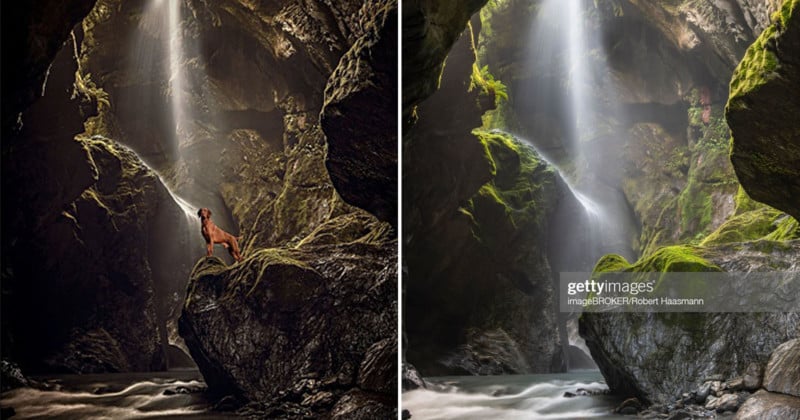 A pet photographer is in hot water this week after other photographers noticed that many of his photos were actually composites in which animals were digitally inserted into gorgeous landscapes captured by other photographers.

Photo Stealers
, the online "wall of shame" dedicated to exposing photographers sharing others' work as their own,
first reported
that New Zealand pet photographer
Ben Sheehan
was being called out by other photographers and also blocking those who were trying to bring his composites to light on social media.
Photo Stealers notes that Sheehan's story is similar to the 2019 controversy surrounding Australian photographer Lisa Saad, who was found to have long used others' photos without credit in composites that helped her win numerous international awards as well as become ambassadors for brands such as Ilford, Manfrotto, Epson, and Tamron.
Like Saad, Sheehan has also submitted composite images to photo contests. He has been a finalist in the Dog Photography Awards (his entry has since been revoked, Photo Stealers reports), and he has won a number of top prizes in GuruShots' contests.
Sheehan's finalist photo in the Dog Photography Awards was created with a Getty Images photo of a waterfall in New Zealand, as these screenshots by Photo Stealers shows:
When asked on Instagram whether the photo is a composite, Sheehan responded that it wasn't and provided information on how it was captured.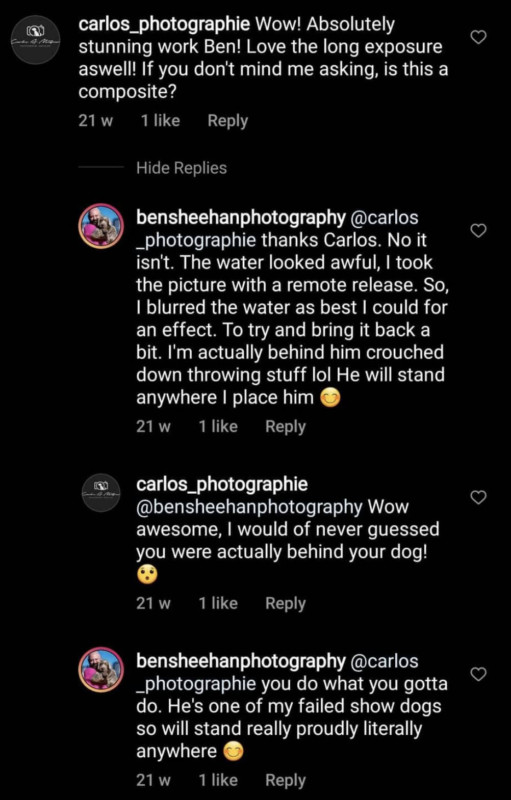 "Another sh**ty part of this story is that dogs are not allowed in most of these parks," Photo Stealers founder Corey Ann writes. "When asked, he claims he got special permission and/or paid a steep sum to allow this to happen."
Here are some other examples found by Photo Stealers of Sheehan's composites (on the left) and stock photos they were based on (on the right):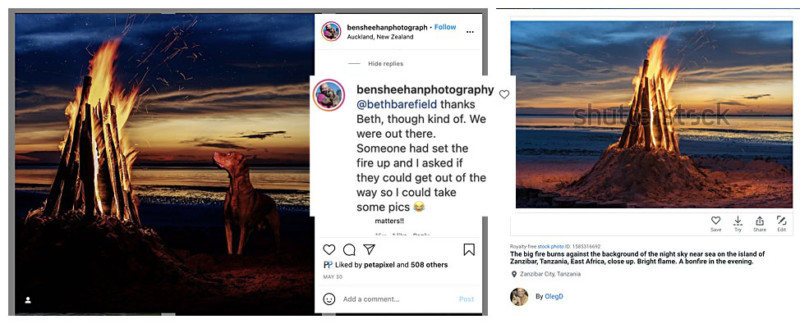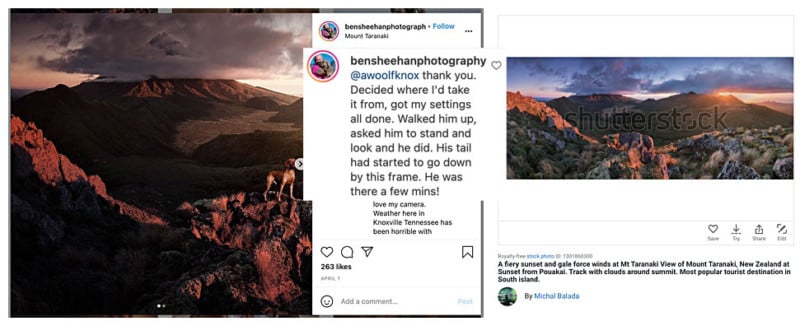 You can find a longer list of comparison screenshots as well as links to original source photos over at Photo Stealers.
As word of Sheehan's compositing spread, the photographer took down his Facebook page, blocked critics, and deleted composite photos from his various profiles and pages.
Sheehan admits that he had been passing off composite photos as fully his own. He adds, however, that all the images he used were properly licensed and paid for.
"[M]y apologies, learned a life lesson," Sheehan tells PetaPixel. "But, no photos were stolen, I paid for and have property releases for every picture I've used. Including for compositing."
The photographer says that he is now on the receiving end of a photographer mob trying to execute vigilante justice over his faked photos.
"[Photo Stealers] followers have tried to ruin my business, abused me endlessly, and I have reported 2 of them for death threats," Sheehan says. "Not trying to say what I did wasn't misleading. But I've not broken any laws."