This 1914 Ur-Leica LEGO Camera Could Become a Real Set
For those who have always wanted to own what is known as the "original Leica" camera, this design for the 1914 Ur-Leica made of LEGO bricks might be the most accessible way to do so.

As spotted by
Leica Rumors
, this model of the Ur-Leica has been
submitted to LEGO Ideas
in the hopes that with enough support, the company might bring it to store shelves.
LEGO Ideas is a program set up by the iconic toy company as a way for creatives to submit proposals for new LEGO construction set concepts that can be voted on by the community that, if popular enough, could make their way to actual store shelves as official LEGO sets. The company admits that real, finished Ideas will take a long time to develop, but the program is the best way for "master builders" to see their designs come to life.
The Ur-Leica was released in 1914 and is argued to be one of the most important milestones in photographic history.
According to Apotelyt, the prototype camera was the first o use the 24x36mm format which would become the 35mm standard for photo film and modern full-frame sensors. The shift to a small format made it possible for companies to make a much smaller camera over the ones using larger photographic plates and was instrumental in making photography more accessible and portable.
LEGO builder Pandis Pandus submitted a design for the Ur-Leica into LEGO Ideas.
"Because I am interested in photography and amazed by advanced historical engineering, I set out on a mission to frame this timeless camera in LEGO," they write. "I think this would make a great set for any camera or gadget enthusiast, and fan of Leica or LEGO. Both companies have — with the attitude that good is not good enough — managed to change entire markets and inspire countless minds across generations."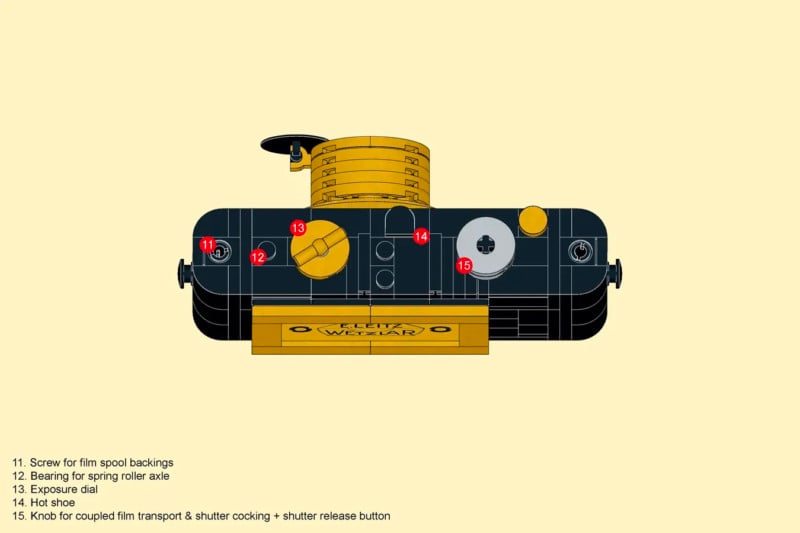 The product proposal was made with significant emphasis on more than just making a design look right, as Pandis Pandus also made sure it felt right. In addition to working carefully to match aesthetics, they integrated a 2x6x2 weighted brick into the body so that the weight feels akin to the actual Ur-Leica.
Anyone who wants to see this design become reality is free to set up a LEGO Ideas account and support the project. The more support it gains, the more likely it is to become a real LEGO set someday.