Instagram Will Require All Users to Share Their Birthdays
In an effort to protect the experiences of young people, Instagram has announced that starting in the next couple of weeks, all users will be required to provide the company with a birthdate in order to continue using the app.
Instagram says that this initiative is a follow-up to a system it put in place back in March, where adults were prevented from sending messages to people under the age of 18 who don't follow them. Last month, the company also started defaulting accounts to private for those who state they are under the age of 16.
The company says it has been working for years to acquire birthdays for all its users, but it will now institute two new ways to protect underaged users utilizing birthdays. First, the company will begin to show a notification asking to provide a birthday if one has not been provided. If a user does not provide a birthday after this notification has been displayed a few times, the app will lock that user out until they provide one.
Secondly, Instagram will start adding warning screens to posts that will actively ask for a user's birthday if the company deems them to be sensitive or graphic if the user has not provided a birthdate to Instagram already.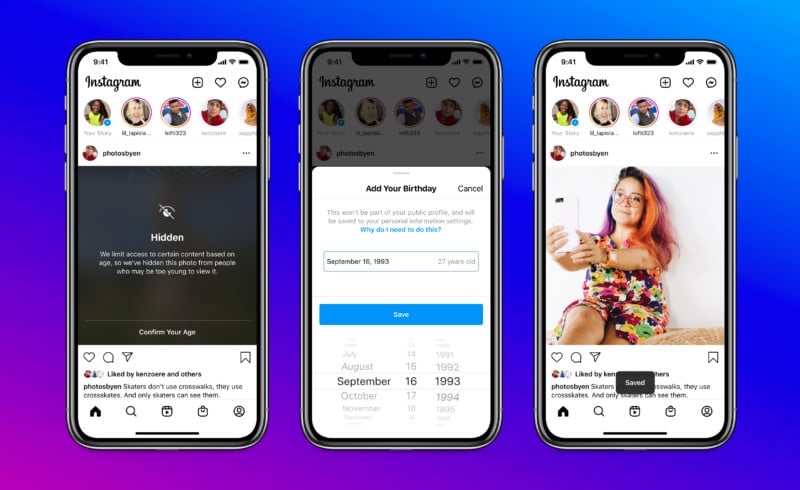 These warning screens and prompts will start to roll out to all users starting in "the next few weeks" and will eventually require that all users provide some kind of birthdate to the company before they can keep using the app.
It is still possible for a user to lie about their age to Instagram, but this is something the company says it it working on addressing.
"We recognize some people may give us the wrong birthday, and we're developing new systems to address this. As we shared recently, we're using artificial intelligence to estimate how old people are based on things like 'Happy Birthday' posts," the company writes. "In the future, if someone tells us they're above a certain age, and our technology tells us otherwise, we'll show them a menu of options to verify their age. This work is still in the early stages, and we look forward to sharing more soon."