7 Streams of Passive Income to Look Into as a Photographer
Photographer and YouTuber Eric Floberg released this 13-minute video in which he shares his tips and experience in creating passive income streams that can help supplement a photography business and generate money in more ways than one.

In the video, Floberg, who has previously shared everything from
portrait composition ideas
to advice on creating
striking double-exposure photos
, dives right into the business side of photography.
The income derived from photography doesn't need to come only from photography session fees because the wide range of skills developed in the industry can be utilized in many different ways, as shared by Floberg's seven tips, which he notes are for partially-passive income because every single initiative still requires a certain amount of work initially or during.
View this post on Instagram
The first tip is to make the most out of print sales. Each photographer devises their own workflow and how they share the work with clients, but Floberg demonstrates that with a few simple steps, such as, by enabling print sales directly in the gallery, offering time-critical coupons, and making it a seamless and attractive process to the customers — including to their friends and family such as for weddings — photographers can financially potentially benefit from every session.
As experienced by many this year already, associate shooting can provide additional income to the main photographer and the associate. With pandemic-related postponements, photographers have experienced clashing bookings, whilst still dealing with incoming inquiries. Using an associate shooter means passing the shoot to another suitable photographer, while the primary photographer handles the administrative part of the booking, such as client communication, whilst retaining an agreed part of the booking fee. This way, arrangements can be made whether the primary or associate shooter will edit the session and how the print sales will be split, too.
As a YouTuber himself, Floberg also points to YouTube ad revenue as another stream of income. Although it is not much, he says, it's still something that can accumulate over time once the work of shooting and editing videos has been done. The best part of this income stream is that evergreen content — one that viewers can view for years on because the video content stays relevant — continues to generate ad revenue.
In a similar vein, Amazon affiliate links, which are linked under YouTube videos or blog posts, can generate extra cash and the purchase doesn't even need to be linked to photography at all, as can affiliate commissions from various brands. In the case of the latter, Floberg reveals in 2021 he has generated an average of $1,713.6 a month.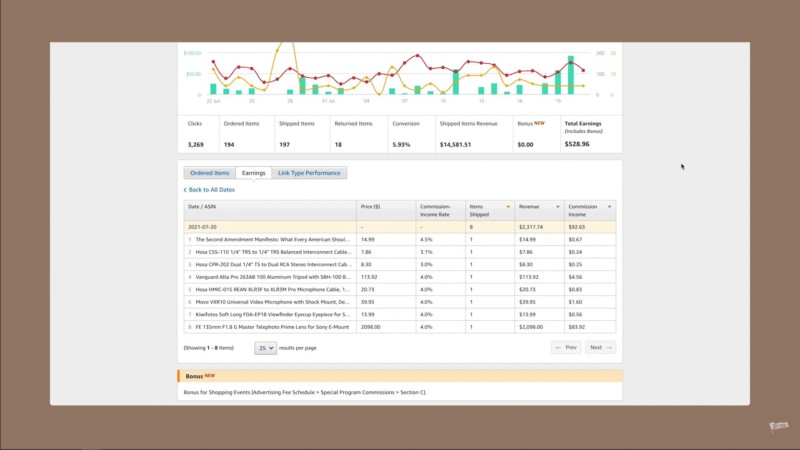 For those who are fortunate to be on the property ladder, real estate income, such as renting existing property can help pay off the mortgage payment, building real estate equity, and have a portion leftover that goes straight into savings. The last tip Floberg offers is earning through stock dividends, which is a relatively small amount but over time the amount grows, which can be further expanded by learning more about buying stock and investing for the long term.
For a few semi-passive honorable mentions, Flober included shooting weddings in addition to the main photography genre, making sponsored YouTube videos, and using sites like Patreon where users can tip or pay membership fees for content.
Watch the full video at the top to hear Floberg discuss each of these income streams. More of Floberg's work can be found on his website, YouTube channel, and Instagram.