Watch a Photographer Skillfully Light-Paint Swans Into a Lake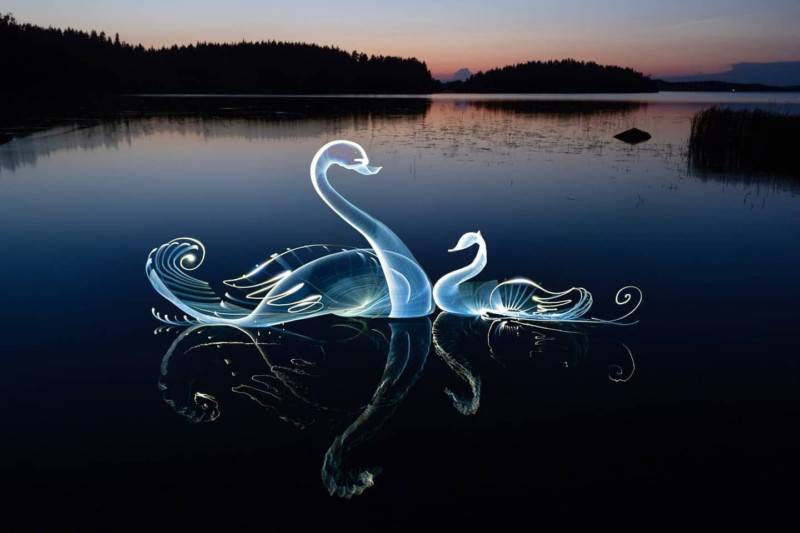 Finnish light-painting photographer Hannu Huhtamo has shared a fascinating behind-the-scenes look at how he recently created a photo of light swans floating on a lake.

Huhtamo is a Helsinki-based photographer who has been combining light art and long exposure photography since 2008. His intricate light painting photos have
now captured the Internet's attention
for over a decade and have been featured in exhibitions around the world.
While a large percentage of Huhtamo's work shows abstract light paintings in various landscapes, Huhtamo is also skilled at drawing more recognizable subjects with light, as his swan photo, titled Serenity, proves.
Here's a 56-second video shot by Huhtamo's wife, Sanna, showing how he carefully paints in each of the parts of the swans with various types of lights:
While any camera that supports long or indefinite exposure times can be used for light painting photography, light painting photographers typically do not see what they've created until after a long exposure is completed — Huhtamo's use of an Olympus camera allows the photo's progress to be previewed live as he's painting with light.
"Olympus cameras have a unique feature called Live Composite mode that allows you to set the base exposure time and then the camera stacks several frames (exposures) into one image in real-time," writes Huhtamo on Facebook, as spotted by Digital Camera World. "I wear black clothes and I'm constantly moving during the exposure. […] If I'd stay in the same position, my silhouette would be seen.
"With Live Composite you can also avoid over-exposed images. [The] camera will pick up changes in light only if the next frame has brighter parts than the previous frame had. No Photoshop or any other post-processing, straight out of the camera."
The photograph was captured in Lake Saimaa in southeastern Finland on the night of July 26th.
"I just had to do some light drawing in front of this amazing scene," the photographer writes. "Mosquitos all over me and small baby perches were nibbling my toes as I stood in water with bare feet."
In addition to light painting, Olympus also suggests trying Live Composite for fireworks, street scenes, star trails, clouds, lightning, and portrait backgrounds. If you're interested in Olympus' exclusive Live Composite feature, you can find it in most of the brand's latest cameras across the OM-D, PEN, and TOUGH lines.
You can find more of Huhtamo's work on his website, Facebook, and Instagram.
---
Image credits: Photograph by Hannu Huhtamo and used with permission