Couple Contrasts Abandoned Spaces and Colorful Coats in Surreal Photos
A mysterious duo who go by the name "Yellow Jackets," has intrigued viewers with their eerie, anonymous self-portraits set in abandoned locations.
When it comes to urban exploration — also known as "urbex" — photography, it is not easy to create something that will stand out. The two artists behind Yellow Jackets, however, have found a way to leave a lasting mark. With their unique vision and execution, they travel to abandoned sites and create stills that resemble cinematic thriller or horror movie posters.
The secretive duo, consisting of Ivy and Athon who are both from Portugal, were both already interested in photography and abandoned place exploration prior to meeting each other. This common interest brought them both together and set things in motion for the concept of Yellow Jackets to be born.
As they began wearing their trademark yellow coat that belonged to Athon's father, on their shoots, they realized how much they liked the contrast it created in abandoned places, which are typically "dark, sad, and lifeless."
"The yellow gives them a new life somehow," the two tell PetaPixel. "Since this is a color that reminds us of light — the essence of photography — and which is joyful in itself, it also represents for us the overcoming of difficulties, the feeling of happiness and achievement for being able to enter extremely risky places, without knowing what we will find, besides seeing things that the majority of the population does not have access to."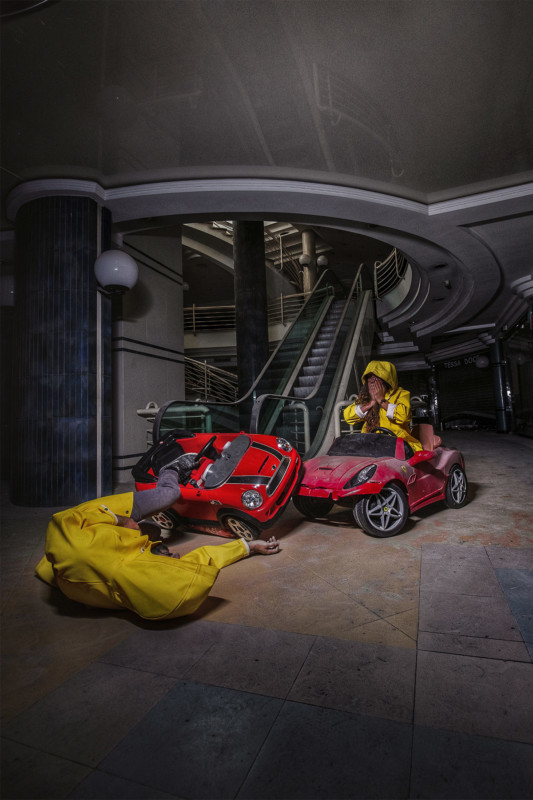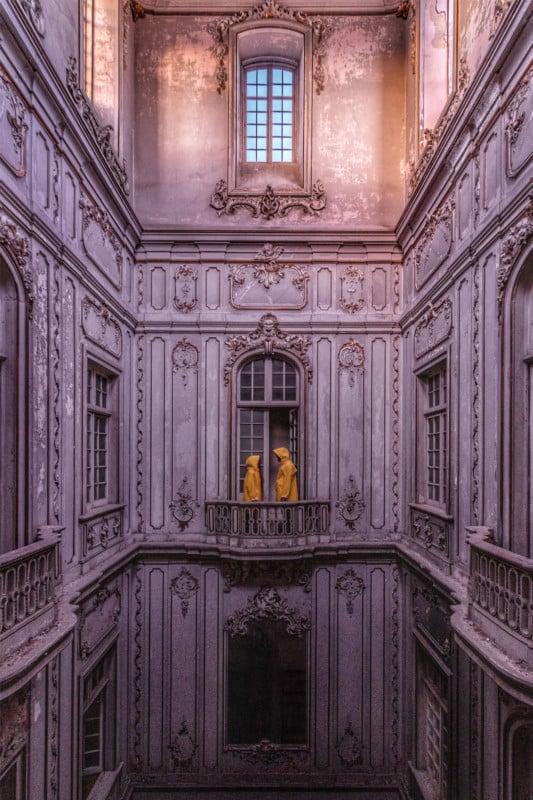 Meantime, they started to feel that the photographs were incomplete in a sense, and thought it would be fun to add another yellow jacket so that both of them could be represented in the same photograph. The two coincidently found another similar yellow jacket that was in poor condition, but after refurbishing and restoring it, the second jacket has become a fine addition to the duo's photography.
Their project encompasses a vast number of photographs are taken in different locations. Finding those locations is the most time-consuming aspect of their work, which the duo says takes them hours to research before even setting out to take their images. They spend time going through Google Maps, reading the news, and searching for interesting references in old books.
"But, these buildings are everywhere; sometimes we just need to start paying more attention," they say. "We already found entire abandoned villages in remote areas, as well as palaces, hospitals, and malls in large urban centers."
As their social media following has grown, they have also received location tips not just from personal friends but from their sizeable fanbase.
Although there is a sense of continuity throughout the images — not just because of the help of their signature yellow jackets — their style has developed and changed as time has gone on. Their own emotions and what the shoot location transmits to them affect the final image, too.
"We always have many ideas and we like to share themes that we consider relevant, but we mainly try to create new things based on what we actually feel," the two say.
What the audience feels is just as important to them. Ivy and Athon reveal that they want people to take a piece from their images — whether that is the belief in love and friendship or the courage to go out and explore more, or to challenge themselves to something new.
The overall intention of the project is to share the unique beauty of these often neglected and forgotten places and to call for the preservation of the built heritage that still remains.
They also want to exhibit their work in galleries around the world, to travel even more, and to get to know the most unusual abandoned places.
"There is a world to discover, and these places, which seem to come out of our imagination, make us travel within them and within ourselves."
More information about the Yellow Jackets project can be found both on Ivy and Athon's Instagram pages, as well as on their website.
---
Image credits: All images by Yellow Jackets and used with permission.