Woodland Photography In and Around the Indian Town of Pelling
Pelling is a town in the Himalayan state of Sikkim in India. It is surrounded by green lands, and white peaks are visible not very far away from here. The green lands on the mountain slopes had always called for woodland photography. With the Sun shining brightly, we went to have some fun in the woods during our stay at Pelling.

You will always find such beautiful light at the proper time of the day when you visit the woods. This season, we could find loads of greens even though winter is coming since Pelling is not at an altitude where there would be frequent snowfall. Ferns are a must to shoot in these woodlands.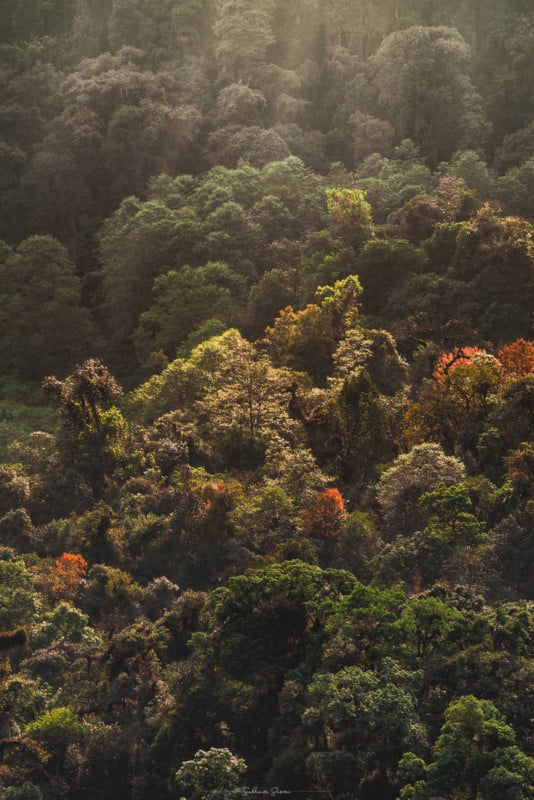 Just before the Sun sets, you may get an immense number of rays in the woods. Falling straight through the clouds and into the red and green trees below, it created an awesome frame and the edges of the trees rim-lighted by the sunlight also helped in composing the shots better.
There were some dull areas inside the woods but that didn't prevent me from getting some good compositions there. We could see the Kanchenjungha Waterfall (named after Mt. Kanchenjungha, which is within 50km/31mi from this waterfall) there and even though the light was flat, I managed to get some flow in the water and could attract the greens around as well.
I could also find some tiny ferns coming out of patchy soils underneath big branches of trees and this particular one provided to be an interesting one when the light was falling on it.
Your woodland photography expedition here would not be complete without these low-key shots of the green mushes of grass growing on the old branches of the trees. These two in particular are my favorites from the lot I could find there. The backlighting provides awesome contrast in these images.
And what would a woodland photography trip be without a motion blur shot? I captured this one while I was covering some other areas to shoot some backlit frames. I absolutely love this image.
I hope you enjoyed this look at Pelling my thoughts about photographing the woods. Pelling is a place of beauty and the view of Mt. Kanchenjungha and the Sleeping Buddha Range is phenomenal from this place.
---
About the author: Subham Shome is a landscape and travel photographer based in Agarpara Kolkata, West Bengal, India. The opinions expressed in this article are solely those of the author. You can find more of Shome's work on his website, Facebook, and Instagram. This article was also published here.