EarthCam Collabs with Sony in New All-Weather High-Res Timelapse Rigs
EarthCam, which recently made waves when it took the largest photo ever captured of New York City, has launched two additional high-resolution timelapse camera rigs that use a Sony Alpha 7R Mark IV at their core.
Following the launch of the EarthCam GigapixelCam X80 in May, the company has announced two more high-resolution timelapse camera rigs: a wide-angle 61 MegapixelCam and the 61 MegapixelCam Robotic, which adds a precision 360-degree pan and tilt base.
The non-robotic wide-angle camera features a Sony 20mm f/1.8 prime lens mounted to the Alpha 7R Mark IV to offer wide, high-resolution files. The robotic version uses the Sony 25-70mm f/3.5-5.6 OSS lens and is not user-customizable as it has been optimized and tested specifically to work with this lens.
EarthCam may use the Sony camera system at its core and therefore the image quality is well documented, but thanks to the Sony Camera Remote SDK, the company is able to build significant functionality around the camera. The EarthCam enclosure protects from the elements and comes equipped with what the company bills as a "maintenance-free" wiper, battery, and data backup. The camera can be controlled remotely and tasked with documenting ongoing progress or specific milestones.
Most of EarthCam's clients are commercial or industrial, but because of the advanced software features, the system has several creative applications as well. EarthCam doesn't publish how much each of its systems costs, but says that its rentals start at $680 per month for the new systems.
Both of the new 61-megapixel systems use an industrial solid-state embedded Linux OS platform with an ARM9 CPU and 64-gigabytes of onboard backup storage. It can be connected via either ethernet or a wireless 4G or 5G connection and powered by a standard wall outlet or outfitted with solar if it is placed in an area where traditional power is not available. EarthCam also provides custom software that can be used to monitor and adjust the camera from a computer or mobile device.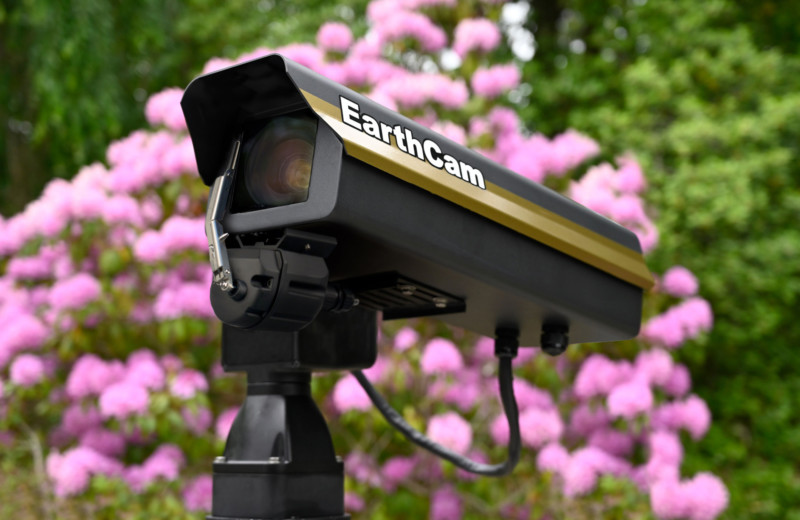 Earlier this month, EarthCam published a video that shows the kinds of projects that can be made with its products and why high-resolution is of particular value. Beyond timelapses like the one below, EarthCam rigs outfitted with a robotic base (like the 61 MegapixelCam Robotic) can also produce extremely high-resolution gigapixel images by stitching together a large number of photos.
These camera rigs can also be used for live streaming, which EarthCam demonstrates with a camera that is currently live over Times Square in New York and is broadcasting in 4K.
While as mentioned EarthCam doesn't publish exact pricing, it does say that these new models are "mid-priced" and are designed to make it easier for small or midsize businesses to afford in addition to the aforementioned rentals the company makes available.
Long-term timelapse production is a niche art, but it's still highly valuable for commercial photography businesses. While EarthCam is clearly designed for larger-scale productions, its Work Zone Cam Pro is comparable to popular affordable options like photoSentinel, with prices that start under $3,000.
---
Update 6/23: EarthCam specified rental pricing for its new cameras as well as a subsidiary company that offers similar products at a lower price.