Camera Control App Cascable Revamps Interface, Supports Phase One
Cascable has released version 6.0 of the its Professional Photography toolkit which marks a collaboration with Phase One by adding mobile remote control and image transfer to the Phase One IQ4-based medium format cameras along with other notable updates.
For the first time, IQ4 users can control and automate their cameras from their iPhone or iPad wherever they are, and transfer 150 megapixel RAW images to their devices for preview and management.
The updated Cascable 6.0 also includes a completely new and revamped remote control that is optimized for all screen size combinations from the smallest iPhone to the largest iPad at any orientation. The company says that the new remote control concentrates on clarity and ease of use, bringing at-a-glance exposure settings and a greatly simplified and refined workflow.
The company says the Cascable app "takes a good DSLR or mirrorless camera and makes it even better" by giving users the tools to control and automate its functions using an iPhone or iPad. Users can even transfer photos from their camera to their mobile device — including full-quality RAW files from more than 200 different DSLR or mirrorless cameras the app is compatible with and connects via WiFi and/or USB for super-fast image importing.
Despite its advanced options, Cascable insists that users don't need to be a master photographer or computer programmer to get the most out of it. The company says it is for "professional photographers who want to have complete control of their DSLR or mirrorless camera without using fiddly on-device controls, as well as Beginners who'd like to enjoy their DSLR or mirrorless camera while using the best possible interface."
Using the app you gain full control over the exposure and most other settings available in the supported mirrorless and DSLR systems. Users can shoot a timelapse with powerful drag-and-drop automation that allows for creating complex and unique sequences, create exposure brackets, take advantage of built-in calculators for exposure and other features useful for astrophotography, back-up the files immediately, and more with many built-in automation tools.
The app will also allow users to control a DSLR or mirrorless camera's shutter through an Apple Watch. While connected to an iPad or iPhone, the application will allow for displaying on a TV through the use of AirPlay or HDMI connections.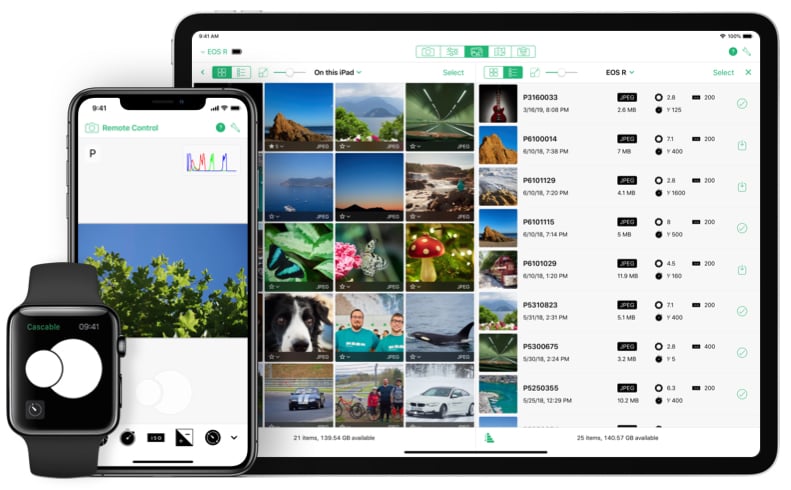 Cascable says the app has a single, unified interface regardless of the DSLR or mirrorless camera being used, but users should be aware that some features may vary depending on the model of camera and method used to connect.
The Cascable app is a free download on the Apple App Store, but the full features of the app are only avaialble with the "Pro" version, which can be purchased as a subscription ($5 per month or $30 per year) or bought outright for $60.