Subjects of World Press Photo Series 'Paradise Lost' Critical of Project
The mountainous region of Nagorno-Karabakh, which sits between Armenia and Azerbaijan, has been rife with tension and animosity for over three decades.
The conflict was reignited in September and quickly became an outright war, with drone strikes and missile attacks. Thousands died, and more have been displaced. In November, a peace deal was brokered, Azerbaijan declared victory, and captured most of the contested region, forcing Armenians to flee.
After the peace deal was signed, Russian photojournalist Valery Melnikov was in Nagorno-Karabakh to document the aftermath as thousands of Armenians fled their homes. The images received international acknowledgement, and his series documenting Armenian plight, "Paradise Lost" was a finalist in World Press Photo's 2021 Photo of the Year contest.
The series tells a story of grief, loss, and trauma. Melnikov captures a woman crying at her doorstep, a couple with their children preparing to leave, and a man sitting on a stoop while a house is lapped in flames behind him. The result is powerful and afflicting.
When Ani Djaferian, who is Armenian, found out Melnikov's series was nominated for an international award she was hoping it would bring newfound awareness to the conflict. She felt the photographs were deeply compelling, but found the descriptions attached to them "disingenuous."
The captions, she told PetaPixel in an interview, chronicled "a war from 30 years ago," not the one that ended less than six months ago, included disputed figures about the number of displaced Azerbaijani civilians, and used "passive language" to describe the "grief of [Armenians] who are in their most desperate moments."
Each of the 10 photos in the series is accompanied with one or two sentences about the subject depicted, and over 15 sentences describing the history of the conflict in Nagorno-Karabakh. Djaferian believes the paragraph detailing the war depict Armenians as the "aggressors," while the photos show Armenians in peril.
She brought her concerns to World Press Photo, which changed the captions that included the inaccurate displacement numbers. But still unhappy with the "lack of nuance" in each photo's description, Djaferian took it upon herself to find and reach out to four of the subjects in Melnikov's series.
She found the subjects were displeased with their representation as well.
"I saw what was written on the website and it has nothing in common with what I told him that day about our situation," said Hasmik Abovyan, one of the women Melnikov photographed, in a response video Djaferian posted on YouTube.
Abovyan, whose name is misspelled in the official submission and World Press Photo website, remains in her home village because her family cannot afford to leave. "The feeling of not knowing if you will survive to see tomorrow, when you don't know where to go to be safer."
Several of the subjects fled from the first war and are now being displaced for a second time.
"Write the story that belongs to us now," said Anahit Gevorkyan, a mother of eight, in the video.
In a statement to PetaPixel, a World Press Photo representative said all contestant photographs go through a "rigorous four-stage verification process."
The statement continued, "While we rely on the photographers for the basic captions, captions are edited for accuracy and clarity, and we often need additional information. This is so we can provide the full story that gives the context for each image and story […] Overall, it is very tricky to get an overview written in a caption of an issue that has deep historical roots, that is still raw and recent. The information in the caption is verified by multiple sources and aims to stand as neutral as possible."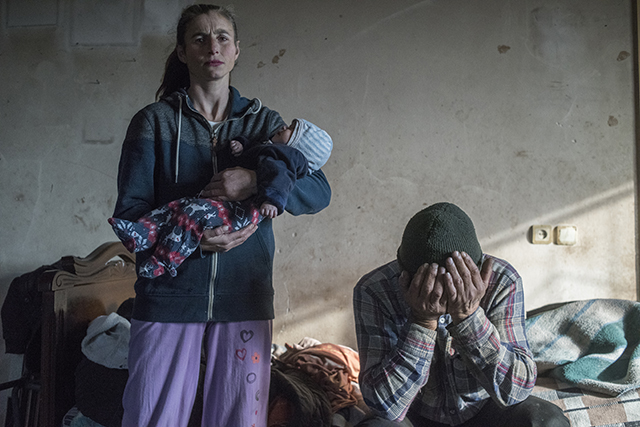 The same caption used for Melnikov's series was used for another photographer's submission to World Press Photo. The description was only changed when Djaferian alerted the photographer, Vaghinak Ghazaryan, who is also Armenian, who then reached out to the organization.
Djaferian said the subjects of Melnikov's do not have issues with the photographs, but felt they were "misled" by the text linked to their portraits.
"The ethics of telling this story without consulting someone who is in the photo is disappointing," she said. "This is a very nuanced situation that is deeply sensitive, and by sharing a one-sided narrative it leaves a lot of room for individuals to cover this conflict in a way that doesn't do justice to the individuals whose photos are being captured."
Melnikov declined to comment for this story.
The complaint Djaferian brings forward is one documentarians and photojournalists have been grappling with for decades: How to accurately, sensitively, and ethically cover a community one is not part of in a neutral way during a contentious time.
Documentations are seldomly insiders of the communities they cover, and rely heavily on visuals to convey a myriad of multifaceted histories, meanings, and tones. When covering crises, photographers often straddle a very thin line of honoring vulnerable subjects with empathy while also remaining neutral.
"We're not toys, are we? The story isn't relevant to our state and the photo taken on November 28," Hakob Tersyan, 60, says in the video.
In "Paradise Lost," the captions are somewhat disconnected from the feelings any viewer would gather from the photographs on their own.
Visual media is inherently not neutral, though, and the way a photographer frames their subjects can determine how an audience views them. And even if a photographer considers themselves to be an objective observer, images naturally bleed emotion. David Shields, author of "War Is Beautiful" argues "a parade of beautiful images" can more often than not glorify war — even when the individual accounts are horrific, which begs the question: Is there a right way to photograph the atrocities of war?
Djaferian, after talking to the subjects, said she believes Valery came to Nagorno-Karabakh to document the conflict and then "failed to include any kind of context on why these people are burning their homes." The result, she said, furthered misconceptions about the war to a larger audience.
Because Melnikov's account depicts subjects in an already precarious situation, surrounded by tension, it's unlikely all sides involved will walk away happy — and Djaferian knows this. However, she contends that while some of the subjects in Melnikov's series remain displaced and are uncertain of their safety, his work was a finalist in one of the prestigious photojournalism contests in the world.
"There is no need to aim to please everyone," said Djaferian. "But I think it's important to at least start with the individual you're photographing."