Little Big World: The Beauty of Moldova Captured in Miniature
Photographer Joerg Daiber of the YouTube Channel Little Big World has published a 3-minute timelapse, tilt-shift-style aerial video along with a set of photos that captures one of Europe's most beautiful landscapes.
Moldova — supposedly the least visited country in Europe as well as the second poorest in the region — is a landlocked country in Eastern Europe and is bordered by Romania to the west and Ukraine to the north, east, and south. The above film was shot in Țipova, Orhei Vechi, Soroca, Bendery Fortress in Transnistria, and the capital city Chișinău.
"While it might not sound very inviting to most people, I found this country to become my favorite destination on my pre-pandemic East Europe trip," Daiber says. "The people are lovely, the landscapes are beautiful, and there is lots of interesting history and architecture."
Daiber explains that he enjoys making projects with this effect because he says that miniaturizing footage somehow puts things into perspective.
"Instead of focusing on major sights and attractions, I try to capture people doing everyday things in these films," he says. "I find watching these relatable things in miniature very grounding in some sort of way. It makes the personal drama feel so minuscule and tiny in scale. I think that people should not take themselves and what they do too seriously. After all, we are just tiny little bugs on this planet."
Daiber explains that he shot all the footage and images on an Eastern Europe road trip with his four-year-old son.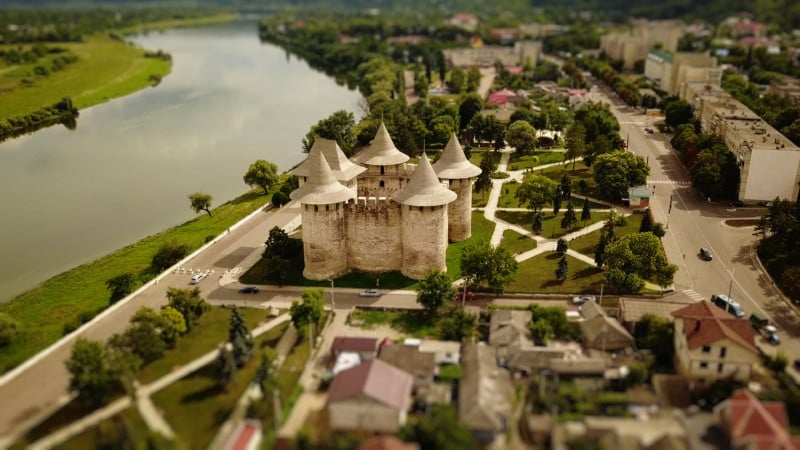 "You can see us performing a silly 'dance' at 0:51," he says. "I used a Lumix GH5 and GH4 camera with a few Panasonic lenses. I really love the MFT format for traveling and timelapses as it takes off so much space and weight from your bag. I also own a Lumix S1H, but rarely bring that along. While I love to work with full-frame cameras, they don't make too much sense for these kinds of projects."
In addition to the Panasonic cameras, Daiber says that he also, of course, uses a DJI Mavic drone.
While this kind of miniature effect can be achieved with tilt-shift lenses, Daiber says that in the case of this project he added the effect in post.
"A while back I switched from Adobe to DaVinci Resolve and have never looked back since my workflow is now so much faster and easier," he explains. "I know that some guys have very strong opinions about not using tilt-shift lenses for this kind of work. I do get the occasional hate comment on YouTube and Reddit, but well you can please everybody, I guess."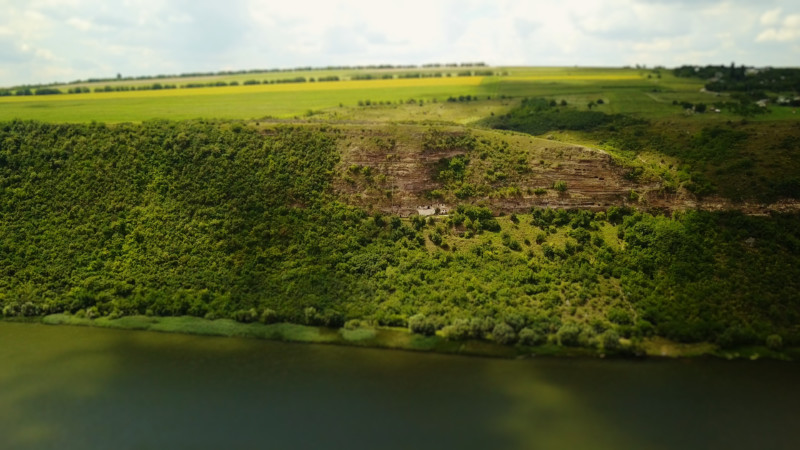 While purists might disagree with his methods, Daiber says that he is able to make his art because he doesn't rely on using tilt-shift hardware. It's also more practical from a business standpoint.
"I think that [my method] gives me way more flexibility to do everything in post in terms more variety of focal lengths while shooting with zoom lenses, changing focal planes as needed in post, and also I can reuse the raw footage without the effects which makes them more suitable for distribution to a wider audience on Getty Images."
Daiber has made more than 120 films like this one over the past decade, which all can be found on his website Little Big World. Over that time, the equipment he uses has evolved quite a bit.
"The first films I shot only with a GH2 and there were no drones, 360-degree cameras, and gimbals available. These days there is much more gear to lug around in my backpack."
For more from Joerg Daiber, make sure to check out his previous projects on his website and subscribe to his YouTube Channel.
---
Image credits: Photos by Joerg Daiber and used with permission.