Photographing Northern Harriers Flying Over the Grasslands at Dusk
I've always found northern harriers to be a raptor species that stood out from most others. Their hunting method provides ample opportunity for creative photography as they glide over gorgeous marshes and grasslands searching for food. On this particular evening, I visited a new grassland in the middle of New Jersey that I had not visited previously to see if I could capture some photos of these beautiful birds.

I arrived about 2 hours before sunset and it wasn't long before I saw the first northern harrier gliding on the cold windy breeze over the brown grassland. It was an adult male which was exciting since I don't see them nearly as often as females. The bird stayed a good distance away as it hunted over the fields. After some time I saw a second bird and then shortly after they were both gone.
I was initially sitting in my car and decided to get out and set up along a dirt road and stand in one spot to see what would happen. I had my behind the scenes recording setup with me and thought it might be a nice video to share with others if the harriers showed up. I put on my heavy jacket connected everything to the tripod and went out into the cold.
It was an entirely clear afternoon with no clouds in the sky and as the sun dipped lower and lower towards the horizon, the brown field started to take on a golden glow. I began to see a northern harrier flying around and began to take some scenic photos. A large flock of Canada Geese began to land in the grassland as well which gave me something else to watch.
Eventually, the sun dipped behind the trees and that is when the magic happened. Suddenly more and more northern harriers started showing up, I think I counted 6 or 7 at one point. There were a couple of adult males mixed in which made for some nice variety. This is the point when I used to wrap things up and head home but I've learned to stay well past sunset because there are often wonderful wildlife photo opportunities during that time.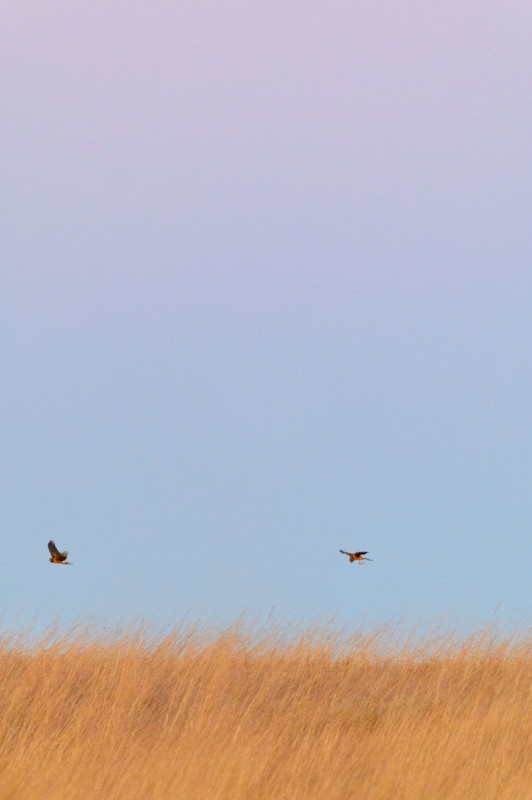 The colors in the sky started turning into pastel pinks, purples, and blues. The overall color palette of the grasslands was gorgeous. With harriers flying all over the fields I was tracking them almost non-stop at this point. This is when having fast glass is helpful and I set my Nikon 500mm to f/4 and started managing the shutter speed and ISO to get a sharp bird-in-flight shot.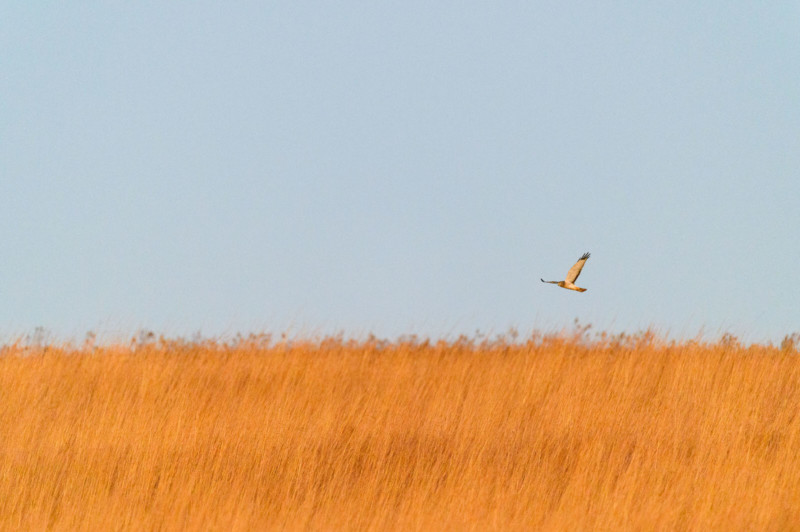 Once the sun was gone, I started at 1/640 and ISO 1600. Having the Nikon Z6 II, which is great in low-light, was also an advantage and one of the reasons I've always enjoyed the lower resolution full-frame cameras from Nikon for the past decade.
I know many photographers like to have much higher shutter speeds for birds in flight. In my experience, I've found you can often get away with slower shutter speeds than you may think, especially with birds that fly like harriers, gliding in mostly straight lines. I ended up dropping to 1/400 at ISO 6,400 by the time I wrapped up the session a solid 30 minutes after the sun dipped behind the treeline.
There was only one moment when one of the harriers flew very close to me and I entirely missed focus because I was in the middle of rotating from vertical to horizontal when it happened, which you can see that exact moment in the video! Since they were distant I concentrated on capturing the beauty of the scene.
I've long been a fan of birds small in the frame and this series of photos are some of my favorite northern harrier photos I've taken to date. The colors in the sky and the sense of space over grassland is what I try to accentuate and I hope that came through in these photos. I hope you enjoy the video as I take you along with me on the outing.
---
About the author: Ray Hennessy is a full-time wildlife photographer based in New Jersey who specializes in bird photography. The opinions expressed in this article are solely those of the author. Hennessy offers workshops and mentorships and is also available for assignments. You can find more of Hennessy's work on his website, YouTube, Facebook, Twitter, and Instagram.