Robotic Nikon D5 DSLRs Installed at Boston Red Sox's Fenway Park
The Boston Red Sox professional baseball team has partnered with Nikon to have automatic robot cameras installed across its iconic Fenway Park.

Nikon Professional Services (NPS) installed five state-of-the-art
Robotic Pods
by
Mark Roberts Motion Control
(MRMC) at various key locations in the park.
The modular camera system housing can be controlled through a custom software interface by a remote operator, and the cameras will be used to capture high-quality photos and videos of Red Sox games during COVID-19 pandemic restrictions.
Inside the weatherproof Robotic Pod housings are Nikon D5 flagship DSLRs with Nikon 80-400mm f/4.5-5.6G AF-S VR lenses attached. Other lenses can also be swapped in for different photo needs.
"In the era of social distancing and COVID-19 related constraints, the remote system from automated capture experts MRMC, a Nikon group company, is the solution that minimizes risk and offers operators and photographers a safe way to remotely control cameras to capture amazing content — with the added benefit of more creative options than ever before," Nikon says.
The cameras can now be found on the roof of the press box, on the first and third baselines, overlooking center field and the bullpen, and right behind home plate.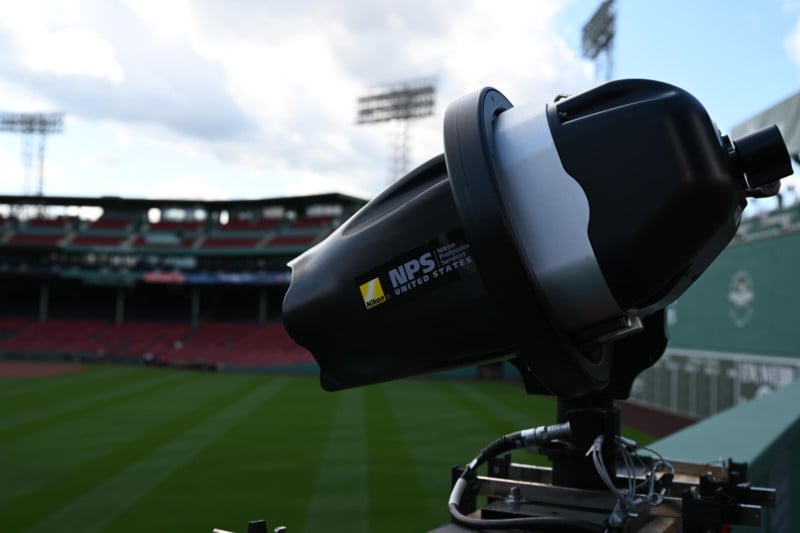 Photographers shooting with the pods have 360-degree movement and zooming capabilities with the ability to pes-set capture points. They can also remotely adjust focus, exposure, and other camera settings.
"With the system, the photographer/operator can capture high quality photos and videos for broadcast, social media and marketing needs while reducing proximity to other staff and players and gain remote access to restricted areas," Nikon says. "In fact, a photographer can cover an entire game without ever leaving the booth."