Video of Officer Shoving Photographer 'Into' Fire Sparks Anger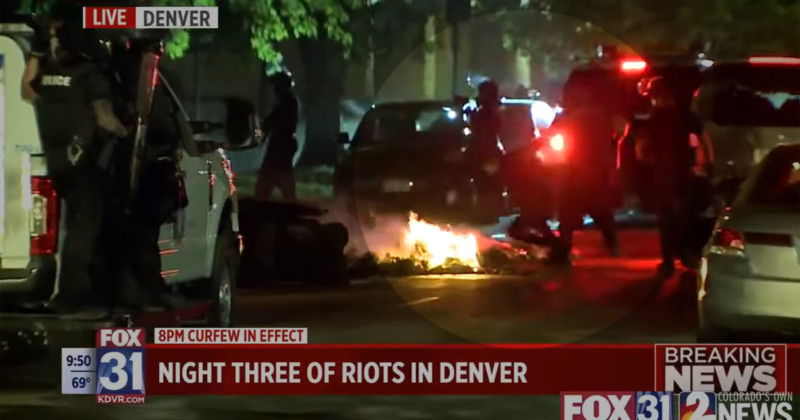 A Denver SWAT officer has sparked outrage after a television news camera caught him shoving a crouched photographer toward a burning pile of trash.

The incident took place on Saturday night, when FOX31 KDVR was covering the third consecutive night of protests sparked by
the death of George Floyd
in Minnesota. The Colorado camera crew captured the brief incident on tape, seen at the 1:10:30 mark in the video below:
After the photographer gets low near a dumpster fire in the middle of the road amidst several patrol cars and officers, the SWAT officer walks over and pushes the photographer over onto smoldering debris. The photographer quickly gets up and hurries away, and there appears to be smoke trailing from his backpack as he makes his exit.
A clip of the encounter has gone viral online, racking up over 100,000 upvotes in the subreddit /r/PublicFreakout. It's even making international headlines: the UK's Daily Mail published the clip in an article titled, "Horrifying moment a SWAT officer pushes a photographer toward a fire after they knelt down to take a picture after riot in Denver."
While no one is defending the actions of the Denver SWAT officer, some are pointing out that the TV news crew's vantage point and telephoto lens may have created a misleading forced perspective, similar to what sparked debate recently regarding a news photo of crowds on a California beach.
In other words, the photographer might have been a little farther from the flames in the video than it appeared in the footage since telephoto lenses can compress space and make things at different distances from the camera look closer together than they are.
It's unclear whether the photographer was a credentialed photojournalist, but photographers around the country have been experiencing targeting by police and encroachment of their First Amendment rights that guarantee freedom of the press.
"Journalists are there as representatives of the public, and if law enforcement is attacking them, they can't do their job, and that hurts everybody," attorney Sarah Matthews of the Reporters Committee for Freedom of the Press tells the NY Times.
If you'd like a live glimpse of the current state of photojournalists' First Amendment protections, the U.S. Press Freedom Tracker is a project that tracks and catalogs press freedom violations in the United States.