Iconic Central Camera Destroyed by Fire During Looting in Chicago
The iconic 121-year-old camera store Central Camera in Chicago was seriously damaged by a fire over the weekend amidst protests and rioting the erupted after the death of George Floyd at the hands of Minneapolis police officers.

The Chicago Tribune reports that Central Camera, the oldest camera store in Chicago, went up in flames sometime Saturday night as rioters smashed windows, looted stores, and set buildings on fire.
Theres a lot of film here, and that's v. flammable. Firefighters trying to cut into the door. 6 engines on scene. #chicagoprotest pic.twitter.com/biGQlx5zEu

— Dominic Gwinn (@DominicGwinn) May 31, 2020
The business was born back in 1899 and has been at its current location (230 S. Wabash Ave) since 1929. Third-generation owner, Don Flesch, whose grandfather started the business, told media outlets that even though its difficult to see his store burn, he himself is angered by what started the chaos.
"It's what's going on, it's reality, so you deal with it. It's that simple," the 72-year-old Flesch tells CBS 2. "I'm angered about what started it, which was what, Minnesota, that poor guy, getting hurt, and dying, and everybody around the country literally deciding how do we show our anger and how do we protest."
Flesch tells CBS 2 that he responded to a security system alert at 9 p.m. on Saturday, arriving to find looters leaving his store with baskets full of his products. He also says he saw smoke beginning to come out of his store shortly after two or three men entered and exited.
Flesch did manage to enter the store and save an antique Kodak folding camera that was the first camera his grandfather ever sold (which was gifted back to the store 3 decades later).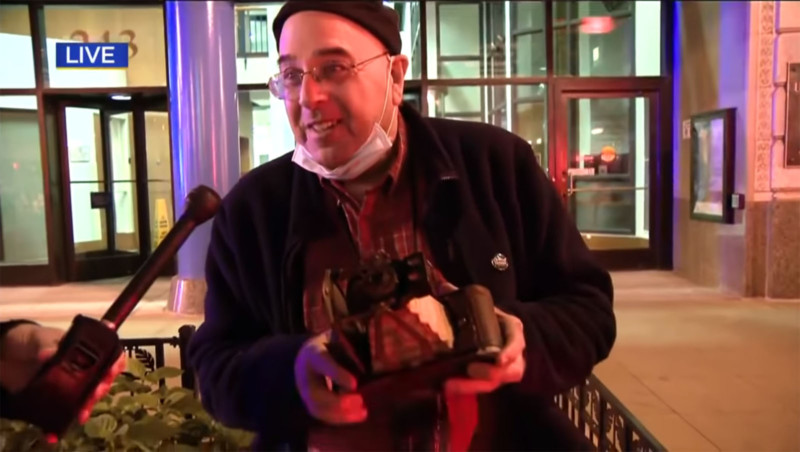 "I'm not depressed at all," he said on camera. "We lost inventory, no lives were lost. Hopefully, the nice firemen, no one gets injured."
It has been a tough several years for camera stores across the country, and many have been permanently closing up shop, but Flesch is vowing to rebuild his camera store rather than tap out of the industry, saying he's going to "make it just as good or better." He has set up a GoFundMe to raise donations for the rebuilding effort.
"We are still surveying the area to see if we can recover any assets, but at this time it looks like 100% destruction," Flesch writes on the campaign page. "All funds raised on this page will go towards the restoration and reopening of our 121 year old iconic camera store. We thank you all for your donations and kind messages.
"Although this is a tough time for the store, it doesn't compare to the loss of George Floyd's life and the countless other Black lives lost. We stand with the African American community in solidarity."
The GoFundMe campaign has already raised over $100,000 of its $250,000 goal at the time of this writing.
"I hope everybody is safe," Flesch told CBS 2 in his parting words the night of the fire. "Everybody should learn a lesson. What is the lesson? Be prepared. Have more film in your pocket."