Capturing Kindness and Raw Humanity Inside the Minneapolis Protests
As someone who is used to going around the world and capturing scenes of humanity among social situations, I knew I had to go immediately to the Minneapolis protests to get the real story. When I saw the news showing only negativity and destruction, I knew far too well that it couldn't be the entire story.

Warning: This article contains mature words and images.
I got a room by the Mall of America, close to the 3rd Precinct, and opened my window to what looked like a scene from WWIII. Smoke all over the horizon. Sirens going off. And no cars on the road near where I was, yet police just driving through and dropping concrete barriers to keep people out of the Mall of America.
I grabbed my camera and ran down to the scene. Destruction was still underway and buildings were burning all around me. Firefighters looked at me, completely worn, scared, and confused, knowing they couldn't even stop it. They could just do their best to minimize the collateral damage around it.
But then I started to notice how many people were helping. EVERYONE was helping. There would be 2 people breaking a window and then a hundred people behind them, cleaning up the glass and putting the fires out. Local citizens were even in these buildings many times before the firefighters could even get there, doing their best to stop the fires and destruction.
Then I started interviewing business owners, as they were first walking into their businesses, many of which were completely destroyed. I saw sadness, but that's not what I heard. Many of them sat in the destruction, yet looked around at hundreds of volunteers helping them immediately clean up, without asking. They saw all their employees, many who were African American themselves, coming back as soon as they could to help rebuild.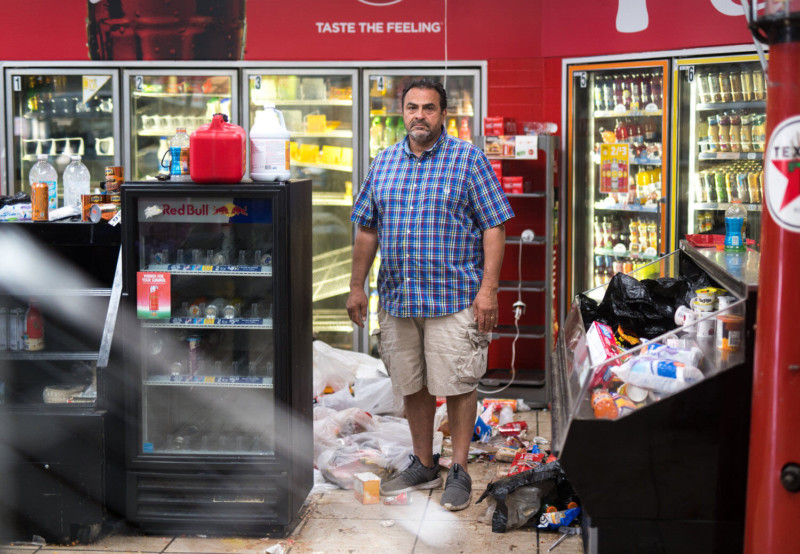 And I saw the deep joy that came from that realization — that the culture they had created with their employees and customers transcended just the transaction. Many of the people were grateful to have them in their communities and showed it most during times like this when they're needed the most.
I saw charities out giving water and food to anyone that needed it, standing in the midst of smoke and burning buildings.
Then I got to the line at the National Guard. There were peaceful protesters talking gently to the National Guard, asking them to lay their guns down, that they are no different than them and that they could join the cause. Most of these National Guard looked so young, and looked so confused and out of place in very tense situations.
I watched one gentleman walking up to some of the members and asking if he could pray with them – And saw some of them lower their heads to give him that request, while other soldiers head their guns still high.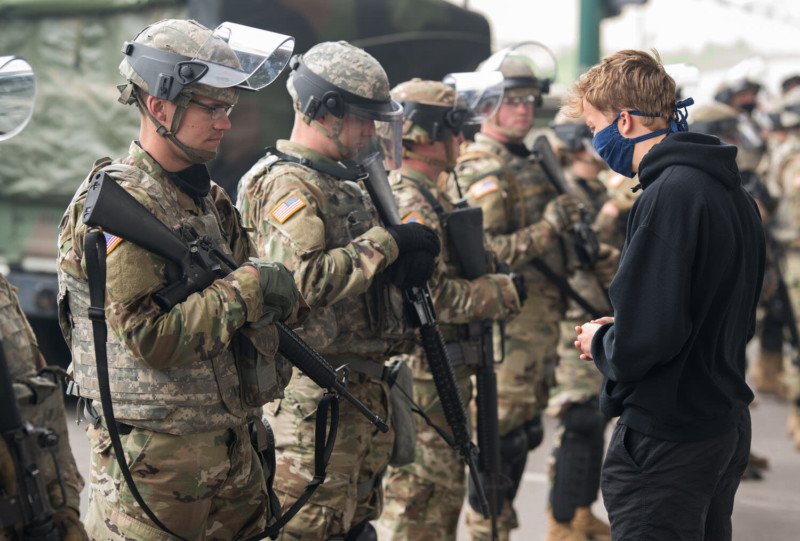 Every situation was powerful and full of overwhelming emotion. But each one is absolutely full of a feeling that they're all in it together. African Americans standing alongside Caucasians and Mexicans, all cleaning their communities to help rebuild and give their time and service to protect those that need it the most.
In the midst of the more dire situations, I found the purest form of true humanity.
---
Editor's note: You can also find this set of photos on Schluter's website.
---
About the author: Adam Schluter is a photographer based in Coeur D' Alene, Idaho. The opinions expressed in this article are solely those of the author. Schluter offers his award-winning wedding and lifestyle photography services through his business Lightcast Photography. Schluter has been published in National Geographic and has given at TED talk. You can find more of Schluter's work on his website.
---
Credits: Video at top by filmmaker Jack Wade. Photos by Adam Schluter.