Model Lets Photographers Control Her DSLR Over 'Zoom' for Long-Distance Photo Shoots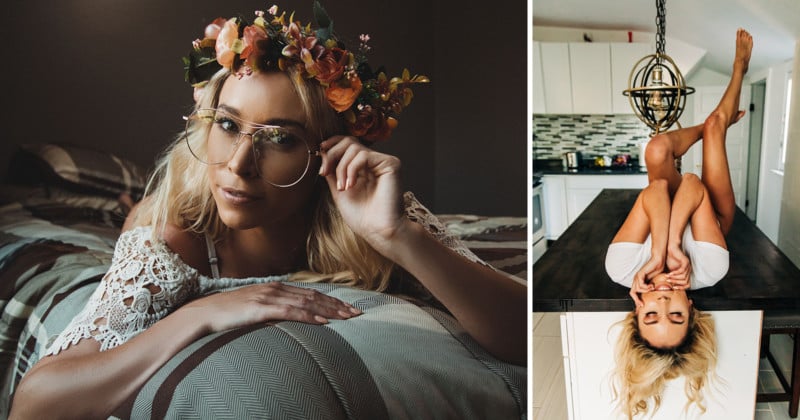 I am a traveling model, working in the industry for a little over 20 years. I also work on a drag racing team as a promotional model and videographer. I had two tours planned for the east coast in March & April, but unfortunately these plans have canceled due to COVID-19. With my tours canceled and race scheduled changed, I was out of work for the unseen future. Time to get creative!
I recently did a "Skype" / "FaceTime" shoot with a good friend photographer Louis Reed. We came up with some really creative and fun shots but I missed capturing proper, hi-res images like you do on a real shoot. So I came up with an idea.
I know wildlife photographers shoot remotely, and being at photo shoots myself, I've seen photographers tether to a computer for us to check the photos as we shoot. I really wanted to put together a way to provide hi-res images to the photographer, just like at a shoot, but while shooting remotely. After some networking on a few Facebook groups, another good friend of mine who is also a photographer, Walt Weiss, pointed me in the right direction of remote shooting.
Walt and I did our first test a few weeks ago… and since then it has blown up, receiving more positive feedback than I ever expected!
I am extremely happy in the interest on this project, because not only did I want to start this to achieve my own personal needs but to help others in the industry who may be struggling during these trying times. This is a time for all of us to come together and support each other more than ever.
The steps for setting up this kind of shoot are quite simple:
I use Zoom to conference in the photographer to private chat.
I will then use the screen share option to let them see and control my screen.
Once the photographer can see my laptop screen, I run a program called DigiCam to give remote control access to the photographer. I usually suggest the photographer use a laptop or desktop during the session, as an iPad will not work.
Caveat: Zoom can be laggy with everyone online, so I suggest to communicate on the phone or whatsApp during session.
From there it's very straight forward. The photographer controls the camera settings via Digicam and directs the shoot over the phone. You can see the process in action in this behind the scenes video below with photographer Lance Andrews
(Editor's Note: Suggestive content, may not be 'safe for work')
There will be a minor lag, so what I've learned during these remote tethered shoots is that patience is key. On both sides. I have plenty of modeling experience so I can hold a pose, know my angles, and take direction well; however, for beginner models or photographers, it's all about communication.
When you get it right, it's incredibly satisfying. Think of it like shooting on film: you appreciate each image so much because that is the image you have both carefully created. The patience and creativity involved makes it feel like a slow dance between model and photographer.
I hope this project spreads and reaches more people. It means a lot to me knowing this can help someone else out as much as it has done for me. Let's get creative and support each other.
---
About the author: Samantha Mathias is a model and videographer based in Indiana. You can find more of her modeling work on her professional Instagram, or follow her travels and personal adventures here.
---
Image credits: All photos credited individually and used with permission.