Shooting the Aurora Out of an Airplane Window
Andy here, checking in from cloudy and chilly London. Here for work for a week or so but had a pretty epic flight over, as you'll see in a second. I had a few friends with systemwide upgrades expiring on American Airlines soon and they were generous enough to upgrade me to business class for the flight over.
Ok, some prerequisites here: as a photographer I know that October-March is Northern Lights season. Knowing this, and knowing there are no clouds at 36,000 feet, I picked seat 12A on the American 777-300ER, knowing it would give me a good view of the aurora with the wing in the foreground. I then began checking the NOAA forecast to see the chances of seeing an aurora (basically anywhere you see green there's a good chance of an aurora).
I stayed up a little later than usual, knowing that there was a good shot for seeing it. I watched a match of the Australian Open and then turned the screen off so my eyes could get used to the darkness a bit. Nervously, I opened the window… and I saw it. The first glimpses of an aurora appearing just above the horizon.
I immediately went into Photography Mode. I got my tripod ready to deploy, as well as my Sony a7rIV and 12-24mm f/4 lens. Before setting up, though, I went up to where the flight attendants were sitting and gave them a heads up about what I'd be doing. They kind of chuckled and said ok, but there was good reason for warning them.
I set my tripod up on the side console of the business class seat, inverting the center column so the camera could be as close to the window as possible. I manually focused on a star the camera could see, and set the camera for a 30 second exposure, just for a test shot.
I looked at the test shot… the aurora was sitting there shining back at me.
---
A quick note: unless the aurora is incredibly strong it won't appear super green to the naked eye. Human eyes, especially as we age, cannot see the color green very well.
---
It was now time to refine my setup to make it perfect. I left the tripod where it was, using the Sony Imaging Edge app to fire the camera remotely. I then took the business class blanket and draped it over the top of the tripod, holding it in place with my hands up against the fuselage of the jet. I did this so the ambient cabin lights wouldn't creep into the shot.
A flight attendant was walking by as I was doing this and said, "OK good point, we might have freaked out if you didn't give us a heads up." Which makes total sense: guy fidgeting with metal thing leaning up against a window and then draping a blanket over the whole thing and leaning up against the wall of the plane… not normal.
For the next hour I kept shooting. The camera and lens were wonderful and the aurora eventually exploded into another layer, making for one of my new favorite shots of all time.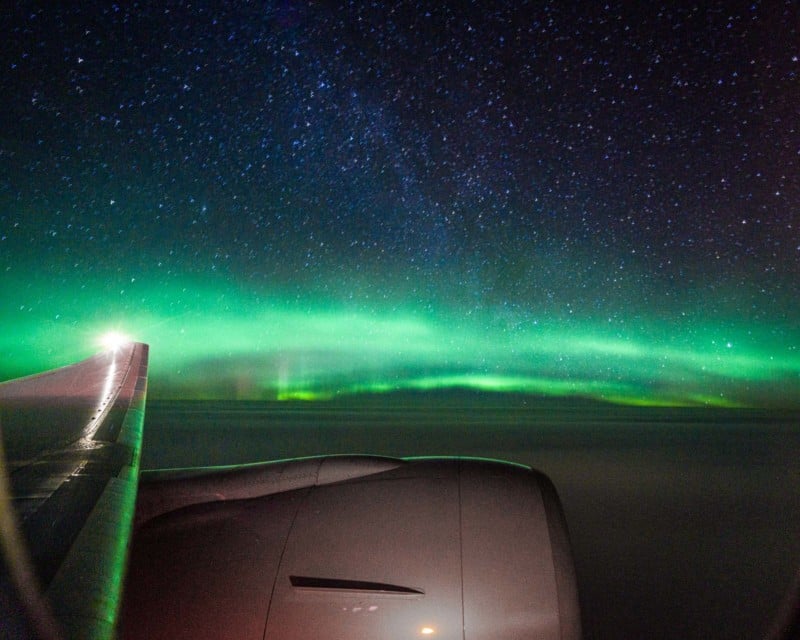 For those of you who are interested, my settings were:
15mm
ISO 3200
f/4
30 second exposure
There's some vibration in the stars if you look super close (but most won't), but I didn't really have to do much to this in post aside from taking some orange out of the wing so it would appear more gray (it was lit by the navigation beacon).
I love so many things about this image, but my favorite thing just might be the green reflection on the leading edge of the wing. As always, please feel free to ask any questions in the comments below about the post processing work!
---
About the author: Andy Luten is a Dallas-based travel photographer and blogger whose popular travel blog shares the wonder and joy of traveling. To see more from Luten, visit Andy's Travel Blog or give him a follow on Facebook and Instagram. This post was also published here.