The Silliest Online Reviews of Beautiful Landscape Photo Spots
Our lives are ruled by ratings. We 21st-century humans seem to spend an inordinate amount of our time attaching star ratings to stuff for the benefit of complete strangers. We rate comments, we rate photographs, we rate articles, we rate products and we rate places.

Such is the modern obsession with ratings that it impacts our experience of a thing or a place, either because we are influenced by others views or because we're so keen to share our own (obviously crucial) opinion that we totally fail to actually live it. And (mea culpa) I'm as guilty as the next person — worse — I'm a Google Local Reviewer! Level 5!
Anyway, all of this was clearly at the forefront of the minds of the Vienna Tourist Board who commissioned Wien Nord Werbeagentur agency to create an advertising campaign that highlighted firstly, just how plain silly many of these reviews are and secondly why you should probably try and, you know, live in the moment, rather than stressing about the wording of your Trip Advisor review. It made me laugh and inspired me to create my own.
I trawled the web for some of the best-known places here in South Coast in New South Wales, Australia, and collated a list of the silliest online reviews. These are all completely legitimate — you can check them out yourself if you're so inclined.
Who decides what you like?
Lookout, Gerroa
"A lookout where you can barely see anything. One of the very worst!"
Admittedly there are a few houses on the hill leading down towards Seven Mile Beach in Gerroa, but "one of the worst views"???
Travel isn't always pretty. It isn't always comfortable. Sometimes it hurts, it even breaks your heart. But that's okay. The journey changes you; it should change you. It leaves marks on your memory, on your consciousness, on your heart, and on your body. You take something with you. Hopefully, you leave something good behind. –Anthony Bourdain
Kiama Blowhole
"The most overrated tourist attraction in NSW."
Clearly, this reviewer had never been to Paddy's Markets in Sydney.
The journey not the arrival matters. –T.S. Eliot
Bombo Quarry, Kiama
"A nice view but a bit underwhelming as it is old now and slightly underwater."
He's never visited when there's a swell running – it's a *lot* underwater then!
Because in the end, you won't remember the time you spent working in the office or mowing your lawn. Climb that goddamn mountain. –Jack Kerouac
Murrays Beach, Booderee NP
"Same as every other Beach. Boring."
I think you're missing the point of beaches, mate.
Take only memories, leave only footprints. –Chief Seattle
Point Perpendicular, BWR
"After driving 10km on gravel road you will realize, there is nothing to look or nothing to enjoy. Absolute waste of time."
I can only assume that this guy only made it as far as the security gate on the way in. I had trouble choosing between that review and this one: "The worst place you'll ever want to visit after a 6km roadbase patch. It's just a simple lighthouse bounded by fences. That's it. Nothing more to see. Wasted my 3 hours."
Once a year, go someplace you've never been before. –Dalai Lama
Hyams Beach, Jervis Bay
"Had a cramp in the water."
I got nothing.
If you reject the food, ignore the customs, fear the religion and avoid the people, you might better stay at home. –James Michener
Blenheim Beach, Vincentia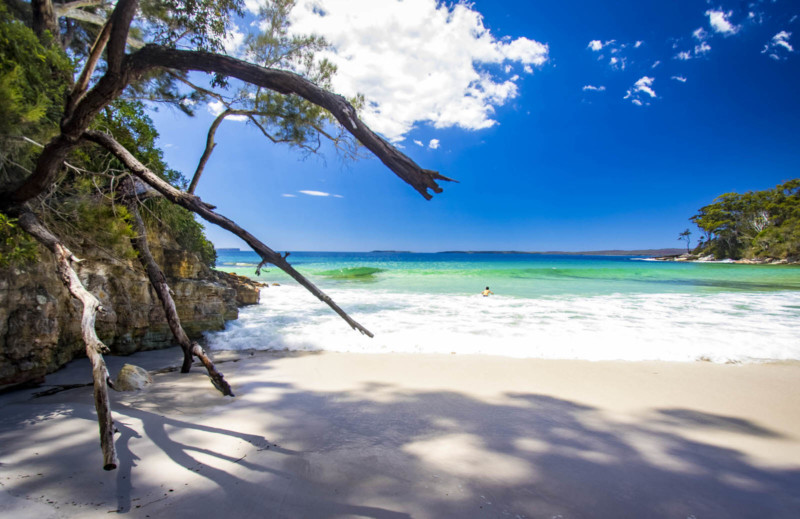 "Not bad."
Not bad, hmmm? So what's the one-star review about then mate?
Travel is only glamorous in retrospect. –Paul Theroux
Honeymoon Bay, BWR
"Yucky place, avoid going here at all times."
It's so busy in the summer that the guards at the entrance gate would probably side with you on this one.
The pleasure we derive from journeys is perhaps dependent more on the mindset with which we travel than on the destination we travel to. –Alain de Botton
GreenPatch, Booderee NP
"Not many shops around."
Well, she's not wrong.
A good traveler has no fixed plans, and is not intent on arriving. –Lao Tzu
Pebbly Beach, Murramurang NP
"Nice beach but white sand not pebbles as advertised. Also far less wildlife than led to believe."
The first person ever to be disappointed that a beach is sandy, not rocky. Also, how ignorant of the kangaroos to be no-shows!
Too often travel, instead of broadening the mind, merely lengthens the conversations. –Elizabeth Drew
The Blue Pool, Bermagui
"Do not come during low tide. One side empty, one side looked like abandoned backyard pool."
Some backyard!
Too often travel, instead of broadening the mind, merely lengthens the conversations. –Elizabeth Drew
Hole in the Wall, Booderee NP
"Disappointed."
Lost. One soul. If found, please return to this reviewer.
Too often travel, instead of broadening the mind, merely lengthens the conversations. –Elizabeth Drew
Jervis Bay Marine Park
"Why is this place so popular? Not worth 2 hours driving from Sydney."
I haven't got the faintest idea.
It has to be said, tripping through all the various reviews of locations here in the south coast was an amusing experience. It underlined for me, just how negative we all seem to have got. When visiting one of the nicest beaches within one of the nicest national parks in Australia, someone's first thought was that there aren't enough shops? Seriously?
In among all of the reviews I worked my way through to compile this article, I did find some sources of optimism. My favorite of which was the person who managed to put a bad experience behind them. When visiting the stunning Narrawallee Inlet, this reviewer awarded the location four stars out of five and said, "Beautiful place. Parking during peak is difficult. Would give 5 stars but someone stole my canoe's wheels."
---
About the author: Andy Hutchinson is a photographer and journalist based in South Coast, New South Wales, Australia. The opinions expressed in this article are solely those of the author. You can find more of his work and words on his website, or by following him on Facebook and Instagram. This article was also published here.
---
Image credits: All photographs by Andy Hutchinson. Star icons by Yasir72.multan and licensed under CC BY-SA 3.0