A Group of Photographers Across the UK Passed Around One Dress
Earlier this year, photographer Danielle Reeder of Somerset, UK, launched an experimental photo project called The Traveling Dress Collective. The idea was to pass one dress around between photographers based around the UK to see the diversity of the resulting portraits.

"What would happen if a group of photographers had the opportunity to shoot with the exact same dress?" Reeder
writes
. "How different would the results be?"
Reeder put together a list of photographers working in a variety of genres, from studio photographers working with posed models to lifestyle and documentary photographers who shoot in all kinds of locations.
Each photographer had 5 days with the dress to create their photos before packing it up and shipping it to the next photographer.
"There were no rules other than not to get it wet due to its delicate nature!" Reeder says.
Here are some of the photos that were created by the collective:
Danielle Reeder
"We got together a few days later than planned and although it was only mid-February, we were lucky enough to have a relatively warm day with pretty perfect lighting conditions," says Danielle Reeder of Somerset. "I'd initially planned to hold the session indoors with a completely different feel so I didn't really have any preconceived ideas for this particular day. We had lots of fun exploring the location and making the most of the stunning surroundings, which all worked beautifully with the dress."
Gary Hill
"When the dates came around it was perfect," says Gary Hill of Lancaster. "I had a collaboration shoot booked with Simone Stocks model and a designer so it was ideal to shoot the traveling dress at the same time. Due to work commitments I never actually had time to unpack the dress until I got to the studio on the morning of the shoot!
"When I did so I just knew it would fit on my styled portrait set up, so after a discussion on hair and makeup, 15 minutes later we were done. Simple effective setups and Simone nailed it! Very happy with what we produced and really excited to be able to share them now. What a wonderful idea!"
Chantal Storrs-Barbor
"Sadly my model canceled at the last minute but I was fortunate enough to have a lovely client who agreed to model the dress for me!" says Chantal Storrs-Barbor of Camberley. "I wanted to create a bit of a 70's grungy vibe with the image. The dress is so versatile for both style and shape that it was easy to create the right atmosphere with a bit of help from lighting and prism to shoot through. I used a continuous LED to light the model and also set up some fairy lights behind to give some depth to the image."
Andrea Bradley
"Initially, when taking on the Travelling Dress Project, I was going to get a model in to do the shoot but was intrigued as to whether I was brave enough to model myself," says Andrea Bradley of Llanelli. "Anyone who knows me will know I'm the quiet type, the one who likes to just merge into a background and be hidden from the world. I am a photographer and a newborn one at that. I am so much more comfortable behind the camera with a squishy baby or child than in front of it.
"I was completely embarrassed and self-conscious to begin with but tried my best to relax, and actually it was fine. My stage fright subdued and I did the shoot and survived. I thoroughly recommend everyone to do this at least once."
Rebecca Challis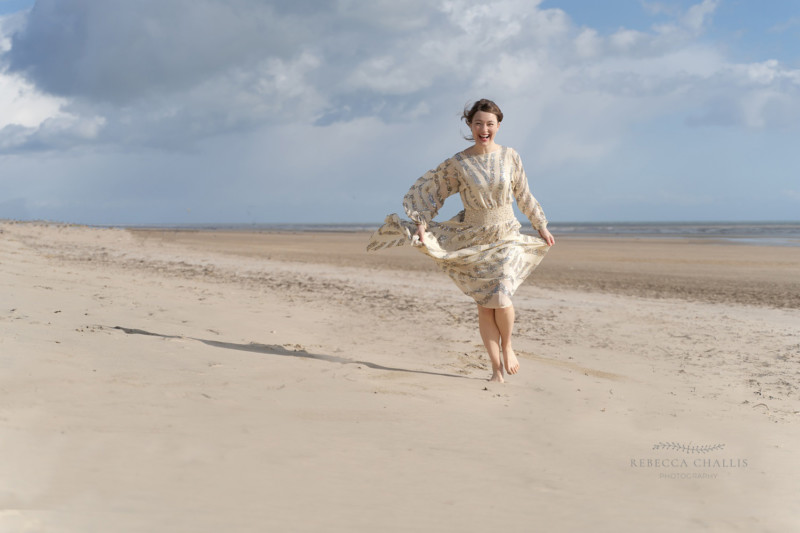 "I was lucky enough to receive this beautiful dress in time for a weekend away with my oldest school friends," says Rebecca Challis of New Malden. "We were traveling to Camber beach for a weekend away. We always spend time on this beautiful beach and I've wanted to do a proper photo shoot there for ages. My gorgeous friend Paula agreed to model and our other friend was my able and very helpful assistant and stylist! The light here at the beach is so pretty and the skyline and beach are so vast that I knew it would make a stunning backdrop for the photos."
Elora Viano
"When I planned this session, I wanted a mum who was still breastfeeding her baby," says Elora Viano of Lincoln. "I wasn't interested in the child's age, because that doesn't matter. I wanted to show how beautiful, comforting, and natural breastfeeding is, no matter where you are, or what you are wearing!"
Jo Haycock
"At the end of its time with us, my 12-year-old daughter told me she loved the sparkles, so she played in it for a while," says Jo Haycock of Caldicot.
Sophia Benham
"My model was sixteen-year-old Tara Yasmin Holland," says Sophia Benham of Portsmouth. "She has an extensive dancing background currently with Timestep Dance School, Portsmouth, and I used to dance with her mother back when I was younger. […] With pointe shoes and dancing tights she put on the dress and came alive as if 'dancing' to a score whilst on stage."
Francesca Low
"The style of the dress reminded me of a cross between 1920's Gatsby style and bohemian chic," says Francesca Low of Chelmsford. "I do love the Gatsby style, but I already had a vision in my mind of how I wanted to portray the dress which was more in line with the boho chic look so that is what I decided to use as inspiration for my photography shoot. "
Lauren Shepherd
"As soon as I saw the gorgeous dress we were using I knew I wanted my shoot for the project to be at the beach," writes Lauren Shepherd of Aberdeenshire. "So the dress traveled to Balmedie beach, near Aberdeen, along with my friend's beautiful teenage daughter Isla as my model. We arrived at our destination just before sunset on what turned out to be a pretty cold and overcast May evening. Luckily the rain stayed away and Isla was still happy to do the shoot despite the cold!"
Ashleigh Shea
"I knew from the start that most were going to be using an adult model for the project but I decided from the moment I joined that I was going to use my 13-year-old daughter," says Ashleigh Shea of Orpington. "Unfortunately I got the date for my turn wrong and all my planning in my head went to pot as I had the dress the weekend before I thought!
"So after a busy day shooting, we quickly dashed up to the woods on a chilly Sunday to have a bit of fun and see what we could get. I'm actually pleased it turned out this way as my original plan was to have her hair done and a little light makeup and use it as her last shoot before she was 14. The way it ended up was much more natural and much more Leah!"
---
"It's been amazing seeing all the images finally come together, each completely unique in their vision and style," says Reeder. You can find a larger collection of these photos here.