Man Can't Explain Why Prize-Winning Photo is Identical to Another Photog's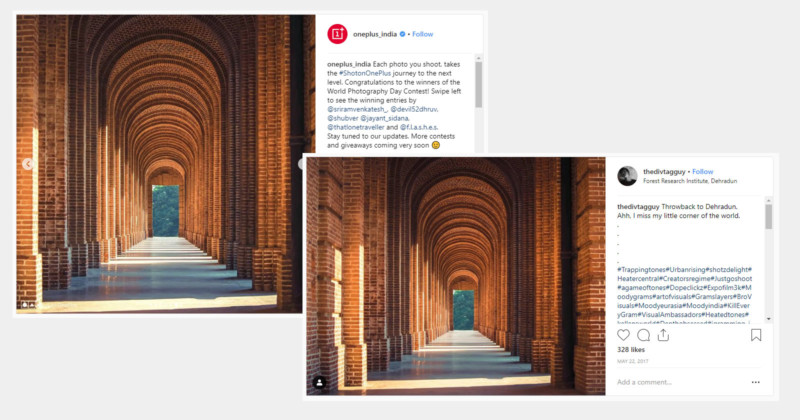 In September 2018, the Chinese smartphone maker OnePlus announced the winners of a #ShotonOnePlus photo contest in India to celebrate the best photos captured by its phone cameras. One of the winning shots was a shock to photographer Aman Bhargava: it looked strangely similar to a photo he had captured two years earlier on his Canon DSLR.

Submitted by photographer Pratyush Yadav, the photo looked like a slightly cropped version of a photo Bhargava captured in 2016 and posted to Instagram on May 22, 2017.
The photo is of a corridor at the Forest Research Institute in Dehradun, Uttarakhand. It's a popular photo spot due to its old architecture and lush environment, and there are countless photos online that look similar to Bhargava's shot.
But upon comparing the details of the two photos, including the shadows, leaves, and toning, Bhargava was instantly certain that the winning photo was his photo.
Bhargava then contacted Yadav to confront him about the apparent theft. Yadav denied using Bhargava's photo and offered to email the original file and EXIF data. Here's what Bhargava received:
As you might expect, Bhargava wasn't satisfied with this "proof."
"You've just sent me a copy of my own image," Bhargava writes. "You've done a terrible job at faking the EXIF details too, by the way. The EXIF says that this image was clicked at 2:00 PM, which is in the middle of the afternoon. […] This image was clicked in the evening."
We reached out to Yadav for his side of the story, and he continues to maintain that he captured his winning photo with a OnePlus device and that he has no idea how his photo ended up 100% identical to Bhargava's earlier shot.
"I can't [explain why the photos are identical]," Yadav tells PetaPixel. "I've spent nights comparing both of the pictures.
"I've only submitted what I've clicked and that was clicked with a OnePlus device and not by a Canon DSLR. I've compared both of the pictures and I accept the fact that the lighting and the shadows in the pictures perfectly match, including the patches in the background too.
"But I've submitted the metadata too with pictures, which proves that it was clicked with a OnePlus device."
Yadav also says that he shot his photo in front of many witnesses (students and faculty at the University of Petroleum & Energy Studies in Dehradun).
Bhargava says he spent over three weeks attempting to contact OnePlus India through email, phone, and social media without any official response.
"This has been distressing for me to some extent," the photographer tells PetaPixel. "Especially because of how OnePlus has chosen to handle this.
"Not only have they advertised an image clicked with a Canon camera to have been clicked by their device (and hence misleading millions of their fans and users) but they've chosen to ignore for nearly a month the requests of the real artist for some clarification on the matter."
The company finally responded to Bhargava yesterday with the following statement:
We are of the honest opinion that the contest winner (@thatlonetraveller) of the World Photography Day Contest may have indulged in malpractice that may have potentially involved a violation of Mr. Aman Bhargava's intellectual property and such acts once proven are a punishable offense under the law of the land.

We are appalled that such an incident has happened and understand the ordeal you as an artist had to go through. We would like to state that we did all possible measures to ensure all terms and conditions for the contest were followed. Particularly for this case, it was mandatory for the photo to be shot on a OnePlus device. When we received all the photos and examined their EXIF details, we found no discrepancies. Hence, all photos met the criteria and we assure you that we have not been negligent in assessing the same.
Yadav says the company has already demanded the $600 smartphone prize back and informed him that it's conducting further investigation into the matter.
Strangely, though, Yadav's winning submission remains up and attributed to Yadav in OnePlus' contest announcement on Instagram at the time of this writing.
---
Update on 2/8/19: OnePlus has removed Yadav's photo from Instagram.