Instagram Accidentally Switched from Vertical Scrolling to Horizontal Tapping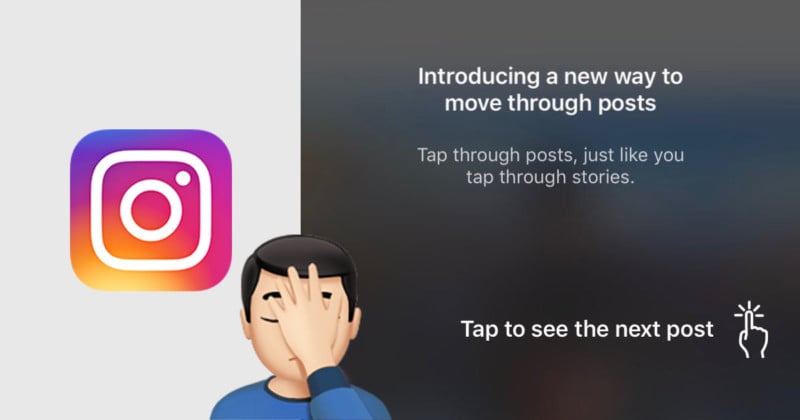 If you opened up Instagram today, you may have been surprised to find that the vertical scrolling method of browsing content had been replaced with a completely different horizontal tap-based scroll. You weren't alone, and the outcry was immediate. The good news is the switch was an accident and isn't a permanent change to Instagram.

If you saw your timeline orientation changed, the first thing you saw when opening up Instagram was a notice that read, "Introducing a New Way to Move Through Posts."
Instead of swiping up and down on your screen as usual to move through content, the new means of navigation involves tapping on the right side of your screen to move to the next post.
Social media was instantly flooded with users reacting negatively to the abrupt change.
I was having a good day until I opened Instagram and saw the new update 😩

— Curtis Lepore (@curtislepore) December 27, 2018
Hey, @instagram… I never want to sideways-scroll through my timeline. Ever. Please stop testing this "feature" on my account. Thanks.

— Scott Neumyer (@ScottNeumyer) December 27, 2018
What the heck @instagram ?!! Have you been drinking?!!

— Drake Bell (@DrakeBell) December 27, 2018
this new instagram update is HORRIBLE

— sebastian olzanski (@sebtsb) December 27, 2018
Instagram head Adam Mosseri quickly took to Twitter and explained that while the horizontal tap navigation was indeed a feature Instagram had developed, it was only supposed to be a small scale test among a tiny subset of users, something that Instagram regularly does to test new ideas for features and design changes.
But instead of being released to the small group of users, Instagram accidentally pushed it out broadly to a huge percentage of its community.
That was supposed to be a very small test that went broad by accident. Should be fixed now. If you're still seeing it simply restart the app. Happy holidays! 😬

— Adam Mosseri (@mosseri) December 27, 2018
Due to a bug, some users saw a change to the way their feed appears today. We quickly fixed the issue and feed is back to normal. We apologize for any confusion.

— Instagram (@instagram) December 27, 2018
So if you were upset at the change, you can breathe a sigh of relief. Just restart your app and you'll see things returned back to the way things were.