These Are the Best Dog Photos of 2018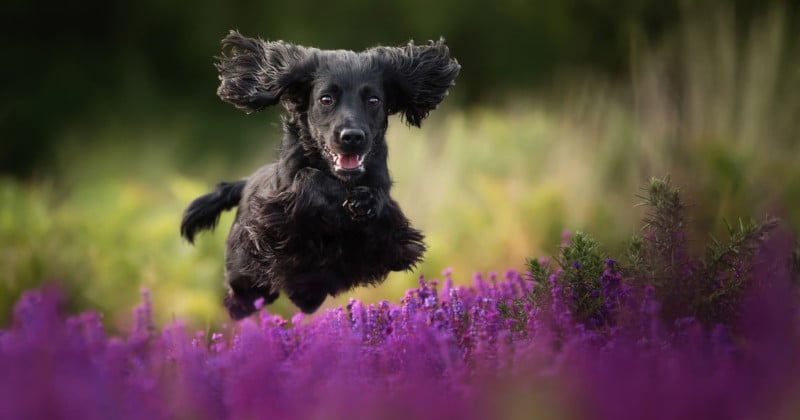 The Kennel Club has announced the winning photos of the 2018 Dog Photographer of the Year photo contest. This is the 13th year of the contest and entries are submitted by thousands of photographers from countries all over the world.

The overall winner (and the top photo in the "Oldies" category) is "The Lady of the Mystery Forest" by Dutch photographer Monica van der Maden.
This picture was made in the early morning in the forest. I wanted to photograph her in a position where she was sitting relaxed next to a tree. When I wanted to make the shot she turned her head to the left to her owner and this was the moment where you could see her soul.

Dogs come in all different shapes, sizes, and colors. But their heart are all the same filled with love.
Here are the other winning photos in each of the different categories:
Puppies
Ceylin was the second dog of my friend Birguel. The photo means much too me since her first dog, also an Italian greyhound died at puppy age in a car accident. 13 weeks old Cylin has the whole life in front of her. You can see it in her expression.
Assistance Dogs and Dog Charities
My thought process behind this picture is one that is close to my heart. My brother is ex-military as are some of my friends. I have seen first-hand some of the issues that war can have on even the strongest of men. The ex-soldier in the photo suffered great loss in Afghanistan and suffers from PTSD so that's when Rocko came to his rescue. Rocko the German Shepherd has been trained by his handler to help combat the effects of PTSD, the skills of which help calm and reassure the soldier when times get hard. In my photograph I tried to capture not just how this dog aids this PTSD sufferer but also to capture the kind nature of the dog and how he enriches this man's life. I have been following and admiring the work carried out by Service Dogs UK, the charity I am nominating for this category prize donation from the Kennel Club Charitable Trust. I am amazed by how effective dogs can be in assisting an individual with their recovery. So I decided to base my entry for this category on this issue and hope that in doing so will raise awareness of this worthy charity.
Dogs at Play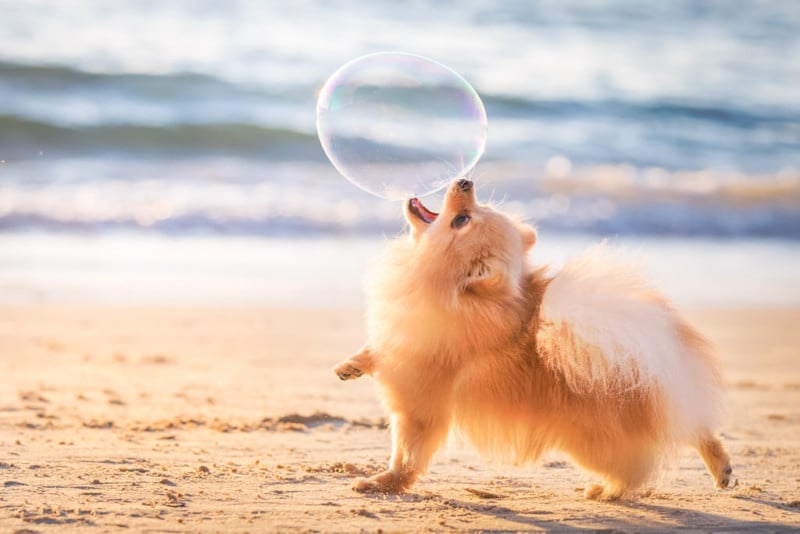 This particular photo was taken on the beach just before sunset. I shot 4 dogs on that day, Lili, and her 3 bigger brothers. Suddenly, Lili, the smallest bitch, began to jump with pleasure at the soap bubbles and play as if she were a puppy. It was a precious moment full of happiness and true freedom.
Dogs at Work
I was in photographer's heaven whilst out on the shoot with Wayne's Team of working dogs. It was a privilege to watch them, tails held high, nose to the ground and retrieving. All of them totally in tune with Wayne Green, hanging on every command and thoroughly enjoying their job. Its days like this and the reality of life that I am looking to capture in my images. To document life, as it is, with passion. I always promised myself at the age of forty I was going to follow my dream to become the best photographer I could be. Now at forty-eight, through passion, hard work and determination, I have a photography business I am very proud of.
Man's Best Friend
I love this photo for many reasons: it was taken at my favorite beach, with my favorite man, with my favorite dog… and in the background there is an umbrella that belonged to my eternal love Nupi, an adventurous cocker spaniel who shared his life with me for almost 19 years. Godji, the beautiful dog in the picture is a natural poser and sometimes people call her "supermodel of the world" and now she has become one!
Dog Portrait
The photograph was taken on the last day of October 2016 in the UK as we had the best autumn for years for it colors for many years but this day there was a mist in the background to make the photo magical. The photo was taken at Ash Rangers where the dogs walk daily – Crew, Darcie, and Pagan. This photo is memorable due to Crew's short life cut short at 3 with IBD disease.
Rescue Dogs and Dog Charities
It was very clear that Cooper was the first child for this beautiful and loving couple. In this shot, they are holding hands behind Cooper's drowsing head. It was a scene of pure contentment and love.
Young Pup Photographer (11 years and under)
My Name is Mariah Mobley and I am 11 years old. I have lived in Oregon, USA my whole life. I used to live on a farm with horses and dogs, but now live in a town with my family, and our three dogs, Hunter, Roxy and Koby. I have always loved animals, especially dogs. I started taking pictures when I was a very little girl, and have loved it ever since. I took this photo of Roxy, at about 9 Pm, just before I went to bed. It was dark and she was sitting on our back porch waiting for mom to give her a treat. I used a modeling light and the porch light to put light on her pretty face. We adopted Roxy from a rescue when she was 7 months old. She had been in a shelter since she was 4 months old. She is 5 years old now and is the sweetest girl. As you can see in the photo, Roxy has an eye disease that causes redness and cloudiness. It is called Pannus. Her eyes are not as clear as they used to be, but I think she is beautiful just as she is.
I Love Dogs Because…(ages 12 to 17)
I am Tamara Kedves, a 16 years old student living in Hungary. I started photography three years ago when I realized how much joy I find in taking photos of nature and animals. Since then I have photographed uncountable priceless moments, but my own dogs have stayed my biggest inspiration all along. For me, the purpose of photography is capturing a memory and make it last forever, as well as expressing my love for dogs through my pictures. My biggest goal is to make outdoor dog photography more popular with the creative use of lights and colours while motivating other aspiring photographers. This family photo was taken on a sunny spring afternoon as the last shot of the session. It perfectly expresses what dogs and photographing them means to me: not only the deepest harmony and happiness but spending time with whom and what I love the most: dogs!
Special Mentions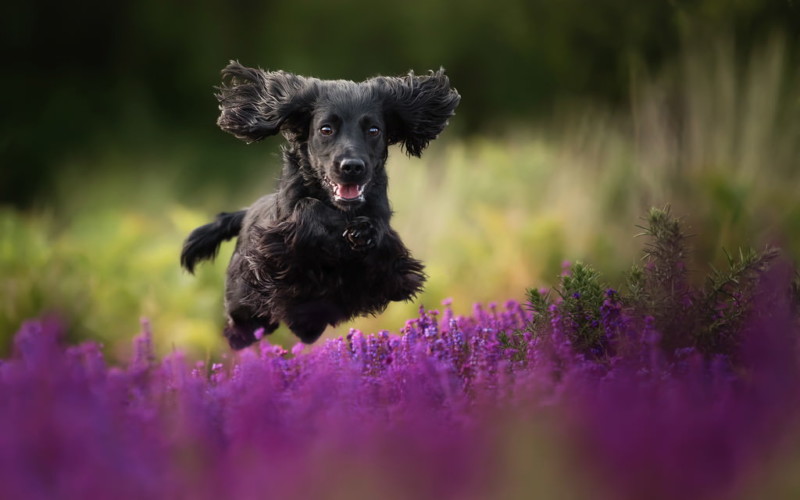 This image was taken whilst out on a walk with my Working Cocker Spaniel, Bonnie. I very rarely take my camera with me on dog walks, as this is my opportunity to clear my head and have some 'me time'. But the purple heather was just too beautiful to leave it behind. After all, who doesn't love black and purple?
---
Image credits: All photographs copyright their respective photographers and courtesy Kennel Club/Dog Photographer of the Year