Instagram Model Bitten by Shark During Photo Shoot
19-year-old Instagram model Katarina Zarutskie was visiting the Bahamas last month when she decided to pose for some photos in the water near a group of nurse sharks. As her boyfriend shot a series of photos, one of the sharks swam up, bit her on the wrist, and dragged her underwater.

Here's the series of photos captured by her boyfriend's father, Tom Bates, at Staniel Cay on the Exuma islands:
The shark held Zarutskie underwater for a few moments before she was able to break free from its bite and make her escape from the water.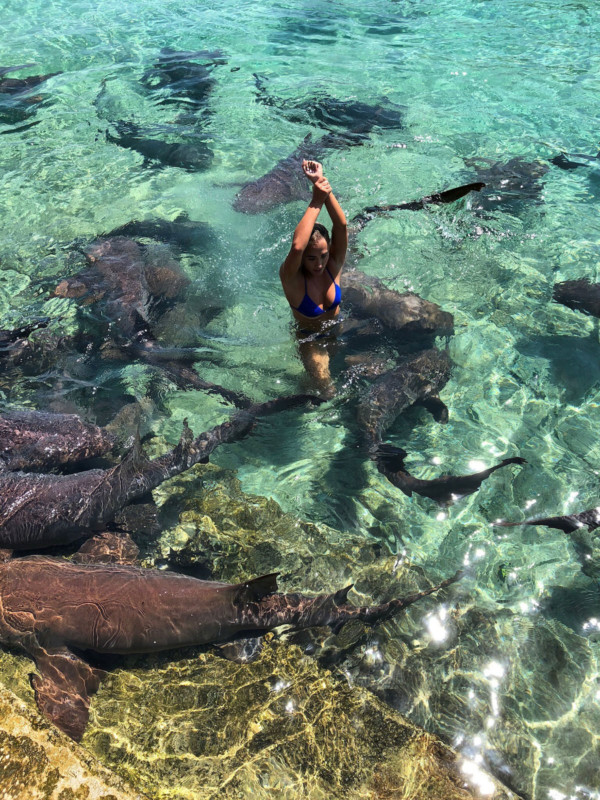 Zarutskie needed stitches for the bite wound, which still contains tooth fragments and will likely turn into a scar, but the model says she feels fortunate that the scary encounter wasn't worse.
BBC News reports that there were snorkelers in the water interacting with sharks, and that Zarutskie, a nursing student at the University of Miami, has a great deal of experience with the ocean from growing up in sunny California.
"From my previous knowledge from surfing and scuba diving, I know nurse sharks are usually very safe," Zarutskie tells BBC News.
"These animals are considered quite docile but can and do bite on occasion," Staniel Cay marina owner David Hocher tells NBC News.
Still, Zarutskie has been slammed online by people who blame her for what happened or accuse her of acting foolish.
"They took the information they wanted and really spun the story in a way that I'm a stupid blonde Instagram model," Zarutskie tells BBC News. "I've definitely received a lot of rude and hateful comments from people that were saying ridiculous things."
In sharing the photos on her Instagram account, which is currently set to private, Zarutskie imparts some words of wisdom gleaned from the encounter: "PSA: Sharks are cute and can nibble at times if not careful."
---
Image credits: Photos by Tom Bates and courtesy Katarina Zarutskie. Used with permission.