Review: 'Avedon: Something Personal' is Incredibly Detailed and Frustrating
Avedon: Something Person is a​ downright staggering account of legendary photographer Richard Avedon's career. Weighing in at 720 (yes, 720!) pages, no detail is left out. ​While it's jam-packed with interesting stories from his assistants and collaborators, this book has some issues with the facts.

My Initial Reaction: A Stunning, Expansive Piece of Work
Richard Avedon was one of my first inspirations when I started my photography journey in 2008, so I've had a deep attachment to his work ever since then. And when I stumbled across Avedon: Something Personal by Norma Stevens and Steven M.L. Aronson, I immediately ordered the Kindle Version from Amazon.
Something funny happened after I'd been reading it for a few days: ​I wasn't even a quarter of the way through the book. I'm a pretty fast reader, so I was surprised. How long could this book possibly be?
I looked back at Amazon and saw that it's actually 720 pages long! It's ​longer than Steve Jobs by Walter Isaacson, which weighed in at 656 pages! But I didn't want Avedon: Something Personal to end. Every time I found something interesting, I highlighted it with my Kindle. I just looked back, and I highlighted over 60 sections!
I loved reading about his early development starting at Harper's Bazaar, his rivalry with and respect for Irving Penn, and his struggle to be appreciated as an artist. And I was hooked on all the stories from Avedon's subjects like Cindy Crawford, Naomi Campbell, and Janice Dickinson, and assistants like Sebastian Kim, Marc Royce, Tim Walker, and Daymion Mardel.
Those stories are the best part of the book because you​ get a sense of what it was like to be on set with the maestro.
That's where Avedon: Something Personal really shines. ​You go inside the Avedon studio operation, which sounds like one big insane family.
There was:
​Dick Avedon, patriarch
The immediately family: Dick's small army of assistants, printers, and other studio staff
The crazy Aunts, Uncles, and cousins: a rotating pack of supermodels, celebrities, hairstylists, makeup artists, fashion editors, and designers
And perhaps, this motley crew served as a surrogate family for Avedon, who readily admitted he wasn't the best ​father and husband. ​Together, they take you through some of Avedon's legendary shoots, like:
The 'In the American West' project:
His stunning 1995 fashion editorial for The New Yorker: 'In Memory of the Late Mr. And Mrs. Comfort'
And then there's my personal favorite, his major project for Sheikh Saud Al-Thani of Qatar, which involved, of all things, Richard Avedon shooting wildlife in zoos!
​I was so thrilled with Avedon: Something Personal that I planned on making it my #1 portrait photography book.
And then there was this…
Let's Get Personal… and Confused
If you've been researching this book, you know​ that it makes some allegations about Avedon's sex life, and particularly, his sexual orientation. I won't waste time going into detail here. It's just not very interesting relative to all the fun stories behind Avedon's most famous shots. And as I'll explain later in this review, there's some reason to doubt the author's accounts.
Now, let me make a confession.
​After finishing Avedon: Something Personal, I never assumed for a second that any of it was untrue. I took every word as gospel. ​I can't explain why. Maybe it's because it was from a major publisher and co-written by Norma Stevens, Avedon's studio director.
​My brain may have simply assumed the book was written with full cooperation of The Richard Avedon Foundation, and thus an 'official' work.
Plus, Avedon: Something Personal was published on November 21, 2017. Incidentally, on November 17, 2017, the Avedon Foundation began showing an exhibition of his 'Nothing Personal' project at the Pace Gallery in New York City.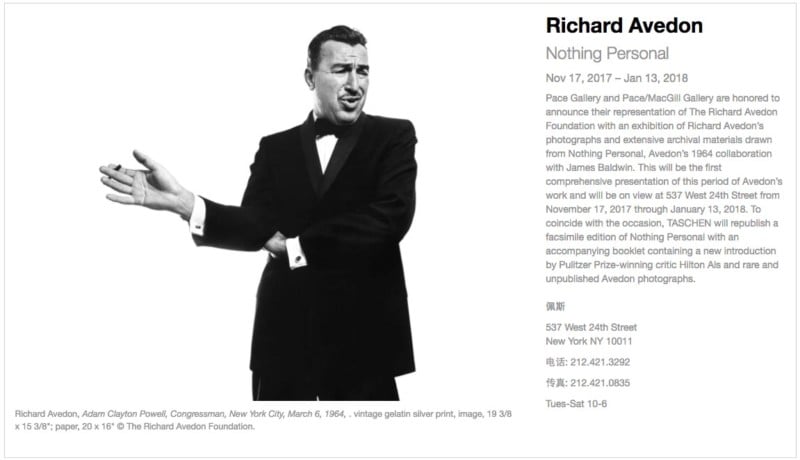 Something Personal and Nothing Personal were released 4 days apart… can you see how my brain got a little mixed up?
The Avedon Foundation Speaks Out
On December 20, 2017, the Foundation issued a press release entitled: "The Richard Avedon Foundation Calls on Spiegel & Grau to Cease Publication of Avedon: Something Personal by Norma Stevens and Steven Aronson."
The Foundation begins by saying: "After careful review, The Richard Avedon Foundation has identified significant issues with the book. First, it has been written under false pretenses – Avedon: Something Personal contains substantial sections that are taken, with only light editing and rewriting, from an unfinished work of fiction that Richard Avedon had been writing prior to his death in collaboration with author Doon Arbus.
Here are some of the inaccuracies identified in the Foundation's press release:
Beyond the material from Avedon's own novel, the book contains an overwhelming number of factual errors and lies. "The lack of fact-checking is outrageous because it's so willful," says Martin. "For the record, I long ago offered to fact-check for Stevens, with whom I worked for years, and she refused. I guess her desire and need to falsify and sensationalize was too powerful. I have spoken with many former colleagues and assistants going back to the 1960s, including people interviewed in her book, and none of us can believe the extraordinary liberties Stevens took in creating this so-called biography. Many can't believe the words that she put into their mouths."

Some of the most obvious falsehoods include: […]

On page 14, Stevens states unequivocally that "In 2004 I was at his [Avedon's] side when he left this world." FACT: Only Avedon's immediate family was at his side in San Antonio when he died. Stevens was in New York City with the rest of the Avedon Studio employees.

On page 27-28, Stevens writes that on the eve of his 1974 MoMA show, "at around 2 a.m. he [Avedon] experienced severe chest pains. He managed to get himself to the emergency room at New York Hospital. The diagnosis was pericarditis….During his five-week hospital stay, Dick was heartened by some highly positive reviews." FACT: Avedon was not hospitalized for five weeks with pericarditis. Though he canceled a few assignments, he was up within days and flew to Montana on May 17, 1974. […]

On page 551, Stevens recalls a trip to Doha in 2000 with Avedon to photograph Sheik Saud Al-Thani and his wife. Stevens states that James Kaliardos, who was in attendance to do hair and makeup, whispered to her regarding the Sheik's wife, "She looks like a Kardashian." FACT: This incident occurred a full seven years before Keeping Up with the Kardashians debuted — and nobody then knew who the Kardashians were.
The Final Verdict: A Tough Call… and You Have to Make It
​The authors have some issues with the facts. The most disturbing is ​Stevens' claim that she was at Avedon's side when he died — that's perplexing. I could ​forgive ​forgetting how long Dick was in the hospital, but how could you possibly get his death wrong? ​If you worked for the world's most famous photographer for decades… wouldn't you remember exactly where you were when he died? ESPECIALLY whether you were by his side?
​And if there are enough incorrect details, you have to worry about the accuracy of the whole package.
​Plus, there are an awful lot of detailed conversations quoted in this book, many of them decades-old, and they're unsourced. Who could possibly remember so much?
​On the other hand, I don't yet see any reason to doubt the personal accounts of the assistants, models, subjects, editors, and ​designers quoted in the book. These people have a lot of affection for Avedon, and ​they'd be speaking out if they were m​isrepresented. ​And really, those ​passages​ are the heart of Avedon: Something Personal.
​They ​take you inside the frenetic and often hilarious world of Avedon and give you a​n idea of how he did what he did. ​For that, I have to admit that ​it's hard to regret buying and reading this book, even if I'm not crazy about where my money went.
​​But Should You Buy This Book?
​We just had a big disappointment with Annie Leibovitz' MasterClass. ​After being let down by one master, I was ready to be uplifted by another!
​But I can't give a full-hearted recommendation for Avedon: Something Personal.
​​As photographers, ​Avedon: Something Personal can teach us an awful lot about how Avedon dealt with subjects, how he ran portrait and fashion sittings, and how he operated his enormously successful business. ​This stuff is gold.
​It would just be better if we could take the rest of the book without a 20-pound grain of salt.
---
About the author: Michael Comeau is the Editor of OnPortraits.com, an all-new online community dedicated to simple, classic portrait photography. Click here for more information. This article was also published here.