500px Quietly Dropped Free Account Upload Limit to 7 Photos Per Week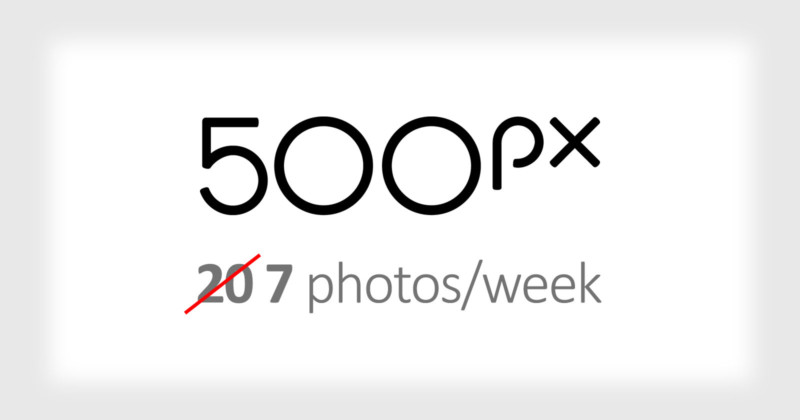 If you have a free 500px photo sharing account or are considering joining the service, here's a change that happened earlier this year you may not be aware of: free accounts can now only upload 7 photos per week, down from 20.

Over the years, 500px's free account has been transforming more and more into a try-before-you-buy plan for 500px's paid membership tiers. The free account is "Good for beginner photographers looking to try out 500px," the service
says
.
This upload limit change happened around the middle of 2017. At the end of June 2017, the "Fair Storage Policy" section of 500px's Terms of Service still stated that free accounts were limited to 20 new photos uploaded per week.
At the beginning of July, the terms were changed to read "7 new photos" instead of "20".
The photo limit help page on 500px has also been updated to include an explanation that 500px is focusing on quality over quantity:
We've heard from our many users the desire to see an even higher level of quality of photos on our platform. At 500px, we constantly strive to showcase the very best photos from our community. We have always encouraged our users to share their very best and to focus on quality over quantity. With that said, we've decided to take the extra step of lowering our upload limit for free users from 20 to 7 per week. Based on our analysis, this should impact a small minority of users and benefit the entire community.
At least one former 500px user wasn't happy about this 7 photo limit.
While 500px has moved in the direction of allowing members to make money through licensing photos through its Marketplace while capping free accounts at 7 uploads per week and 2,000 total photos, Flickr (which is now owned by Verizon) has free accounts that are ad-supported and capped at 1 terabyte of storage with no upload rate limits.