Fake War Photographer Gets Exposed After Fooling the World
Right now, a conflict photographer named Eduardo Martins is supposedly driving around in a van somewhere in the Australian outback. And you probably won't see any new work from him anytime soon: he's in hiding after pulling off one of the craziest cons in the history of photojournalism.

Martins is a blond and handsome 32-year-old documentary photographer from Brazil who's also an avid surfer in his free time. He won a battle with childhood leukemia while growing up, and eventually landed a mid-level position working for the United Nations. Traveling to locations filled with death and despair gave him the opportunity to take compelling photos, which he published on his Instagram account. Some of his photos were also delivered to renowned photo agencies, including NurPhoto, for distribution.
His presence on Instagram not only gave him a massive fan base of over 120,000 followers, but it led to his work being published around the world. From smaller publications such as SouthFront to prestigious publications like the The Wall Street Journal and Le Monde, articles were illustrated with what everyone thought was Martins' own work.
It didn't take long for the media to become interested in Martins himself. In October 2016, Recount Magazine published a interview with him.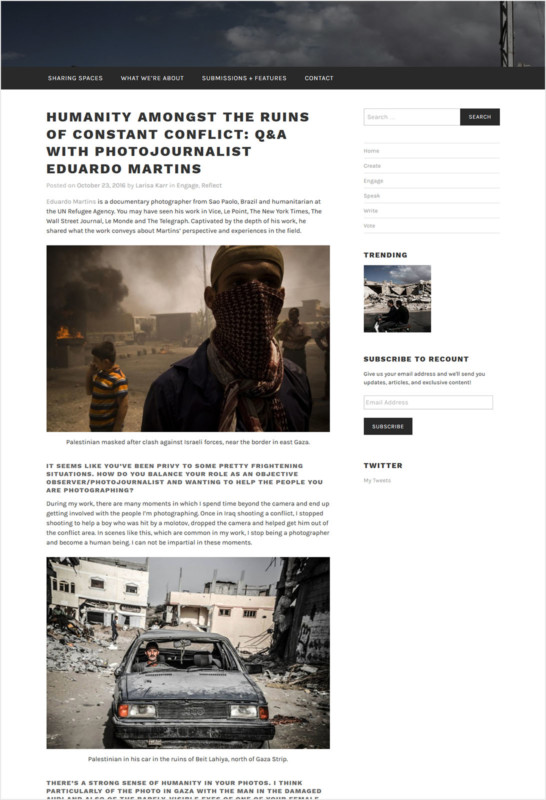 The Brazilian edition of VICE soon followed suit with an extensive photo essay titled "On the front with the Peshmerga."
In early July, BBC Brazil featured Martins' work as well.
And if it weren't for some mistakes by Martins and an attentive BBC journalist named Natasha Ribeiro, Martins' amazing life and photography career would likely still be enjoying its meteoric rise. But Ribeiro became suspicious of Martins after learning about his life and work, and she became even more suspicious when she dug deeper and couldn't find a single person who had ever met him.
Not a single Brazilian journalist in Iraq, where Martins had supposedly been covering extensively. Not any of the authorities who would have had dealings with Martins. Not any members of the NGOs he said he was a part of.
Martins had given a story and photos to VICE about the Peshmerga battle, but two other Brazilian correspondents who were there at the same time said they had never met this newly famous photographer — something that is nearly impossible given how tight-knit the community of conflict journalists is.
Martins had told BBC Brazil through a WhatsApp chat that he was working for the United Nations, saying: "I am a humanitarian (volunteer) in the United Nations field and I work in the organization of refugee camps." But an investigation revealed that there was no record of Martins having ever worked for the UN Refugee Agency, which the organization's press chief, Adrian Edwards, confirmed to the BBC.
The investigation into Martins soon revealed other oddities, BBC Brazil reports. Martins had developed relationships with at least 6 young, beautiful, and successful women through social networks, and then used each one to relay information to journalists. BBC Brazil found that none of the girlfriends had ever met Martins in real life.
Recently, the well-known DOC Galeria in São Paulo was planning to exhibit Martins' work in an exhibition about Brazilian photographers in conflict zones. Veteran photographer and DOC Galeria member Fernando Costa Netto got in touch with Martins, who said he was in Iraq.
"I was organizing an exhibition of photos of Brazilians in a conflict area and I was in contact with him. Now he disappeared for more than a week," Netto tells BBC Brazil. "I thought he had been kidnapped by the Islamic State, so I contacted his Brazilian colleagues in Iraq. When we started this search movement for him, he reappeared saying he had a small problem with his Internet connection."
After learning of the BBC's suspicions and the ongoing investigation, Netto made Martins aware that there were questions surrounding the authenticity of his work. Martins immediately deleted his Instagram account and sent one last WhatsApp message from a since deactivated number:
"I'm in Australia, I made the decision to spend a year in a van running the world. I'll cut everything, including internet, [and also] the IG (Instagram). Thanks, I'll delete the zap here, stay with God."
And just like that, the true identity of the young man who claimed to be a worldwide conflict photographer may now never be discovered.
BBC Brazil just published the results of its investigation, resulting in news and photo editors around the world scrambling to pull photos taken by this faux photographer.
"Faced with the suspicions and the risk of copyright infringement, the original content has been taken off the air," BBC Brazil writes. "We apologize to our readers for their mistake. The case will strengthen our verification procedures."
Today in photojournalism scandals— a widely published photog who not only stole images, but may not exist at all https://t.co/PFH73K5ZOL

— John Beck (@JM_Beck) September 2, 2017
At least some of Martins work was stolen from American photographer Daniel C. Britt. Martins not only lifted the photos and republished them as his own, but he went to great lengths to alter the images to make them hard to identify through reverse image searches — many of the images were cropped and mirrored.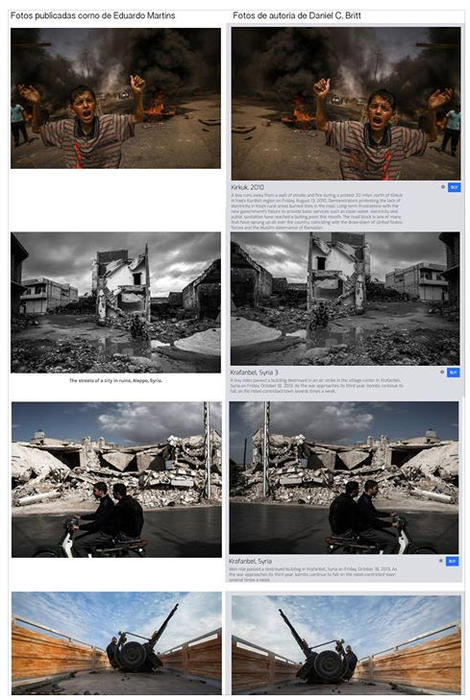 One thing that helped Martins weave his fictitious career was the use of prior publications as references for new publications. He placed not only placed tear sheets from prestigious publications such as the Wall Street Journal on social media, but he mailed them to editors when he pitched stories. This helped reduce suspicions, because surely large and prestigious news outlets would vet journalists prior to publishing stories, right?
Of course they did… so why go through the effort of doing it yourself?
---
Update on 9/5/17: It has since been discovered that even the photos that supposedly show Martins are actually of a man named Max Hepworth-Povey.
---
Update on 9/6/17: The author has been informed by The Telegraph that the newspaper has never published any material originating from 'Eduardo Martins'. The author apologizes for this severe error, which has since been corrected.
Much of this confusion seems to be due to the fact that Martins shared a combination of real and faked tearsheets on social media.
---
About the author: Jan A. Nicolas is a press photographer with experience in conflict zones from Central America to Syria and Ukraine. You can follow him on Twitter at @phoyager