Photographer Captures Stunning Mt. Everest Base Camp Wedding Photos
This has to be one of the most incredible, and challenging, wedding photo shoots we have ever featured. In search of the ultimate adventure destination wedding, photographer Charleton Churchill helped bride and groom Ashley and James capture an epic and grueling wedding at Mt. Everest basecamp.
First, let's put something in perspective. When you hear "base camp," you might think it's not so high up. You'd be wrong. Mt. Everest base camp is situated at a literally breath-taking elevation of 17,600 feet (~5,364 meters) above sea level. The tallest peak in North America, the rockies' Mount Elbert, tops out at just 14,440 feet (~4,401 meters).
Everything about this photo shoot was going to be grueling—from acclimating to the altitude and lack of oxygen, to dealing with the freezing cold temperatures. Luckily, both photographer and couple had been preparing ahead of their gorgeous flight in.
"I have wanted this Everest wedding so bad for a while, worked hard, trained hard, with much planning, persevered through many obstacles, even surviving an earthquake with another couple in my 2015 attempt," Churchill tells PetaPixel. "After all this, getting sick, fighting the cold, and with time constraints, we finally accomplished it. I didn't give up. I pressed on towards the goal."
The couple also prepared, training for a year and planning to take 2-3 weeks total for the wedding/shoot in order to properly acclimate to the altitude.
But the trek was more difficult than any of them could have prepared for. "Saying this was an epic and amazing trip is true," writes Churchill on his blog, "but I would be remiss if I didn't share it came with some suffering, doubt, fear, anxiety, and physical pain."
Once they scaled beyond 14,000 foot camp, temperatures ranged between -8 to 10°F (-22 to -12° C), making it extremely difficult to stay warm, much less keep your hands from freezing when you took pictures. And by the time they got to base camp, Churchill had been dealt a blow by food poisoning and James had already needed to be put on oxygen to cope with a bout of Khumbu cough (AKA. high altitude hack).
Still, they had pressed on, and were rewarded with stunning views that the BTS photos and video below just can't capture: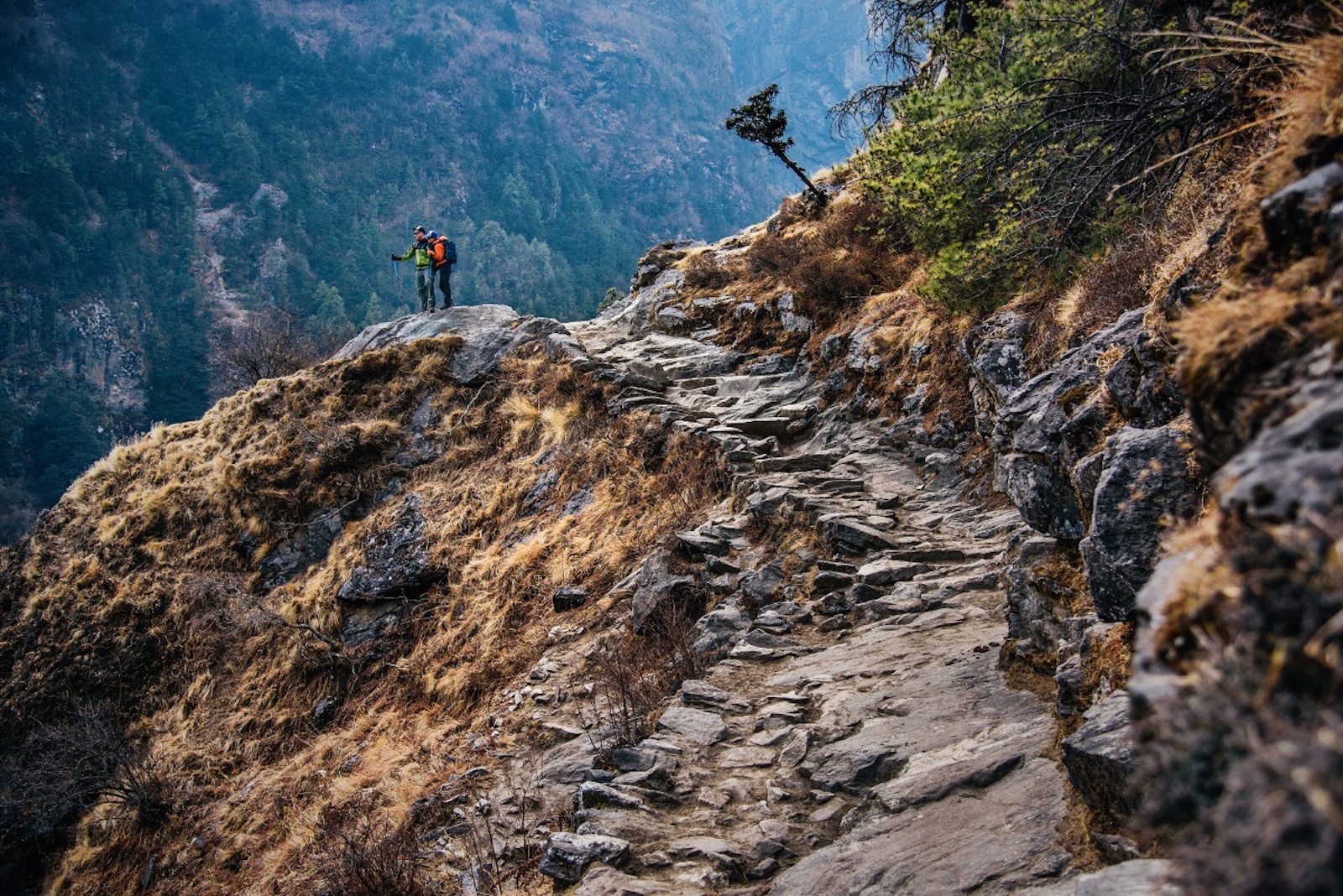 When they finally arrived at base camp, they faced yet another challenge: time. They were told they would have only one hour and 30 minutes to "eat, get married, pack up, and get on a helicopter." So they set out to accomplish just that.
"We ate, drank, and got married in an hour," writes Churchill. "James and Ashley exchanged vows at Mt. Everest Base camp right in front of the famous Khumbu ice-fall where people use ladders to maneuver over crevasses, and with the beautifully carved Nuptse Face in the backdrop. Their epic wedding was surrounded by all these famous mountains. It was beautiful, short, and we captured a few photos before packing and getting ready to leave."
Here are a few of the photos Churchill captured while the bride and groom battled freezing temps and rugged terrain in the name of the most adventurous of adventure weddings: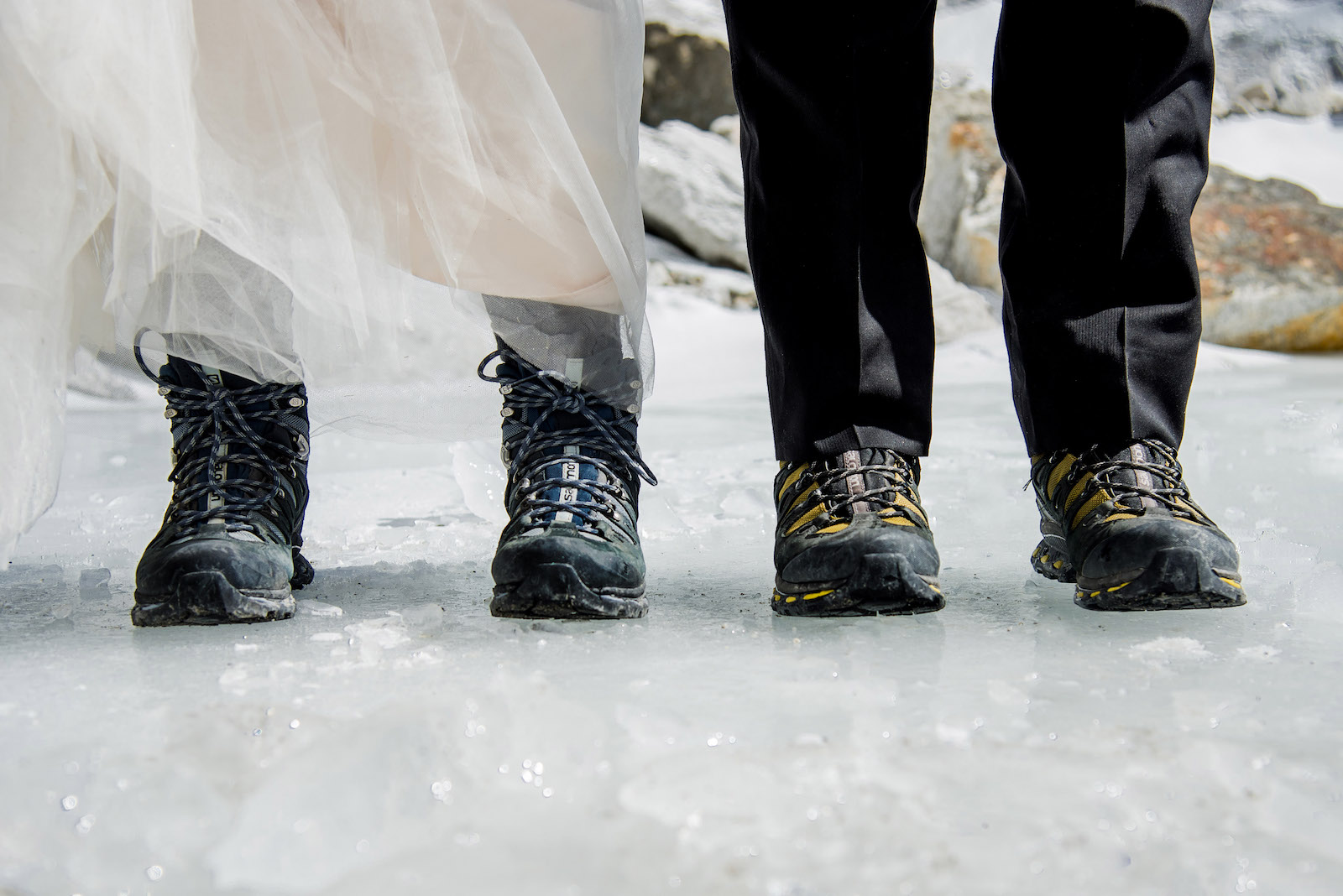 After the shoot—and another unexpected night's stay at base camp because the helicopter couldn't safely make it in—they hopped on their flying taxi out and were whisked away to live, we assume, happily ever after.
The amazing wedding photography adventure has earned Churchill international attention, something he was never expecting or prepared for. And although he seems to be enjoying it, the attention was never his goal.
"All this national and international attention is still unreal to me, so I'm still processing it," he told PetaPixel when we spoke with him. "I don't consider myself a great business guru, I just want to make great images that move people."
Mission accomplished…
To see more of Charleton's work, be sure to visit his website or give him a follow on Instagram. This Everest shoot may have been his goal for many years, but his portfolio is full of other, equally amazing adventures.
---
Image credits: All photographs by Charleton Churchill and used with permission.