How to Shoot Cosplay Portraits at Comic Con with Just One Light
Back in December my brother asked me if I would be interested in going to Comic Con in Indianapolis, IN, and I immediately said "absolutely!" He was excited to see what comic books he could find or possibly a GI Joe collectible; me, I knew I was going there to photograph people in their costumes.
These couldn't be just any images though… I mean come on, the lighting at the event is going to be gross, the crowds will be huge, I'll have to fight for space… it's 360 degrees of complexity. So, I started thinking to myself, "How can I make the subjects stand out from the crowd?"
And I figured it out! I planned to put one speedlight in my 26″ Westcott Rapid Box attached to my mono pod, expose so the environment would be dark, and then have the light just kiss the top half of the subject. There was just one issue: I would need someone to hold the light. Fortunately, my younger brother who lives in the area was also attending Comic Con, and he is a photographer too. I reached out to him, told him what I was thinking, and he was in.
I had so much fun doing these images. Every person I asked to have their picture taken was an absolute yes every time, and was gracious and honored to be asked. I highly recommend any photographer who is wanting to learn more about lighting to try and tackle this exercise of one-light portraits on the go.
How often do you get the opportunity to photograph Deadpool, Harley Quinn, Batman, The Riddler etc… It was easily worth the price of admission for me.
All images were edited in Lightroom CC. I wanted to keep it as simple as possible… I created a preset in LR and then applied to all. Then I went through each image and adjusted the crop and the radial gradient.
Overall, the project was a success and I think the images below prove it.
The Lighting Gear
Let's go over the gear. I wanted something light and mobile and the first items that came to mind was a speedlight. I also knew I wanted a lighting modifier that would give me a nice soft light but was small enough to carry around. I came up with using my 26″ Octa Westcott Rapid Box with a Canon 600EX RT attached to my Oben mono pod, the speedlight was triggered using the Canon ST-E3-RT transmitter.
This setup allowed me to treat the light as if it was on a boom and I was the c-stand.
The Glass and the Body
I wanted a shallow depth of field for these portraits so the subjects could standout and be as sharp as possible—what lens to execute this with? The new SIGMA 85mm f/1.4 ART lens is what I decided on.
I've had this lens for a few months now, and can personally tell you it's worth the investment. The camera body is my trusty Canon 5D Mark III with battery grip, holstered with the Rapid Strap sport edition.
All of the images taken had the same settings: 100 ISO, f/1.4, and the shutter ranged between 1/320 – 1/1000. Everything depended on the lighting, and it seemed easiest to control the exposure with just the shutter speed.
The Portraits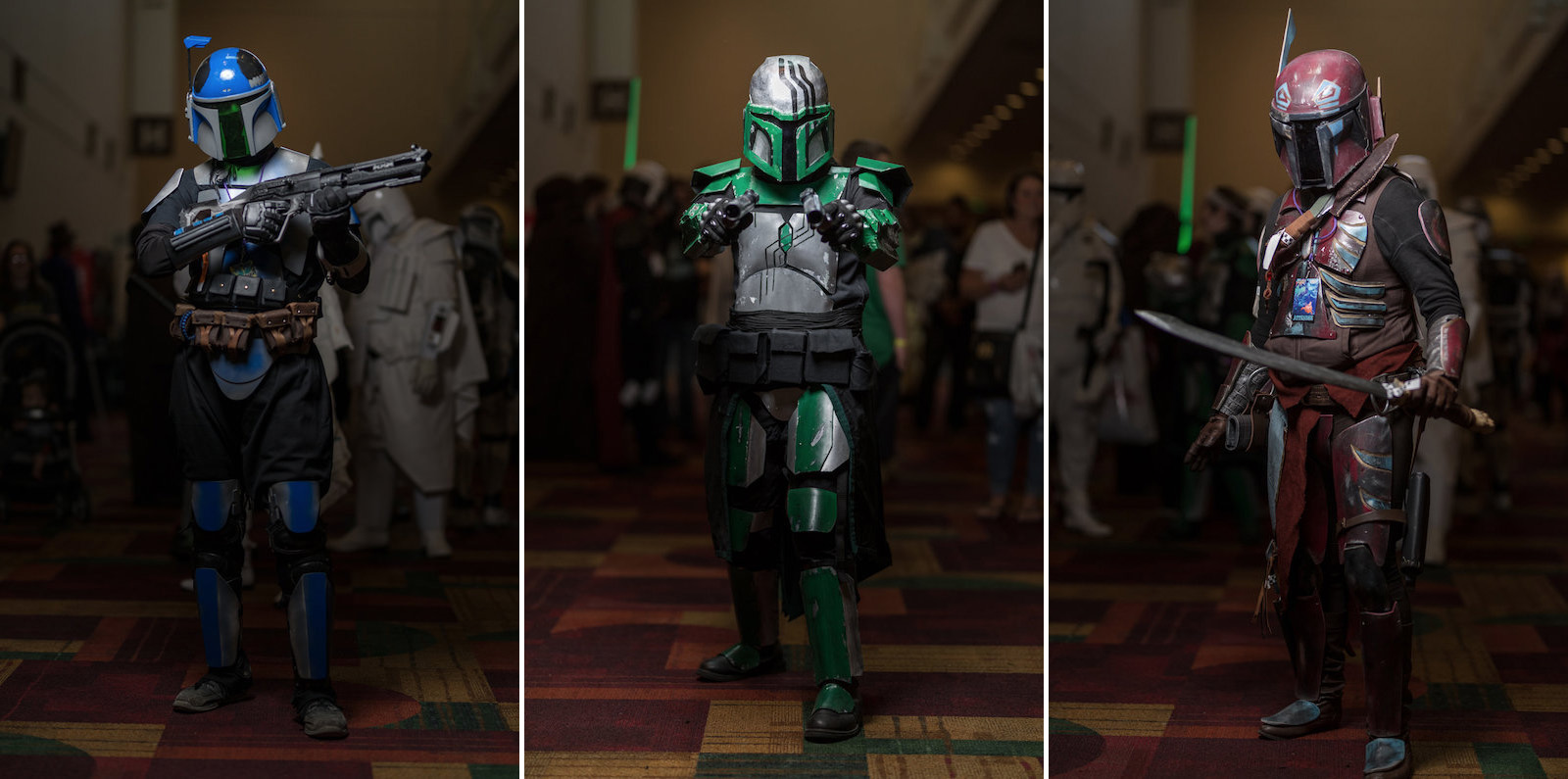 To see all of the portraits I captured at Comic Con in Indianapolis, click here.
---
About the author: Jon Erlien is a portrait photographer specializing in dramatic stylized portraits and a high-end photo retoucher with commercial experience. To see more of his work, visit his website or follow him on Facebook and Instagram. This post was also published here.