This Hyperlapse Was Made from 3,305 Google Maps Screenshots
Today is Google Maps' 12th birthday, and graphic design student Matteo Archondis is paying the platform homage in a really cool way. A fan of timelapse and hyperlapse techniques, Archondis created a visual hyperlapse tour of the world using only screenshots taken within Google Maps.
The result is beyond impressive, taking you to landmarks all over the world—from a 360 around the Eiffel Tower to a drive across the Golden Gate Bridge in San Francisco. In all, the hyperlapse contains some 3,300 screenshots captured over the course of 2 days, and edited together in a grueling post-processing workflow that took another week after that.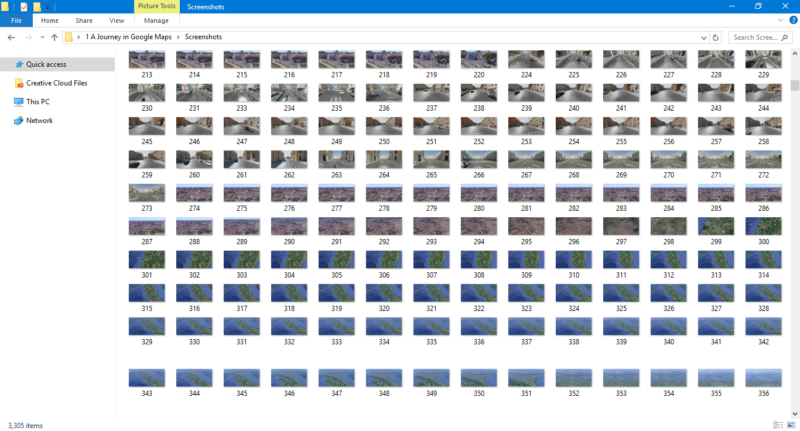 Taking the screenshots was the easy, "boring" part; or, as Archondis described it to us: "screenshot, move the frame, screenshot, move the frame etc." But even that involved some behind the scenes work to create as clean of an experience as possible.
"Thanks to the developer tools of Google Chrome, I was able to remove all the items that interfered with the user experience," explains Archondis. "I also removed the labels so that the final image could be as clean and realistic as possible, so that I could concentrate on the camera movements as if it was in real life."
You can see how screenshot after screenshot turned into a final hyperlapse in the GIF below:
Once the source material was captured, the brunt of the work began: stabilization and tracking.
First, all of the separate screenshots were blended into clips and stabilized. Then, Archondis set about trying to find tracking points and create a final version that actually moved smoothly from frame to frame and scene to scene.
"This part was tough," he tells PetaPixel. "Especially finding tracking points in clips that are really moving fast and have no reference points." Here are a few screenshots to give you an idea of the sheer number of tracking points he set up to create the final hyperlapse:
The last question we had for Matteo, and the one you're probably asking yourself right now, is "Why did you decide to do this in the first place?" It seems like a lot of work, especially for a university student with other things on his plate. His answer: inspiration.
"The idea was […] to show the potential tools we have to discover the world around us, even if we can't afford to travel to places far away from home," he tells us. "Also, I always wanted to create something new and experiment with Google Maps and the street view system, for me one of the best inventions to let us discover and see places from our computer without needing to leave home."
His technological inspiration was Google Maps. His hyperlapse inspiration the work of Rob Whitworth. Put those two things together, and you get the Google Maps "Hyperlapse Around the World." Enjoy, and happy birthday Google Maps!