Meet the Robot Microsoft Used to Film the Beautiful Surface Studio Launch Ad
The release of Microsoft's Surface Studio desktop made a big splash with the photo community, not least of all because of the stunning launch video Microsoft used to announce the innovative computer. A video that was filmed, it turns out, by an incredible robot arm thingy.
"Thingy" is the technical term, but if you want to get even more technical, the robot arm used to film this ad is called KIRA, and it was developed and is operated by Oregon-based company Motorized Precision.
Here's another look at the launch video—complete with its haunting rendition of "Pure Imagination"—in case you've forgotten it. As of this writing, it's been viewed nearly 9.5 million times:
Up until a few days ago, that's all we had: a beautiful video, some beautiful cinematography. Until the folks at Microsoft and Motorized Precision gave PremiumBeat a peek behind the curtain at how KIRA was used to create this video.
KIRA is a motorized camera arm that can do things even the most ninja-like camera operator simply can't. At a max height of 9ft, it's taller; with its 3400lb baseplate, it's more stable; finally, factor in the 40lb max camera payload, which it can move 3.2ft in just 0.5 seconds, and you've got a complete victory for the robots. All hail Skynet.
Here's a look at KIRA's 2016 4K Reel:
For this particular shoot, KIRA was chosen specifically because of it's robotic precision. Equipped with a RED Epic Dragon and Canon 15.5-47mm Cine lens, it could repeat the same exact camera moves over and over again until they worked out all of the lighting kinks that come with shooting a live computer screen on a controlled set.
Once the Motorized Precision team saw the pre-viz shots created by the Surface team, they could program the KIRA to do those exact movements; custom movements were controlled using an XBox One Elite controller.
Here are a few behind the scenes images from Microsoft and Motorized Precision: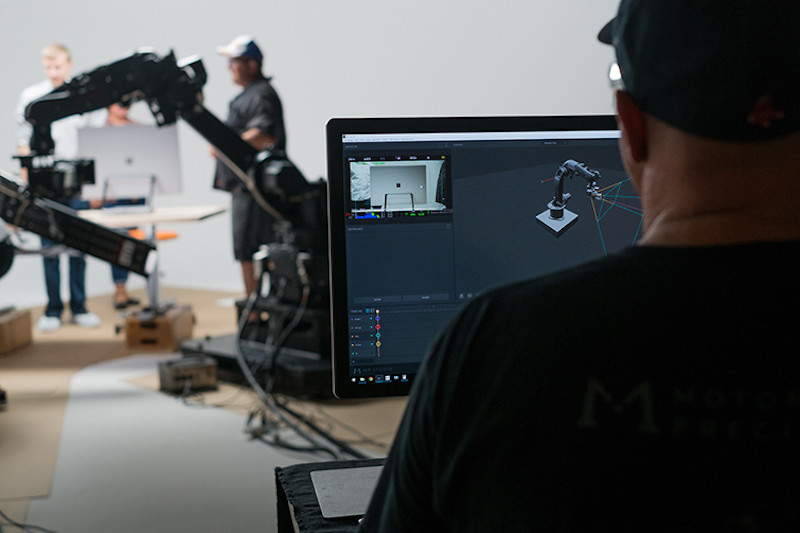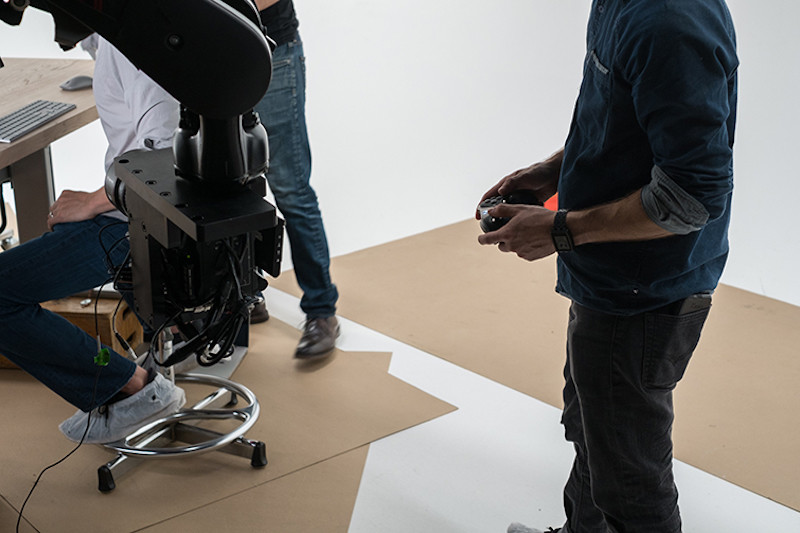 Of course, KIRA still needs a human touch to actually film anything, but cameramen fearing the Terminator apocalypse of their jobs might see this robot as the beginning of the end. For our part, we just think it's super cool.
Check out more BTS photos and details over on PremiumBeat.