Beautiful Aerial Photos of Vietnam's Street Vendors
While living in Hanoi, Vietnam, photographer Loes Heerink became fascinated by the city's street vendors and the mobile art they created atop their bicycles every single day. So she set out to capture this beauty in an interesting, maybe even unique way. That's how Vendors from Above was born.
The photo project turned photo book is Heerink's ode to these street vendors and their artistry. All of the photos are taken from atop one of several bridges in Hanoi, and each is bursting with symmetry, color, and texture.
"I would spend hours on top of a couple of locations in Hanoi waiting for vendors to walk underneath the bridge," explains Heerink. "I want you to see the beauty, and the symmetry, and the art that street vendors create every day."
See for yourself: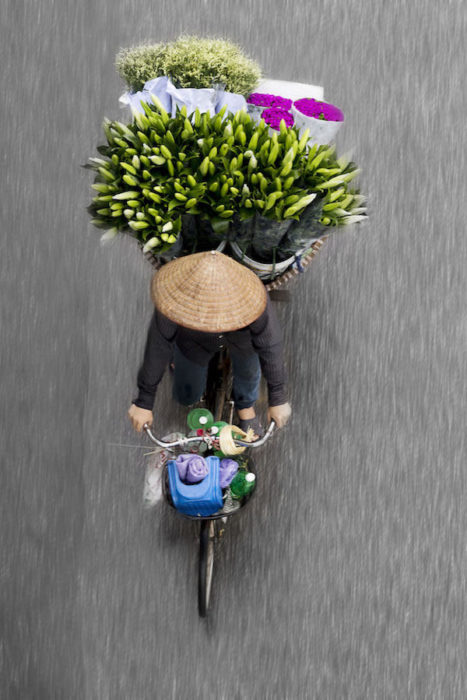 This began as a personal project, but through Kickstarter she hopes to raise enough money (actually, she already has) to return to Vietnam, capture more images, interview some of these women, and turn the whole thing into a beautiful coffee table book:
To learn more, or if you'd like to support Loes' project, head over to the Vendors Kickstarter page. And if you want to see more of her work, visit her website or give her a follow on Instagram.
(via Colossal)
---
Image credits: Photos by Loes Heerink and used with permission.