What I Learned Photographing A Wedding Season with My Wife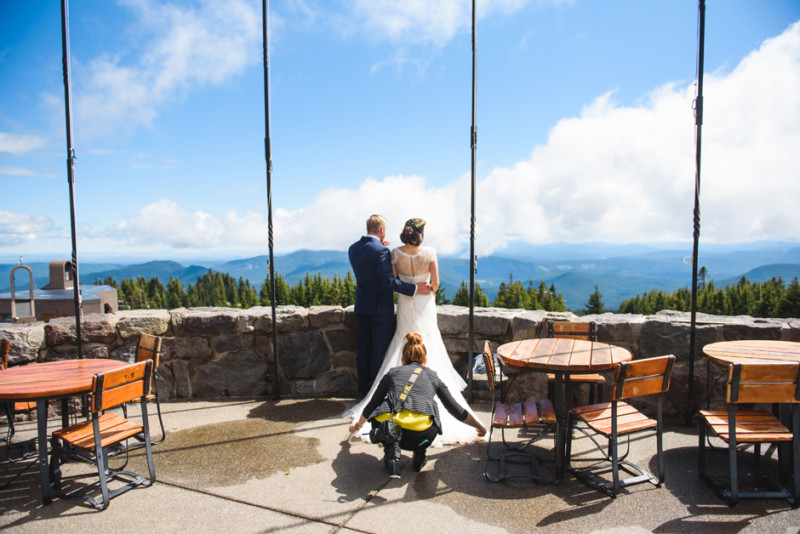 My wife is superhuman. Let's just start there. Most people don't have the honor of witnessing their partner or spouse doing their work, day-in and day-out. This year, however, I did. I got to shoot with my wife, an award-winning wedding photographer.
I experienced one of the most inspiring, passionate, and challenging years of my entire life. I've never worked harder mentally, emotionally and physically (all at the same exact time) than I did this year.
I get hard work. I've run events and stayed up all night running multi-million dollar book launches, but this is something like no other. The only thing I can compare it to in my own experiences is a championship basketball game. Imagine playing that same all-out, give it-everything-you've-got basketball game for 10, 12, and even 18 hours straight… and this game is the most important game of your life and someone else's, too.
There are no do overs, there's no next game, or next season. There is only now.
Now remember, as a Photographer, you must not only play that most important game of your life at each wedding, but you must play that game with a different team, different players, in a different venue, with a different crowd, and you must be the MVP, Team Captain and Coach all at the same time.
Nothing is the same, nothing is easy. You cannot miss a wedding, you cannot be hurt or sick. You must be superhuman. You must show up, make the shots, coordinate, wrangle, and manage expectations. You have to intuitively guess what people want now and what they will expect later because they don't even know. Most have never done this before, but nevertheless, they expect magical fairytales that seven-year-old girls dreams are made of and it is you who must capture that.
I've never been so sore in places I didn't know could be sore, I've never had so many bruises, my brain has never been more mushy than after shooting a wedding. I used to tease my wife when she came home about her shoes. They were grass filled, muddy, sometimes even torn, and her pants were dirty. This year, I understood why.
I watched her do anything to tell the couple's story: Tromp through mud, stand soaking wet and cold in the pouring rain, ean from building rafters, stand on top of trucks, climb a mountain for sunset at the couple's favorite spot, run backward in the dirt uphill through a vineyard to capture a 5-piece brass band marching at her with the couple not far behind, or walk backwards through 200 alcohol-inspired guests holding sticks of fire spouting sparks above her head, even travel an hour via boat through the Pacific Ocean with waves much taller than the tiny boat, to a remote village in the pouring rain.
Why? Because that's what it means to love and to be proud of what you do.
She did all of this, thinking rarely about herself because that's not what these couples paid her for. They paid her to be seen. To be seen in the way that they always hoped to be seen; in the way that they hope their partner sees them, to make them real, to witness the start of their grand adventures together, and to capture all of that in a split second on the most important day of their lives.
In the midst of capturing all of the important shots for her clients, she would tell me, "I'm going for one epic shot, too… a shot for me, one that pushes me and makes me try something new and interesting." How inspiring is that? My gosh, what if we all did that with our careers and passions?
When my wife and I first met 4 years ago, I told her that I love the way she sees the world and asked her if she would teach me. She makes people real, she shows us who we are, she gives proof that we were here, we lived. Think about it, when your loved one passes away what's the first thing you look for? Photos. That's it; that is all that proves that it ever happened. Photos remind us who we are, who they are.
Even after shooting weddings for 11 years, she humbly admits,"I still get nervous." I admire the way my wife witnesses people in their most important moments. At every wedding I strive to make her proud, to catch a cool shot and think of things in a way that she would and add my own spin on it.
But what I didn't realize until this year, and perhaps most important of all, she taught me how to care more than anyone else, to love and to show up, and to hear what people say, what they don't say and what they actually mean. She taught me what it looks like to love what you do; to see people for who they are and show them that magnificent version of themselves, to make them real, and to treat every single person like they are the most important, because on their day, in their moment, they are.
Witnessing my wife creating her art and following her passion has brought us so much joy and deep connection. In a world lived behind the lens, one of the greatest gifts I can now give back to my wife is the gift of showing up, seeing her, and capturing her important moments, too.
To be seen is one of life's greatest gifts.
If you are a professional photographer, Thank You, for all that you do to make us real, to see us both for who we are and who we are becoming. If you know a photographer, thank them, for without you knowing it, they make magic.
Finally, to my wife: Maggie, thank you for this year. The more I learn about you, the more I love you. You inspire me and make me so proud.
---
About the author: Lacy Kirkland is an unleaded coffee drinker, adventure-seeker, writer, healer, and speaker. She teaches people how to heal pain and design emotionally intelligent lives and relationships. She spent her year photographing weddings with her wife's company. Lacy and her wife (and their Italian Greyhound) live in Portland, Oregon.
---
Image credits: All photos by Honeysuckle Photography and used with permission.