Photos of Hermit Crabs with Beach Trash Homes
Crabs with Beach Trash Homes is a series I am currently working on. I photograph Blueberry hermit crabs (Coenobita purpureus) on local beaches in Okinawa, Japan, that have begun to use beach trash as their shell.

The crabs are photographed both in their natural environment and also on white for the Meet Your Neighbours global biodiversity project. The images are used for environmental awareness and educational purposes.
Most of these crabs are blue but they occasionally have color variations of purple, pink, orange and or gray. They prefer to have a seashell as a protective home, but when no shell is available they adapt.
Before plastic caps filled our shorelines, hermit crabs adapted using tree nuts if no shells were available.
It's becoming more common to find crabs with beach trash homes. I have friends combing local beaches in search of more crabs for my series. While these are cute images, our trash is becoming a serious problem to the ocean and the animals that call the shoreline home. I often find hermit crabs using a variety of plastic caps from twist top pet bottles, laundry detergent containers, small propane tanks, sports water bottles and beauty supplies.
Limited number of available shells may be causing the crabs to make due with the best homes they can find. This is a good example of adaptive behavior.
Hermit crabs are very social animals and often fight over shells. Having a protective lightweight shell that covers the abdomen (soft parts of the animal) is crucial for survival.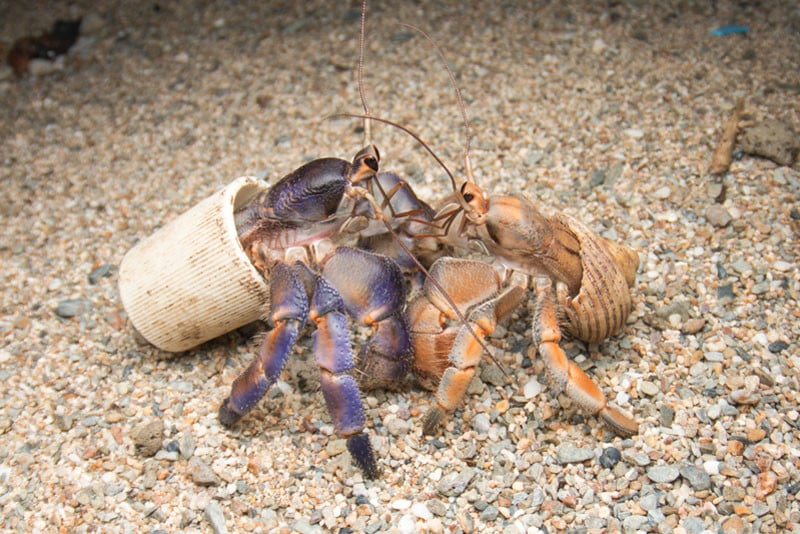 Below are some of my favorite images photographed on a portable field studio board. The crabs are safely placed on a white studio board, photographed and released back into the natural environment.
It's important to photograph the hermit crabs in their natural habitat. I prefer to photograph them using a wide-angle lens to achieve a unique perspective. I also photograph the hermit crabs using a dedicated macro lens. I mainly use the Canon 60 mm or 100 mm macro lens to concentrate on the subject. These crabs are fairly small and it's important to have a lens that will focus close and deliver high quality sharpness.
Our trash is becoming a serious problem on our shorelines! Let's keep our shorelines clean!
---
About the author: Shawn Miller is a wildlife photographer and naturalist who specializes in capturing the flora and fauna of Okinawa, Japan. Along with publications in scientific papers and magazines, his images were recently on display in the Smithsonian National Museum of Natural History as part of "Portraits of Planet Ocean." His work has been featured in National Geographic Magazine. You can find more of his work on his website, blog, and Flickr. This article was also published here.