Vogue Photoshopped Away Limbs on Models for Paralympic Photos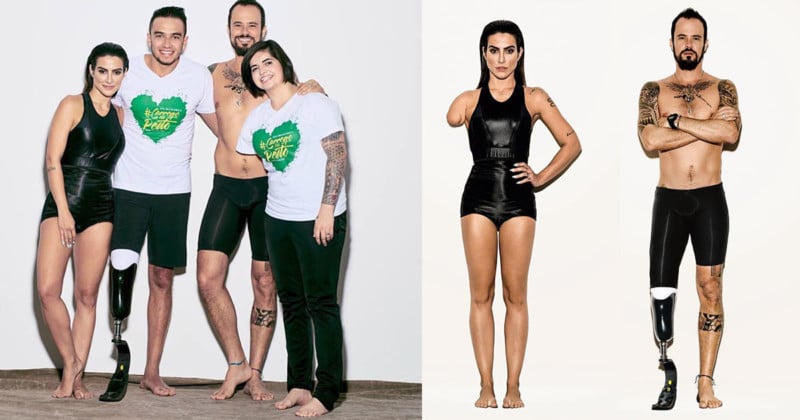 Vogue Brazil is being criticized for a recent photo shoot promoting the Paralympics. Instead of shooting portraits of actual athletes competing in the games, the magazine decided to made portraits of able-bodied models and give them faked limb amputations using Photoshop.

The magazine published a photo from the shoot on Instagram this week with a caption that reads: "We are all Paralympians."
People soon noticed what the "athletes" actually look like thanks to a behind-the-scenes photo posted by Brazilian table tennis player (and actual Paralympian) Bruninha Alexandre:
The two models recruited by Vogue Brazil are actually Cleo Pires and Paulo Vilhena, celebrity ambassadors for the Brazilian Paralympic Committee. After photographing them, Vogue digitally amputated Pires' arm and Photoshopped Vilhena's real leg into a prosthetic one.
People and publications immediately began to slam the magazine's decision as being one of bad taste, saying that it's offensive to Paralympic athletes.
Thanks, Vogue Brazil, for saying disabled people aren't pretty enough to play themselves in your magazine https://t.co/sgnfOKVIjj

— Lilit Marcus (@lilitmarcus) August 28, 2016
Vogue Brasil's feature on Paralympics has able-bodied models Photoshopped to be "disabled". Someone thought this was a good idea?

— George (@GML07) August 24, 2016
O, give me a break! #a11y #Paralympics #Rio2016 #photoshopfails very bad, @voguemagazine as bad as blackface! https://t.co/17zU8NjbQP

— Marie L Belanger (@MarieBLibrarian) August 24, 2016
How can one MISS that its bad idea t'photoshop physio/neurotypical models to appear disabled 2 promote #Paralympics? https://t.co/I4HIyyxLHc

— MJ Chappell (@mjahi) August 28, 2016
WTF? Brazilian Vogue uses non-disabled models made up to look disabled to "celebrate" para-olympics! Crass. https://t.co/2FwF5z97ue

— phil jones (@interstar) August 24, 2016
Vogue Brazil photoshopping able bodied models…because Paralympian's just don't look good enough?! #BeyondWords WTF pic.twitter.com/1brdSMLWCy

— Mr G (@Taffinexile) August 25, 2016
"[It's] hard to understand why Vogue Brazil felt the need to use models who aren't disabled in a Paralympic photoshoot," Richard Lane of the disability charity Scope tells HuffPo UK. "The magazine has missed the perfect opportunity to celebrate Brazil's talented Paralympians as sporting equals."
"It's so rare to see positive and powerful representations of disabled people in the media."
Actress Cleo Pires responded to the controversy through social media, defending the concept behind the shoot.
"We lent our image to generate visibility," she said. "And that's what we're doing. My God."
Vogue Brazil says it was trying to spread a positive message about the Paralympic Games by portraying well-known celebrities as amputees, but it looks like the photo concept was a big fail in the minds of the public.