I Built a Robotic 'Burger Drop' Machine to Capture One Slow Motion Shot
I've learned that I should bring all my passions and talents into the work I do, not just my passion for photography and video. I love art, science, technology, engineering, and building things with my hands.
Some of the tools in my ever-growing toolkit include welding, woodworking, plastics, micro circuit building, 3D printing, 3D design, Arduino programming, power supplies, and a decade long track record of making high quality and beautiful imagery for clients. And earlier this year, I decided it was time for me to produce a project that encompassed all my talents and skills.
It was this decision that sparked the idea for an insane burger video project, prompting me to create an Arduino-based timing control system named P.A.T.R.I.C. Sure, I could have done this burger video with CGI or used some expensive post production process; but I really wanted to try to create something that pushed the limits of technology while still staying true to my love for shooting things as perfect as possible in camera.
CGI food is just not real food.
After some tinkering, I realized that I needed to think in a whole new way in order to accomplish the shot I had envisioned. I reverse-engineered the finished shot by building the systems I needed as I went.
All in all, P.A.T.R.I.C. took about a month to build. It was a learning process in many ways and I would be lying if I didn't admit that a few things went up in smoke during the build. P.A.T.R.I.C is still a work in progress and with every new shoot I do I hope to add new features to him as the possibilities are pretty endless.
As for this crazy burger sequence, it all happened in less than half-a-second of real time. The most difficult part of this project, I think, was learning how to work in a world where events happen in fractions of a second. Thinking in microsecond intervals is really intense; when you start looking closely, a lot can happen in 0.001 seconds… never mind 0.1 seconds.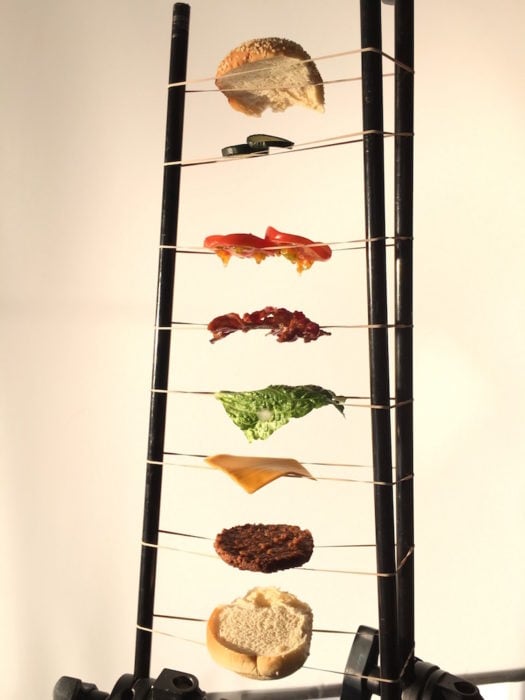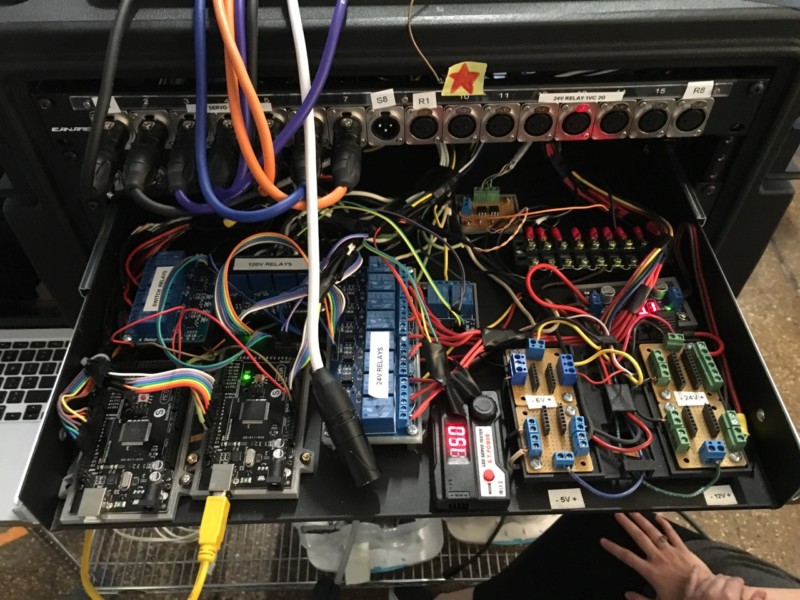 For testing purposes, I bought a Sony DSC-RX10M II camera which shoots slow motion video at 960 FPS in short bursts. It allowed me to turn 0.5 seconds of real time into about 20 seconds of slow-motion footage. But the Sony was just a proof of concept… I decided I wanted to shoot the final project with the Phantom Flex 4k camera.
This beast can shoot 1000 FPS in beautiful 4k resolution, with amazing sharpness and dynamic range. This was the only way to capture all the delicious burger building action and slow it down enough to make the burger look really appetizing.
The final video is a synchronized work of art. In the half second of real time, multiple Arduino controlled servo motors with custom 3D printed scalpel blades cut through elastic bands holding up the top bun, pickles, onions, lettuce, tomato, bacon, meat, and lower bun while a 3D printed air powered catapult launched ketchup and mustard blobs into each other.
This all happened while the Phantom camera was moving down on the motion control robot arm at high speed, adjusting focus, as it raced the ingredients and gravity down to the landing.
When we got a perfect landing of the burger, I had a hand model slam down a freshly poured beer down next to the burger to finish off the shot. It was so much fun!
Many things could have gone wrong in the making of this, yet everything went so right when I finally got the shot I wanted. Every day I continue to learn new ways of pushing the limits of my craft, and promise to continue to do so. I hope that seeing my process will inspire you to push the limits of your image making on your next shoot.
---
About the author: Steve Giralt is a NYC based Photographer, Director, and Visual Engineer. He offers his services out of his high tech studio laboratory located on the west side in Manhattan. Visit his website here to see more of his creative projects.