Models, Beware the Warning Signs of Creepy 'Photographers'
For the second time in as many months somebody has tried to use my images to lie to models about their photography. Because of this deception, it's certainly no giant leap to accuse these individuals of ill intent, especially if they are actively lying to models in their first messages of contact.

Over the weekend, I received a concerning email from a model who is familiar with my work. They're allowing me to share their story, but I will change the model's name in question to "Sue" for the purpose of this article.
It started when the model Sue was contacted by a lady on Facebook who goes by Jess Nicholl (perhaps a fake name?) who photographs under the name of Jess Nicholl & Michael Hunter Photography (perhaps a fake business?). The conversation began as it usually does, but then Sue asked to see some pictures that "Jess" and "Michael" had previously taken. Jess sent some shots and that was when Sue first realized something was up: they'd sent pictures taken by me, and Sue recognized them right away.
Jess then requested that the shoot details be finalized via email with her partner "Michael" (I don't know if this was a security risk on Facebook for them or whether moving to email was just a way to introduce 'Michael'). Once Sue had finalized a date via email, Michael then started to request images of Sue.
Then, 11 minutes later, Michael requested images of Sue in her underwear, following it up with a statement that really made my skin crawl: "…or should I find another model?"
It's a nasty little threat that insinuates that failing to send underwear pics could result in Sue losing the shoot. Below are the screen captures I have from the conversation between Sue, Jess and Michael.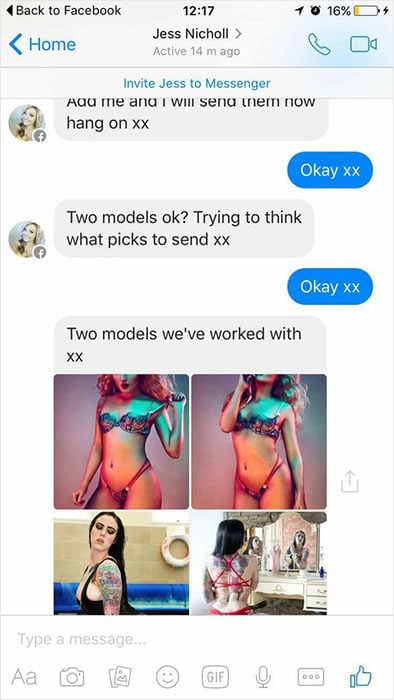 Now, there are a couple of ways to look at this. Firstly I'm sure there are photographers who would argue that if you were shooting a lingerie shoot that you'd require said underwear pics up front. Personally I don't think that Michael went about this in anywhere near the right way, and adding "or should I find another model?" is just a perfect example of how not to be professional.
Secondly I'm sure there are experienced models out there who are screaming "red light!" at the absolute deluge of evidence to suggest that Jess and Michael are the very personification of dodgy.
Either way, Sue, spotted the warning signs with the suspect images and Googled both of their names and found no reference anywhere to photographers by these names shooting anything anywhere in the UK. As a result, she confronted Michael about the stolen images and called him out as a fraud.
Neither Jess or Michael have yet to respond to Sue, and she has either been blocked or profiles and accounts have been deleted and taken down.
Whether you felt Jess (if Jess ever really existed) and Michael were real and just incredibly unprofessional and stupid, it would seem that their response to being confronted could be perceived as proof enough of their guilt and ill intent.
We live in a digital age of photography and connectivity, and rightly or wrongly it's the norm for models to visit a photographer's home for a photo shoot — I know I for one have photographed a lot of models in my home. But to others outside of our industry that seems like complete madness. A young lady attending a strange man's house alone?! Surely that is a recipe for disaster?!
Well the good news is, 99% of the time it isn't at all and that's firstly because most photographers are good people, and secondly, with a little knowledge and experience, any model can spot a fraud a mile away.
All models start somewhere and remember that at some point even the most experienced models had zero photos in their portfolio to begin with. So what are some of the things to look out for when starting out in modelling to give you the confidence to get some great first shoots under your belt? Here are some tips that new models can bear in mind when organizing their first shoots:
1. Do a Search
Simply Google the photographers name. If nothing comes up then this should be your first warning sign.
2. Ask Questions
Ask your photographer questions: 'what type of lighting or setups will we be shooting?', 'what kind of styling are you looking for?' and 'what sort of makeup do you think will work best?'. If all you're getting back is 'whatever you think looks best just bring lots of lingerie' then this photographer might require a bit more research.
3. Ask About the Concept
Ask the photographer to send you example pictures of the ideas they're looking to achieve. Remember when somebody says 'I want to shoot boudoir' images this could mean anything from suggestive well-lit black and white shots to Playboy centerfold imagery. Make sure you're both aware of what to expect from the shoot.
4. Meet in Public First
If you decide to arrange a shoot then you could also get them to meet you at a public place like collecting you from the train station or stay in your car until you're happy they seem to be who they say they are. This is not ideal but it is something to consider if you have the option.
5. Bring a Chaperone
One alternative or additional option I hear a lot is to bring a chaperone to your photo shoot. This is a personal choice but in my opinion, if you don't trust them enough to go alone, bringing one other person with you doesn't help you trust that photographer any more.
In fact it means you haven't done enough research in my opinion to decide one way or another. Also in my experience having a chaperone in tow can make for an awkward shoot. Yes, I know there are lots of cases where it has been fine, but the reality is, if you don't trust the photographer enough to go alone, you probably shouldn't go at all.
6. Talk to Prior Models
Reach out to other models who have worked with the photographer in the past. Message them directly, mention that you're starting out, and get them to give you an honest and private opinion.
We all know how saccharin social media and online communities can be and even though there may be a ton of models who are praising the photographer on a public forum, there has been occasions where the private story has been a different matter altogether.
7. Use a Model Community
Use a model community site like Purple Port. They have a community of models that have worked with more well-known photographers and you're sure to find plenty of good ones that have a great track record.
If a photographer screws up on this type of network, then everybody knows about it very quickly indeed. Purple Port is by no means perfect but it does at least allow for positive feedback to be left by people who have worked with the photographer in the past. No, you can't leave negative feedback (a site initiative to avoid any knee-jerk witch-hunting) but the absence of positive feedback is often proof enough of their experience level.
Other modelling websites like Model Mayhem have colossal communities but don't offer the facility to leave any feedback about specific shoots. If you're planning shoots on there, then directly message the photographer's previous models to find out more.
---
The main reason I put this list together is because I know when you're starting out as a model, it's tricky to get experienced photographers to work with you. As a result, you end up working with less experienced photographers who don't always have a strong reputation in the industry or a lot of testimonials. Be smart like our model Sue and spot the frauds long before you organize anything.
Remember: most of the photographers out there are just trying to get experience with photoshoots just like you are. They have no ill intent and most models go through a career without incident at all. These pointers are there to give you the best possible chance of a successful shoot and highlight some things to look out for when starting out.
---
About the author: Jake Hicks is an editorial and fashion photographer based in Reading, UK. He specializes in keeping the skill in the camera and not just on the screen. You can find more of his work and writing on his website, Facebook, 500px, Instagram, Twitter, and Flickr. This article was also published here.