Catching Lightning with Red Bull Air Force Sky Diver Sean MacCormac
Have you ever looked out the window of a plane and imagined you were surfing the clouds? Red Bull Air Force member Sean MacCormac took it one step further by skysurfing the edge of a Florida thunderstorm on my most recent assignment, titled "Storm's Edge."

Sean started his skydiving career in Florida, so this was the opportunity to capture something never done before in his favorite place to jump.
Sean became the first person to skysurf a thunderstorm! And yes, with a thunderstorm, comes a lot of lightning.
It was our goal to capture the intensity of what he experienced and felt in the air, but do so on the ground in a portrait. The idea for the portrait was to have a powerful storm in the background with lightning and in the foreground Sean with his gear.
Technically speaking this is a very hard image to capture in-camera, but I knew it was possible with the right preparation and a little luck.
We waited till we had a good storm on the horizon shortly after sunset. The ambient light was very dark which allowed for a long exposure of 10 seconds. During the open shutter Sean would remain very still while maintaining eye contact with the camera.
We shot hundreds of frames waiting for the right lighting strike in the background. After a few days of trying with no luck everything finally came together with a intense storm which produced a lot of lightning. With the shutter open the sky lit up behind Sean on the eighth second of the ten second exposure. I then manually fired an Elinchrom Ranger strobe using a pocket wizard to light Sean, resulting in the portrait here.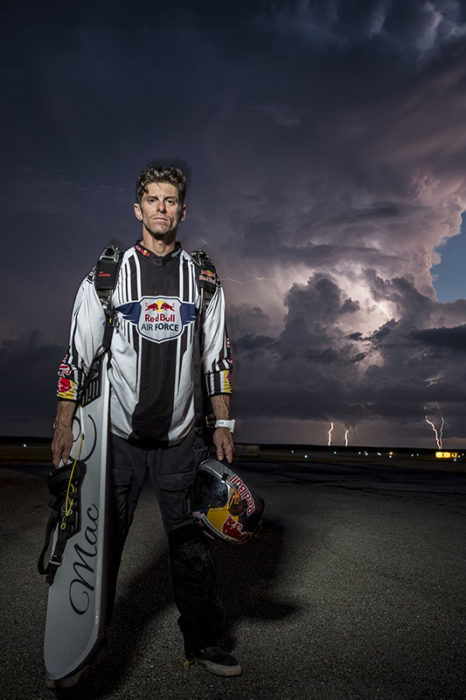 ---
Thanks to Red Bull, Sean MacCormac, Jon Devore, Craig O'Brien and the entire crew for a rad experience in the sweetest town on earth! You can also find the full Storm's Edge story here.
---
About the author: Robert Snow is an advertising, editorial, lifestyle, and sports photographer based in Orlando, Florida. You can find more of his work on his website, Instagram, and blog.