How Pokémon GO Has Encouraged Me to Take More Photos
I've avoided writing about Pokémon GO for a whole four days, trying my best to keep from inundating the Internet with yet another think-piece. However, something interesting has happened the last two times I have played the game with friends: I have taken some exceptional photos.

Two nights ago I went out to dinner with a friend. The restaurant that we picked happened to be a hotspot for Pokémon activity (seriously, that's a thing) and we found ourselves enjoying dinner, conversation, and the game all at once. The restaurant was on the river, and after our meal was finished we decided to take a walk up the river and continue both conversation and, naturally, catching them all.
The weather had been slightly strange since we entered the restaurant, but the possibility of gaining some progress won out in our minds over the possibility of getting wet. We walked until it became quite clear that the skies were about to open up and pour down, but that presented me an interesting opportunity.
Typically, I would have taken that initial bad weather as my cue to go home as soon as dinner was over. Having disregarded that, I was now out in the middle of the beginning of a beautiful storm. I picked up my camera, and took some photos.
I love them. They're fantastic images that I would have not typically found myself in a space to take. That's a really unique and satisfying component of a video game.
This has continued. Last night, my wife and I decided to go out to dinner, and the restaurant that we chose had a 30-minute wait. We put our name down, but instead of hanging out in the small waiting area, decided to go for a walk.
We, obviously, looked for a space that would be beneficial for our Pokémon collection. We found a small park that we had never visited, even though it's only a few miles away from our home. As we walked, we met fellow players who told us about creatures we hadn't seen before (for those curious, Onix and Snorlax!!) and as we walked around, the sun began to set.
I had brought my camera along, so I picked it up and took these photos (They're completely unedited. What a view.):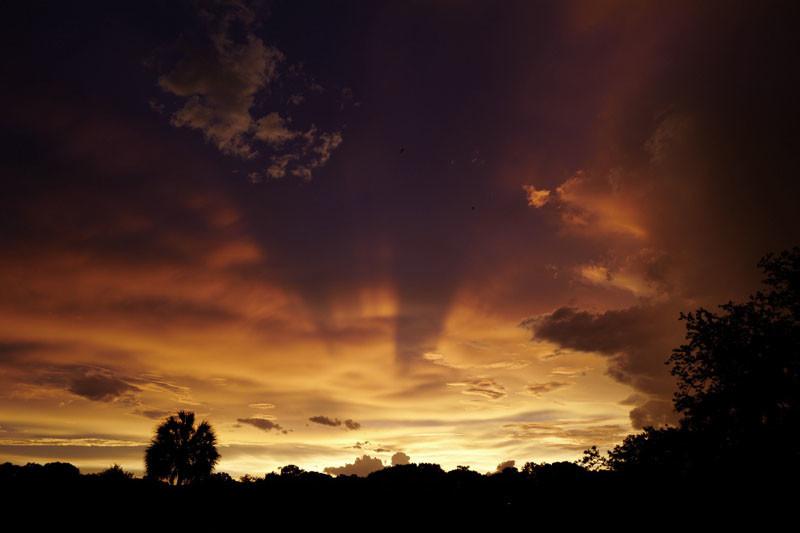 The moment took my breath away — not only because it was an incredible scene, but because I realized that once again, I would not have taken this photo without this strange augmented reality experience.
I continued to take photos of the gorgeous yellow-red sky, and as we finished our walk in the park, I got the text that our table was ready.
I can't say enough about how impressed I am that a video game not only makes me more social, and more active — it also makes me more creative. This is, undoubtably, the future of technology in a way we haven't experienced before, and as always I'm extremely curious to see what comes next.
---
About the author: Drew Coffman is a hobbyist photographer based in Tampa, Florida. He's also the Director of Media for Underground Network and the writer of Extratextuals. This article was also published here.