Drone Photos Capture the Stark Divide Between Rich and Poor in South Africa
When politicians talk about the gap between the rich and poor or racial divides, they're usually not being literal. But as Cape Town-based photographer Johnny Miller shows with his startling photo series Unequal Scenes, the gap in South Africa is literal… you just need to get airborne to see it.
Unequal Scenes began as a Facebook post that garnered far more attention than Miller could have anticipated—his drone photo of the Masiphumelele community and its surroundings outside of Cape Town was shared more than 1,000 times, an impressive feat for a photographer with only 1,244 Facebook followers.
Since then, Miller has used his Inspire 1 drone to capture many other, similar photographs and videos across South Africa. His images show the physical divides that separate some ultra-rich neighborhoods from squalid shacks. Sometimes that gap is 200m of wetland; sometimes it includes and electric fence and guardhouse.
"Discrepancies in how people live are sometimes hard to see from the ground. The beauty of being able to fly is to see things from a new perspective – to see things as they really are," writes Miller. "Looking straight down from a height of several hundred meters, incredible scenes of inequality emerge." See for yourself:
Some of the communities, says Miller, were "designed with separation in mind." Others grew "more or less organically."
What Miller's photos show is, in essence, the remnants of Apartheid policies that were eliminated 22 years ago. Physical "buffer zones" and other barriers are no longer legally mandated, but as Miller explains, "many of these barriers, and the inequalities they have engendered, still exist."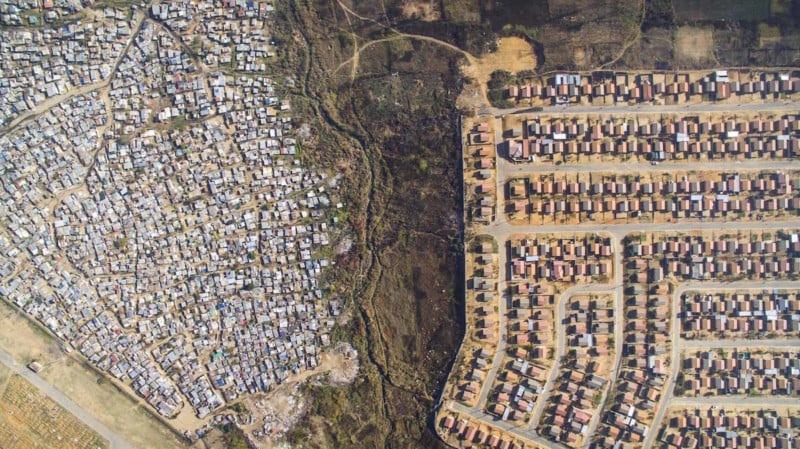 To see more of Miller's work, be sure to visit the Unequal Scenes website and follow the project's Facebook page and Twitter account.
(via Fstoppers)
---
Image credits: All photos by Johnny Miller/Millefoto and used with permission.