This Underground Camera Obscura in the English Countryside Seats 5
Installation artist duo Anna Heinrich and Leon Palmer loved the landscape around Hadleigh Country Park in Essex, England so much, they decided to capture it forever through the magic of the Camera Obscura. Thus was born "The Reveal."
The Reveal is an underground camera obscura installation that is literally built into a hillside in Hadleigh Country Park. It's made from a 3.5m (11.5ft) long Weholite pipe with a 260mm lens fixed to the door like a peep hole and an ash-lined interior including a bench that seats 4 to 5 people who want to enjoy the landscape in a non-traditional sort of way.
"On our first visit to Hadleigh, the route into the park did little to prepare us for the magnificent view that would reveal itself," writes the duo on their website. "Our idea to create an underground camera obscura evolved from […] the desire to harness this amazing view and reveal it in an unexpected way."
Just walk in from the nearby bike path and close the door (tight) to focus a view of the countryside onto the back wall: bright and beautiful.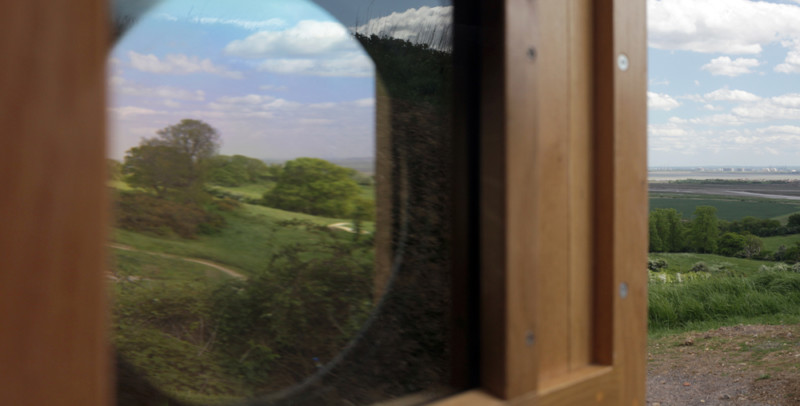 To learn more about The Reveal, click here. And if you want to see more from Heinrich & Palmer, check out their website.
(via Colossal)
---
Image credits: All photos by Anna Heinrich & Leon Palmer, and used with permission.