US Marine Photographer Recreates Battle Scenes with Stormtrooper Toys
Matthew Callahan is a US Marine and combat correspondent. Typically, he tells military stories through powerful photo essays; but when he isn't photographing marines, he turns his camera on his stormtrooper toys, creating striking battle scenes for the fine art project Galactic Warfighters.
Drawing inspiration from his real-life experiences, the 'combat' images in Galactic Warfighters bleed authenticity. In one image, dust and debris flies through the frame as a stormtrooper crouches behind a barrier; in another, two troopers rush a wounded soldier off the battlefield; another shows three troopers resting against a bullet riddled wall.
What brings these images to life isn't just the composition, but the posing and the spirit behind them. As Callahan explains in the short Behind the Scenes doc below, he'll use iconic combat images or stand in himself to ensure accuracy, recreating a scene that is "spiritually" accurate if not photographically so.
Each image can take anywhere from 20 minute or 20 hours to create. He meticulously poses his figures—collectible action figures with amazing range of motion from Sideshow Collectibles in California that he tells PetaPixel he "beats the hell out of"—to show as much body language and expression as possible despite their helmets. That posing and framing piece actually takes the most time.
Once he's finished an image, he'll add a photojournalism-style caption to it. The image at the top isn't just stormtroopers carrying a wounded soldier off the field. The full description goes:
Clone troopers rush a gravely wounded soldier to a casualty evacuation point at an undisclosed location. Republic gunships hovered over the troopers to provide close air support until the CASEVAC low altitude assault transport came on station.

Advanced recon commandos were embedded with clones assigned to the 104th Bn. and are seen assisting in the evacuation.
See more of Callahan's images, including the creative captions, below:
Portrait of a Galactic Warfighter: "Most of the time we go out, we walk around; we give money to the locals to build stuff and we come back. The separatists know we're here, but we're not sure when they're gonna come out and play. We'll wait."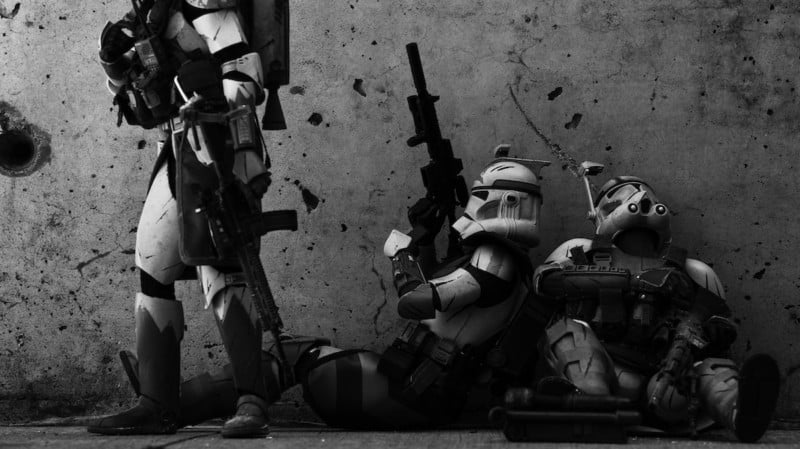 Tactical Pause: Clone troopers rest against a bullet-ridden wall after returning from an 8-hour foot patrol outside their forward operating base. They say sleep is a luxury rarely granted. They take it when they can get it.
Take cover: A Clone Commander takes cover as enemy sniper fire grazes his position.
Clone Commander Wolffe drags a wounded clone out of a kill zone after being ambushed by separatist forces.
A Helping Hand: Advanced Reconnaissance Commandos make their way up a mountain to establish a looking/observing post for their battalion's forward operating base below.
Backblast Area CLEAR! Advanced Recon and Airborne Commandos fire a Mk 153 shoulder-fired multi-purpose assault weapon during joint weapons system familiarization training. The projectile explosive weapon is used to bust tanks and bunkers for light infantry. The troopers worked together as gunners and assistant gunners to get used to operating in the same environment together for future operations.
A small room: Advanced Recon Commandos herd droids into a compound and await extraction after raiding a suspected Separatist intelligence cell in Mos Eisley, Tatooine.
The Last Patrol: Advanced Recon Commandos rush to cover after being ambushed by separatist forces. The troopers were conducting a security patrol outside their company forward operating base when the droid forces attacked.
Scars: A reflection of the fatigue and doubt troopers may have when faced with back-to-back deployments to a combat zone.
---
If you want to explore more images from the Galactic Warfighters series, give the official Instagram account a follow. And if you'd like to see more of Callahan's work—toy stormtroopers and otherwise—be sure to visit his website of follow him on Instagram and Facebook.
(via SLR Lounge via My Modern Met)
---
Image credits: Photos by Matthew Callahan and used with permission.