This 'Famous' Photographer is Getting Called Out for His Public Comments
There's a good chance you've never heard of photographer Jake Olson before, but many people are learning of that name this week. He's a self-proclaimed "famous" American photographer who's now at the center of major controversy in the photography world.

The firestorm started on Monday after a Facebook comment thread screenshot was
posted to Reddit
.
"Recently there was some discussion about Jake Olson's tutorials," writes Redditor midwest00, "if anyone was considering purchasing them I would ask that you read this first."
The screenshot is of a thread on Olson's personal Facebook page in which he writes about a $190,000 car his family owns:
As you can see, Olson boasts of being a "famous photographer," citing the fact that he has his own Wikipedia page and that he was referred to as one of the 7 most successful social photographers on the Web in a 2014 Forbes article and one of the 30 most influential by a Huffington Post piece.
Interestingly enough, Olson's article on Wikipedia is now being considered for deletion for being a "self-promoting advertising."
Here are Olson's credentials, according to his website:
Jake Olson was named by The Huffington Post as one of the Top 30 Most Socially Influential Photographers in the World in 2014. His images have been featured in dozens of publications around the World including British Vogue and Digital SLR Magazine, Practical Photography Magazine, Digital Photo Magazine, SLR Lounge, and My Modern Met. Jake's images have also been used by the BBC, ABC NEWS and featured on National Geographic, Forbes.com and Bloomberg. Jakes images are licensed by Trevillion Images, one of the World's leading creative photo agencies. His images are sold to book publishers and bestselling authors like Lee Child, Nora Roberts, Colleen Faulkner and Jody Lynn Anderson and now seen on hundreds of title's around the Globe.
After the screenshot was published on Monday, we got in touch with Olson (and subsequently his lawyer). Olson didn't deny the comments he made in the viral screenshot. Instead, he boasted to PetaPixel that he received over 1,000 new Facebook Likes on his page overnight as a result of the controversy.
Resource Magazine published a lengthy article about Olson's public statements yesterday. In one screenshot of a private email exchange, Olson claims he earned over 1.2 million dollars last year from teaching photography and selling his tutorials.
Here's another screenshot of a public comment conversation Olson had with a critic on one of his photos at 500px:
Olson appears to be unfazed by the outrage of the photography community. He shared a screenshot (it has since been deleted) of his bad PR on Facebook yesterday, and his responses to angry commenters continue to add fuel to the fire:

Despite Olson's stance that there's no such thing as bad PR, there does appear to be some fallout from the controversy. Some of Olson's international workshops have reportedly been cancelled: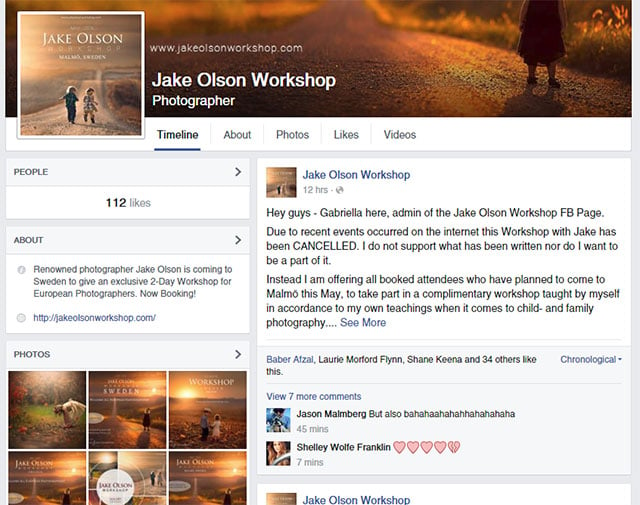 Also both his workshop website and Facebook page have been taken offline. Olson also appears to be scrubbing his Facebook page clean of the offending comments now.
---
Update on 2/25/16: Olson's page has been deleted from Wikipedia. The reason given was: "Blatant self promotion. Non-notable photographer who was in the news recently for telling others to commit suicide/self promoting his vehicles. No credibly noted; no independent/non-promotional sources."
Also, Olson reportedly published this short statement as an apology after the controversy erupted:
---
Update on 2/26/16: Olson's behavior was just covered in a story by WOWT NBC Omaha: