A Practical Approach to Building Your First Wedding Photography Portfolio
You probably know about the chicken and the egg problem that aspiring wedding photographers experience. On one hand you want to shoot your own weddings as the primary photographer, but on the other hand you don't have enough experience or an adequate portfolio to attract clients, and on top of that when you shoot as a second photographer you are not allowed to show your work.
My suggestion is rather simple: every time you get invited to an event, whether a wedding, a bar-mitzvah, or christening, consider it as an opportunity, and bring your camera and one prime lens.

The idea is to experiment with different compositions, angles, light, and subjects. The smaller the gear the greater the chance that you will not be considered "the photographer". Also please try to follow these self imposed rules:
1. Don't get in the way of the hired photographers, EVER!
2. Don't bring a flash.
3. Bring one prime lens.
The 1st rule is there to prevent you from ruining crucial shots, i.e., for the bride and groom, the family, or the photographer who has to deliver. As you can see, I am always standing behind them, and although they were in the shots below, I still got a couple of really nice moments.
The 2nd rule is there to prevent your flash from white-banding the videographer's sensor, or overexposing shots for the hired photographer (you don't want to be that guy who ruined the video), or annoying attendees. The 3rd rule forces you to practice one focal length in every event to figure out when does it work and when it doesn't in certain situations.
After a few thousands photos you will know your way around each one of your prime lenses. You will gain experience with different lenses, at different angles, different f-stops, and different compositions. You will also gain some confidence; ultimately for the purpose of capturing special moments in an artistic way, which will contribute to your portfolio.
As a "guest" photographer, you are not pressured to deliver — you can experiment with many shots that the hired photographers may miss because they tend to follow a "formula". It places them in predetermined locations and probably with the same camera settings, which allows them to deliver consistent results for their clients. I really like the following photo, its a very nice moment between a young couple who came to the wedding, the hired photographers were still shooting the dance floor when this happened.
As a guest, most of the time you are inside the crowd, so you need to break away from it and find other angles and compositions, ie., by going to the sides, shooting from below, getting a little higher, etc.
Occasionally you will get someone's head right in your frame occluding your subject. In some cases the frame can be used, or recovered in Photoshop if you shot similar frames at the same moment, by cleverly using one image to recover the other.
My gear is far from new, I use a Sony A300, a Minolta 24mm f/2.8, 35mm f/2, 50mm f/1.4, 85mm f/2.8, and a Sigma 30mm f/1.4. The camera is almost 8 years old, and most of the lenses are very old (except for the Sigma). Each of one these primes is a the size of tennis ball and weighs around 220 grams. On a crop sensor these focal lengths should be multiplied by 1.5x, so essentially I have a focal range of 36mm to 127.5mm.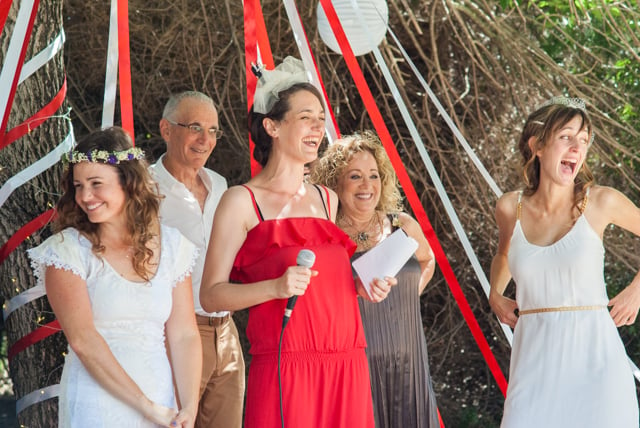 I usually shoot Aperture Priority. I know that many people will try and argue that "real" photographers use Manual-Mode. However, by letting the camera satisfy the shutter speed, I have more freedom to deal with other more important things… like composition. Additionally, by having in body image stabilization (IBIS), I can use lower shutter speeds and lower ISOs. Therefore in most cases I rather leave the shutter speed to the camera.
Due to my sensor's lack of low light abilities I can't go over ISO-400 without getting significant noise levels. In order to freeze a frame I rely on fast lenses, IBIS and from time to time I underexpose by 1 to 2 stops. Using fast lenses at their widest aperture allows in the maximum amount of light, which contributes to faster shutter speed.
If I am at ISO 400 and shutter speed is still too slow in order to freeze a frame, underexposing allows me to get 1 to 2 stops faster shutter speeds; the downside is the increased noise, decrease in dynamic range and a darker image. However, underexposed shots can be recovered later in Lightroom by pushing the exposure slider, and "noise reduction" can be used to compensate for some of the noise without washing the details.
These days a lot of people buy into Sony, which has IBIS. The IBIS in my camera allows me to use up to 3.5 stops of lower ISO, which means that if I need to use ISO 1600, IBIS will stabilize the sensor and allow me to shoot at ISO 200 and still freeze the frame.
Keep in mind that even though I use an old camera, these techniques can still be used on modern cameras, even if you have a sensor that performs well in low-light situations and you are only looking to optimize image quality.
---
About the author: Ori Cohen is a photography enthusiast and a computer science Ph.D student. You can find more of his work and connect with him through his Facebook page.