Restoring the Photos of Charles Conlon, A Pioneer of Baseball Photography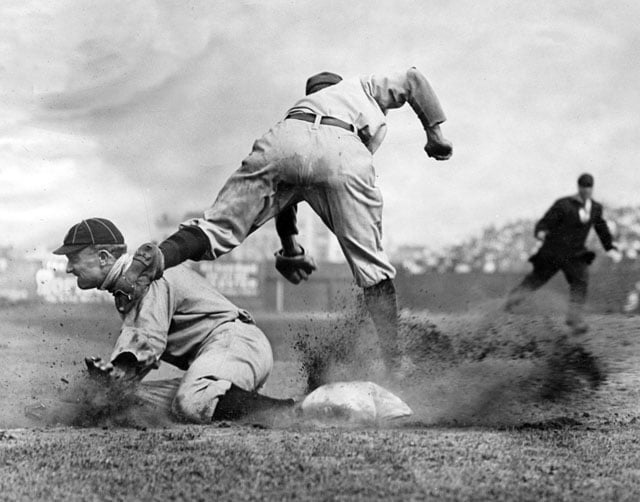 Charles M. Conlon was an early 20th century American photographer who was among the first to regularly photograph baseball games and players. Although he shot many iconic early photos of the sport, his name was largely unknown until 1990, when 8,000+ of his negatives were found in the archives of Sporting News.
Many of the photos were heavily marked, and the Digital Archive Project at the National Baseball Hall of Fame has been working to restore those images for future generations.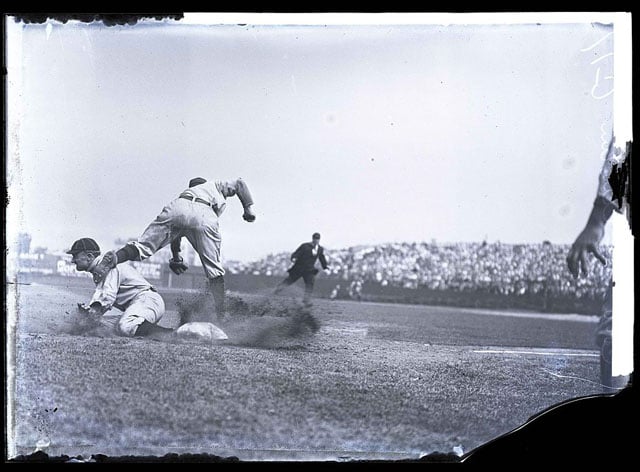 In addition to the natural wear and tear of century-old photos that weren't properly stored, a large number of the photos had been marked up by newspaper and magazine editors.
"They marked many of them up with white masking liquids, crayons and china markers (wax pencils) in order to crop faces for headshots in their publications," writes Matt Kelly of the National Baseball Hall of Fame. "As a result, many of the photos donated to the Museum resemble strange cutout collages."
It's how photos were often edited back then, before the days of digital images and non-destructive digital editing.
Photo conservators at the Northeast Document Conservation Center restored the photos by reducing the white masking with water and the crayon and china marker lines with an organic solvent. Through careful cleaning, the obscured details of the images were returned to the frames.
Rips and tears in the photos were then fixed with a special type of Japanese paper, creases were healed with a dilute gelatin solution, and lost bits of photos were painted in with light stable watercolors. Here are some before-and-after images showing the results of the repair process:
This process isn't cheap: a single photo can cost between $500 to $1,000 to fix up. The restored photos should be able to live on for another century, as long as they're stored in the right temperature and humidity. Many will also be digitized and made available online through the Hall's website.
---
P.S. If you're interested in supporting this ambitious restoration effort, you can donate to the Hall of Fame Digital Archive project here.
---
Image credits: All photographs by Charles M. Conlon and used with the permission of the National Baseball Hall of Fame Library