Epson Announces Its New SureColor P-Series Line of Large Format Printers
Epson today announced its new SureColor P-Series line of large format commercial ink jet printers. The new lineup includes the SureColor P6000 and P8000, which is geared toward photographers (and other creative professionals), and the SureColor P7000 and P9000, which is designed for high-end commercial purposes.

All four models work exclusively with Epson UltraChrome HD and HDX ink, which has improved black density that's 1.5x denser than Epson's previous ink formula. The ink is delivered via Epson's PrecisionCore TFP Printhead, which uses ink droplets as small as 3.5 picoliters for ultra-high print quality.
In terms of media, the printers let you use most media types in roll or cut-sheet, from photo paper to 1.5mm fine art media and poster board. A high speed rotary cutter is included with the printers.
Other features in the printers include an optional 320GB internal printer server that lets you free up workstations, and an optional SpectroProofer UVS in-line spectrophotometer for automated color management.
The P6000 and P8000 printers are 24-inch and 44-inch printers, respectively, that use eight-color ink. They cost $2,995 and $4,995, respectively.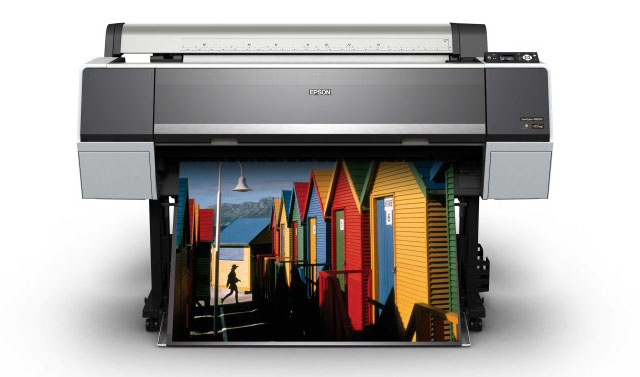 The higher-end P7000 and P9000 models are 24-inch and 44-inch printers, respectively, that use 10-color ink (including a new Violet ink for "expanded color gamut targeting improved spot color matching accuracy." They have price tags of $3,995 and $5,995, respectively.
All four printers will be available starting in October 2015. Epson got some bad press a few days ago after a viral video showed how much the ink company's 9900 wastes. It'll be interesting to see if these new printers are better at using more of your pricey and precious ink.