Facebook Takes Down 'Project Harpoon' Page, Which 'Fat Shamed' with Photoshop
Facebook has deleted a controversial page called "Project Harpoon," which posted photos of plus-size models and celebrities next to Photoshopped versions showing what they would look like if they were thinner. The page gained thousands of fans during its short existence, but it also attracted a loud outcry from the public and from the women seen in the photos.

Project Harpoon is reportedly part of a larger trend called #ThinnerBeauty, which involves Photoshopping photos of women without their permission in order to make them appear thinner.
"In current societal fashion, a recent trending surge of 'pro-obesity' and 'fat acceptance' have paved the way for many people to renounce exercise and personal healthcare in general," the page's description read. "This page aims to only show that being skinny is okay as well. Skinny-shaming is not okay."
Here are some examples of what was being posted by the page: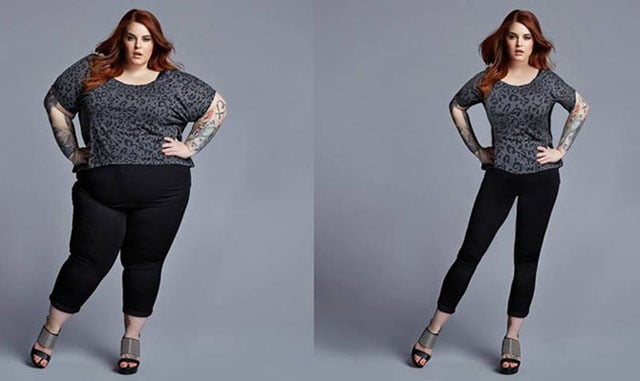 One of the people that appeared multiple times on the page was model Tess Holliday, who called for a boycott of the page.
"It's abominable that this [Facebook page] is using my image without permission to promote themselves," Tess told E! Online. "This kind of hit piece is exactly why I started #effyourbeautystandards. I am asking my followers to boycott this [page] and any others like it. Loving yourself is the most powerful message we all need to stand behind."
As the Project Harpoon page grew to over 10,000 followers and attracted a great deal of media attention, so did the controversy. The vast majority of articles condemned the page for "fat shaming" women and "perpetuating hatred."
The Web companies hosting the project pages soon decided to take action. Facebook, Instagram, and Tumblr have all taken down the respective Project Harpoon pages and accounts on their services. Instagram has confirmed to the Huffington Post that the deletion was for violating the service's bullying policy.
The original pages with the large followings may be gone now, but these deletions may have just been the first skirmish in a larger war. A new page has already appeared to continue the project on Facebook, and the #ThinnerBeauty hashtag on Instagram still shows over 600 results.