Too Bad People Couldn't Photograph Meteor Showers Back in 1833
If you'd like to try your hand at capturing a shooting star on camera, tonight would be a good night to do so. This year's Perseid meteor shower is peaking, so you may be able to see up to 100 meteors zip across the sky every hour (about 1.5 per minute).

For an even tougher challenge, you can try capturing multiple shooting stars on camera and then stacking them into one surreal photo… like what photographer David Kingham did during the Perseids of 2012:
There was a estimated 122 shooting stars per hour that year, and Kingham stacked 22 of them to create what you see above.
122 may sound like a lot — it's more than 2 per minute, after all — but it pales in comparison to some of the meteor showers that humans have witness in history. Those showers were the stuff of legend.
In 1833, around the time when photography was being born, there was a Leonid meteor shower of epic proportions. It's estimated that there were 100,000 meteors per hour — that's an average of 28 shooting stars per second.
Here's a famous depiction of that meteor storm that was published in the 1889 book Bible Readings for the Home Circle: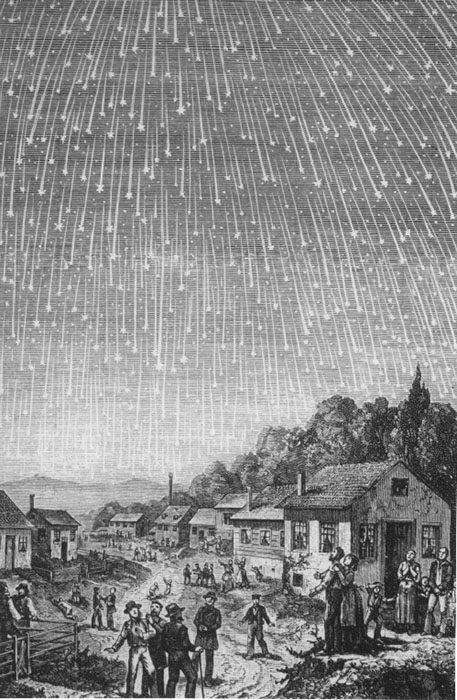 If a meteor shower of that magnitude were to occur again these days, you would have a chance of capturing more shooting stars on camera than Kingham did above… with a single 1-second exposure of the night sky!
---
Image credits: Header photograph by Scott Taylor, and stacked Perseid photo by David Kingham