Flickr Bringing Back Pro: Pay to Get Badge, Analytics, and No Ads
Flickr is bringing back Pro memberships. Today the photo sharing service announced that paid subscription plans are returning for both existing and new members. This change is in response to "a high amount of requests" from photographers in the Flickr community.


Like with the Pro plan of old, the new Pro membership will give users a Pro Badge in places where their username shows up in the service. The new badge has a simpler look than the old one (shown above):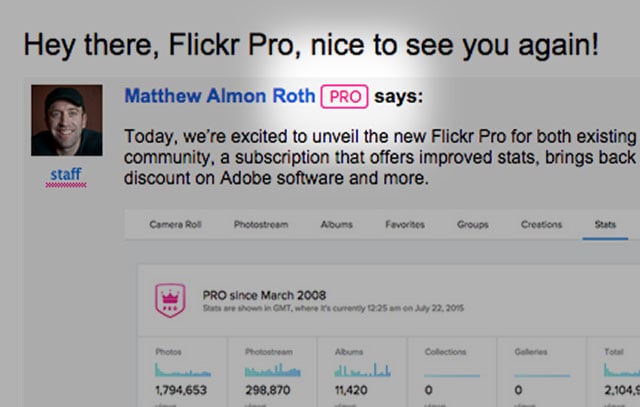 Subscribers will also receive improved analytics, including better navigation for viewing data on pictures and stats that offer more insight on your best and most popular photos.
Pro members will also be able to experience Flickr ad-free. In addition to not having ads on your own photo pages, you won't see any ads when browsing other areas of the community as well, including other people's photos.
Finally, Flickr has partnered with Adobe to offer a 20% discount to Pro members who subscribe to Adobe's Creative Cloud Photography plan. Instead of $10 per month for Photoshop CC and Lightroom CC, annual Flickr Pro subscribers can pay $8 per month for their first year.
Flickr Pro is available starting today for $6 per month if paid monthly, or $50 per year if you subscribe annually (a monthly rate of about $4.17). Existing Pro members will be automatically upgraded to the new plan and will be able to keep their existing pricing and features.