How I Use the Fujifilm XT-1 for Documentary Wedding Photography
I'm a documentary wedding photographer, which means there's a certain way that I work, and a certain style to the photography I produce. The end product of which is an accurate, beautiful document of the single most important day thus far in a couple's life together. I want my clients to feel what they felt on their wedding day, years later when they're reminiscing with their album.

To do that successfully, I need to get in close — really close — to the action. But I don't want people to feel uncomfortable being photographed, or indeed react to my presence. And almost as importantly, I need to be able to react quickly enough to capture those lightning little glances, touches and reactions. It's mentally exhausting. Keeping track of several conversations and movements in a room, as well as watching the bride and groom, following compositions in your head – it all takes it's toll after a few hours. But that's what makes this job so interesting and rewarding.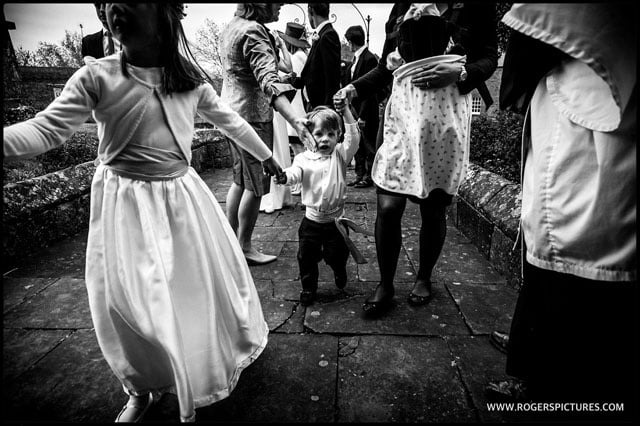 One of the tools that's helped me achieve this recently is the Fuji XT-1. It's a small mirrorless camera system that uses small interchangeable lenses. Now, as much as this may sound like an advert for that particular camera, it's not meant to be. This is about how such a small, lightweight camera, any small lightweight camera, can help in getting in close to the action at a wedding, and to quickly capture moments that might not have been caught with a bulkier DSLR camera.
My standard kit at a wedding is two Canon 5D Mark III cameras, with a 24mm and 50mm lens on them, respectively. I also carry a 135mm lens in a belt pouch that is rarely used before the speeches. I love using prime lenses, not only for the quality and superb low light capability, but because I know these focal lengths so well. I've been using them for years as a news photographer at The Times that I now mostly only see compositions in terms of these focal lengths.
I don't like using zoom lenses almost as much as I don't like changing lenses — the pictures I've missed with a lens in one hand and a naked camera body in the other! But I found that I was not getting the best compositions in certain situations. Especially in small spaces, the 24mm lens is just not wide enough. So rather than carry another lens in the pouch, and risk missing more pictures whilst swapping lenses (though I know a very good photographer who uses one camera body, and can change lenses as fast as I can switch cameras!) I started using a third camera, on a strap round my neck, dedicated to shooting these kind of wider compositions.
I use Spyder Holsters to hold my heavy Canon cameras on a waist belt. Moving the weight off my shoulders has been the single most useful thing I've done with my gear for years. So a neck strap is the only place I can really carry another camera. It has the advantage of being instantly available, and because it's so light has very little impact on me during a 12-hour day.
Lens choice was obvious. It needed to be wider than the 24mm. And it needed to be small enough to not add too much weight and bulk to the camera. There was the pretty capable Fuji 10-24mm (a full frame equivalent 15-36mm), but it's a large lens, and it's slow as well (f/4). There was also the Fuji 14mm — at f/2.8 it's still useful in low light, but at 21mm equivalent, still not quite wide enough for what I need it for.
So I chose a Samyang 12mm f/2 lens.
The size and weight are perfect, it's f/2 so good in low light and 18mm equivalent gives me enough width in composition without distorting too much. The major drawback is that it's a manual focus lens. I knew it would be hard to use for quick reaction pictures at a large aperture.
So I changed the way I use the camera, and instead of working mostly with large apertures for the lovely shallow depth of field you get, I stopped down to f/8 or f/11 and prefocused to give me the maximum depth of field. It means I don't need to worry about the focus, I can concentrate instead on the composition and the timing. And it's changed the way I see the world.
To get successful images using this setup, I need to pay a lot more attention to the composition. Since every element in the image is in focus, it's important to try and 'declutter' the image as best you can while still retaining a focal point.
The image above is one of my favorites with this camera recently. There's a lot going on in this picture. It's interesting to a casual observer, but even more so to my clients who know everyone in this image, and all the relevant relationships. I posted this in a photography forum for discussion of this particular camera, and the technique I'm describing now, and whilst it was generally liked, one particular comment told me it was a failure because the majority of the image was the back of a mans head. Thankfully my clients agreed with me on this one.
The conversations and interactions, the light and composition, all of this together work to bring a great sense of place and moment to this image. It's exactly the kind of picture that I spend all day looking for, and it's exactly the kind of picture my little XT-1 and Samyang lens allow me to capture.
Here's a good example of using the hyperfocal method described above, to allow me to just pick up the camera and shoot. As the Jenga tower wobbled, I grabbed the Fuji and shot a burst of 5 or 6 images. Of course, this picture is perfectly possible with the Canon, but I probably wouldn't have caught the moment as well. It wouldn't have been as wide for a start, but more importantly I would probably have shot this at f/1.4 resulting in a much narrower depth of field.
Again this shot below would have worked with the Canon and the 24mm, but I'd have missed the far left hand table with the lens not being as wide. Arguably I could have done with an even wide focal length than the Fuji's 18mm equivalent, but given that I don't carry a camera bag, and I want to be as mobile as possible, I just can't carry every lens I think I might need.
The extra width of this lens comes in handy in small hotel rooms too, where I just can't get far enough back to get the composition I need. I often use the focus aids of the XT-1 here, by zooming in on the electronic viewfinder and manually focusing at f/2. The subject isn't fast moving, so I have the luxury of shooting a slower shutter speed and lowering the ISO to increase the quality a little.
Another bonus of using the Fuji XT-1 that the Canons don't have is the articulated screen. This allows me to comfortably find low and high angles and use the tilt screen to fine tune the composition and timing. Again not impossible with DSLRs — just harder.
As with all things photography related, there are endless combinations of cameras and lenses, techniques and lighting. None of which is the right or wrong way to do it. I've found a way to photograph a wedding that I enjoy and thankfully one that appeals to enough of the population to make a living from. The cameras are merely tools, but as with everything, the right tool makes the job so much easier and more pleasurable.
---
Editor's note: If you enjoyed this piece, be sure to check out the guest post Rogers wrote last year about why couples should consider hiring a photojournalist to document their wedding.
---
About the author: Paul Rogers is a photojournalist based out of Hertfordshire, England. He has worked as an editorial photographer for The Times newspaper since 1998, and is also applying his talents to documentary wedding photography. Visit his website here. This article was also published here.